JointHealth™ express
March 7, 2018
---
Happy International Women's Day! Cheryl Koehn's #HerStoryOurStory – Yes, You Can
This Innervoice.life story features ACE Founder and President Cheryl Koehn on her journey with rheumatoid arthritis and accomplishing personal victories.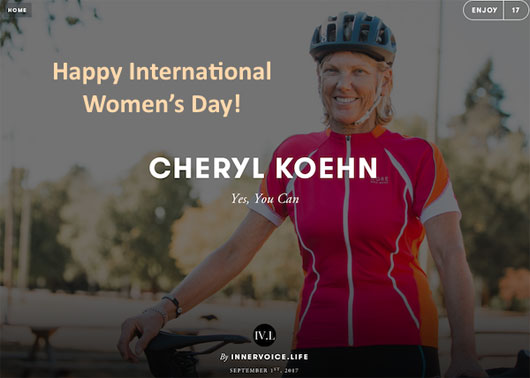 Innervoice.life is a website dedicated to telling the inspiring stories of athletes describing their journeys to health, discovery and personal victories. Below is an excerpt of the "innervoice" story featuring ACE President and Founder Cheryl Koehn.
EMOTIONALLY AND SPIRITUALLY
I no longer play competitive volleyball, or any other sport for that matter. But the inner high-performance athlete is alive and well inside of me, and helps me overcome challenges every minute of every day. Not long after I retired from competitive volleyball, I developed severe rheumatoid arthritis (RA), an autoimmune disease that leads to uncontrolled inflammation and joint swelling, immobility and eventual destruction. From the day I was diagnosed, something inside of me said "don't stop moving, keep trying to do the things you love". Little did I know, that perspective is what research would prove years later: high intensity exercise in the setting of moderate to severe rheumatoid arthritis is a good thing, as long as you protect your joints from improper movement or stress, or when they are actively inflamed.
Click here to read more…