JointHealth™ express
February 11, 2021
---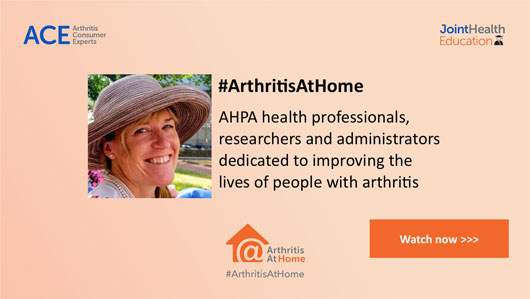 This week's episode of Arthritis At Home features Anne MacLeod, Arthritis Health Professions Association President.
The Arthritis Health Professions Association is made up of nurses, physiotherapists, occupational therapists, social workers, pharmacists, dietitians, kinesiologists and chiropractors who are key members of an osteoarthritis or inflammatory arthritis patient's healthcare team.
In this episode of Arthritis At Home, we speak to AHPA President, Anne Macleod, physiotherapist, Extended Role Practitioner, and Assistant Professor at the Northern Ontario School of Medicine. Anne discusses the role of the AHPA improving the care of people living with arthritis and highlights some of the feature presentations as part of the 2021 CRA & AHPA Annual Scientific Meeting.
Check out these helpful resources to learn more