JointHealth™ express
February 25, 2021
---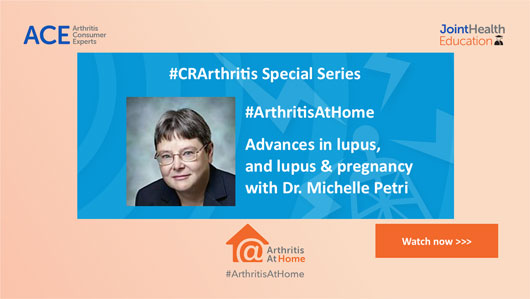 In this episode of Arthritis At Home, we are sharing the #CRArthritis interview Arthritis Broadcast Network (ABN) conducted with Dr. Michelle Petri for the virtual CRA & AHPA Annual Scientific Meeting, happening from February 24 to 26, 2021. Dr. Petri, Professor of Medicine at the Johns Hopkins University School of Medicine, has a conversation with Cheryl Koehn on advances in lupus & lupus and pregnancy.
Dr. Petri attended medical school at Harvard University and fulfilled her internal medicine residency at the Massachusetts General Hospital. In addition, she completed two fellowship programs at the University of California, San Francisco, in allergy and immunology and rheumatology. Dr. petri is the Director of the Johns Hopkins Lupus Cohort, a longitudinal study of morbidity and mortality in systemic lupus erythematosus, and Co-Director of the Johns Hopkins Lupus Pregnancy Center.
ABN will be interviewing Canada's leading rheumatologists, researchers, patient organizations, physiotherapists, occupational therapists and other allied healthcare professionals.
Check out these helpful resources to learn more