JointHealth™ express
May 16, 2022
---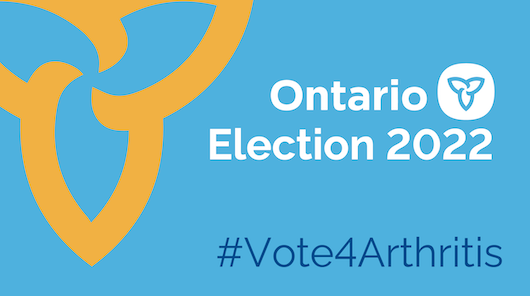 On election day, make your voice count.
ACE is asking the major political parties for their position on arthritis prevention, treatment and care.
Arthritis affects one in five or approximately 3 million Ontario residents. Arthritis is the leading cause of disability in Ontario and a significant economic burden related to direct healthcare costs and indirect costs to the economy related to lost employment, sick leave, and absenteeism.
The time to address models of care in arthritis is now after years of being at the back of line of health care planning and delivery. The way people living with arthritis access and receive healthcare varies significantly across Ontario. This affects Ontario voters living with inflammatory arthritis – like rheumatoid arthritis – who depend on getting a timely and accurate diagnosis, fast access to rheumatologists, appropriate public reimbursement for needed disease-modifying medications, among other critical elements of an arthritis model of care.
The most important voices in health care discussions belongs to those most affected by health policy—the person living with chronic disease who can provide patient perspectives; yet too often, consumers' voices are not heard. That's why it is important you make your voice heard in the upcoming Ontario provincial election on June 2, 2022.
To help you with your decision, Arthritis Consumer Experts (ACE) sent an open letter and a survey to the political parties running in the Ontario election, asking them to share how their government can improve arthritis prevention, treatment, and care in Ontario.
The questionnaire asked the following questions:
What will your government do to bring a high quality, accessible, standardized evidence-based model of arthritis care for all Ontario residents?
What will your government do to ensure the continuation, improvement, and expansion of virtual care for all Ontario residents – both patients and health care professionals – and ensure equal access is equitable to all?
What will your government do to improve the uptake of biosimilars, and will you commit to reinvest those savings to support additional medication listings and improve patient coverage?
How will your government incorporate Indigenous traditional healing practices to improve the delivery of care to Indigenous Peoples?
Will your government take steps to ensure timely, specialized care for Ontario residents struggling with arthritis, including joint surgery wait times that are within medically recommended guidelines? How will your government manage the backlog of surgical appointments that occurred because of the COVID-19 pandemic?
ACE will be collecting Party responses and posting them on ACE's
Ontario Election 2022
homepage as we receive them.
If you have comments, questions, or concerns about any of the answers provided, please take the time to contact the parties.
What are the most important issues that will determine who you will vote for? Share your answer by
contacting us
.