JointHealth™ express
November 12, 2022
---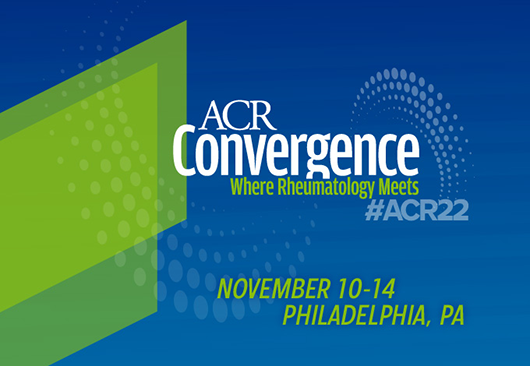 Patients Share the Stage at #ACR22
According to Puja Khanna, MD, MPH, Associate Professor and Associate Chief of Clinical Affairs and Service Chief for Rheumatology at the University of Michigan: "The patient perspective is more than a talking point in rheumatology, it's a vital part of understanding and treating autoimmune disease."
Dr. Khanna moderated a special session at the ACR today dedicated to the patient voice titled "Patient Perspectives." ACR attendees listened to two dozen patients who spoke about their personal experience of life with arthritis. Their stories on everything from vaccinations during the COVID-19 pandemic, to the need to monitor one's own medical records, to finding a new rheumatologist, and much more.
The session, along with a two-hour virtual poster session, represented an unprecedented platform for the ACR to provide for the patient voice – an acknowledgement of the key role patients play in arthritis research, prevention, treatment and management. Presentations included:
The Journey to Collaborative Care and Patient-Centric Educational Opportunities for a Scleroderma Patient
Planting Seeds of Self-Advocacy: Increasing Healthcare Engagement in Children and Adolescents Through Arthritis Camp
From Denial of Spondyloarthritis to Becoming a Support Group Leader and Medical Doctor of Rheumatology: A Patient's Perspective
Chronically Catherine: A Sex and the City-Inspired Autobiographical Column for Disabled Young Adults on Subjects We Really Care About — Like Disabled Dating and How Hot Cheetos Saved My Life
At the presentations, speakers took the audience through the patient's journey telling their personal stories about how they coped, revisited their goals and dreams, and the unforeseen gaps in their care. Their key message to the researchers and rheumatologists: When you are open to hearing the patient side, you are able to create that critical partnership that gives patients the best possible results. In other words, it's one thing to talk the talk; it's now time rheumatologists walk the walk. According to Dr. Khanna: "So many groups in healthcare talk about the importance of the patient perspective, but we created a platform to give patients a physical voice. This isn't an abstract distillation. This is the native voice of truth coming from the source."
ACE is a long-time advocate speaking arthritis truths to power and promoting the patient voice and the importance of patient-reported outcomes: "People living with arthritis are the experts about their disease and need the ability to effectively share their complex experience and be the quarterback of their healthcare team," commented ACE Founder and President, Cheryl Koehn.
ACE has created a program called JointHealth™ Education to help patients with arthritis learn more not just about their disease but how to talk about their experience with their health care provider to achieve optimal care. Because each of us learn at a different pace and through different education tools, JointHealth™ Education allows people to learn when it's convenient for them, through lessons and coaching videos they can access on their computer, tablet or smart phone. Patients also have access to other fact-based resources and communities, powering them to be better prepared to self-manage their disease in true partnership with their rheumatologist, arthritis professional or family doctor.
Click here
to find out more and take the JointHealth™ Education courses on rheumatoid arthritis, psoriatic arthritis, ankylosis spondylitis, advanced therapies and biosimilars.