JointHealth™ express
December 21, 2022
---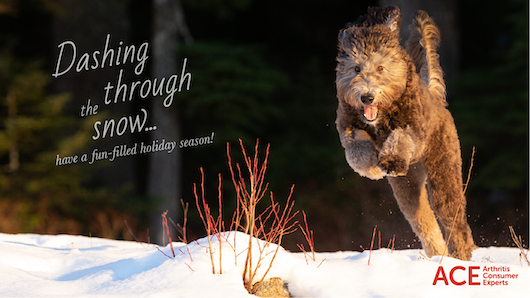 Holiday greetings from Arthritis Consumer Experts
One of my annual highlights is to sit down at my computer to write to you, our member, subscriber, or organizational partner to share thoughts on the year just passed and to tell you about what is planned for the next 12 months. As I write, gratitude pours from my heart to my fingertips. So first, I want to thank people with arthritis and your families and friends, health care professionals, and policy makers for being a part of our broad Arthritis Consumer Experts' (ACE) family. I am so grateful for our arthritis community. When I see, collaborate or meet with you virtually or in-person, I am genuinely "at home."
Managing arthritis is a team effort. We're grateful for the support of our families and loved ones and our healthcare team who help us live our best lives: rheumatologists, physiotherapists and occupational therapists, exercise therapists, pharmacists, and family doctors, all help patients manage and treat the physical and psychological impacts of arthritis. Put simply, teamwork makes the dream work.
As a proud member of the arthritis community, we stand united with the 6 million Canadians living with arthritis. Our community is not just one of older people, children, Indigenous Peoples, women, men, people of colour, LGBTQ2+ individuals – it is a community of all those people. We are all in arthritis together.
During this holiday season, the ACE team reflects on our blessings and shared values with the arthritis community, like truth, dignity, respect, integrity and compassion. In the spirit of fellowship and goodwill, we honour those values and we seek to make them real because they are our North Star in the work we do for you.
Understanding the lived experience of people living with arthritis is central to the strategic development and implementation of ACE's work. In 2022, ACE continued to lead the arthritis community and shape and influence short- and long-term health policy decision making based on the patient priorities identified by our members, subscribers, fans and followers and the findings from our National Surveys. ACE delivered strategic patient education and advocacy programming on key arthritis issues, meetings with policymakers, major website upgrades and the operation of the largest arthritis patient social media platform in Canada.
In 2023, we intend to expand ACE's programming for people with lupus, osteoarthritis and the most common types of inflammatory arthritis – rheumatoid arthritis, spondyloarthritis and psoriatic arthritis. We are transforming our digital platforms to make them more user friendly and continue to deliver the information and education programming our members, social media followers and web site visitors have come to enjoy and rely on these past 23 years. We will continue to gather the "voices" of arthritis through our national surveys and project those voices to government policy makers and elected officials to ensure they are doing what they need to form and implement health care policies that meet their medical and mental health needs in effective and culturally appropriate ways. We will do that work in close collaboration and co-leadership with our Indigenous mentors and guides, as well as with arthritis health professionals and basic science and clinical scientists and researchers, rheumatologists, physio- and occupational therapists, social workers and counsellors, and most importantly, people living with arthritis.
It's going to be a very busy 2023, but for now, I want to send my best wishes of peace, love and improved health and wellness to everyone in our arthritis community.
Sincerely,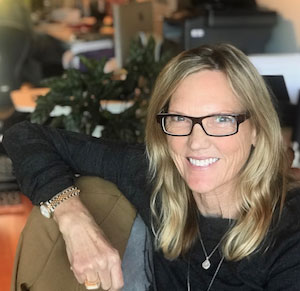 Cheryl L. Koehn
person with rheumatoid arthritis and
founder and president of Arthritis Consumer Experts