JointHealth™ express
April 4, 2023
---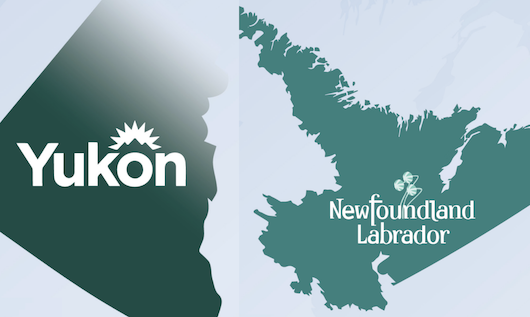 Biosimilars use expanding in Newfoundland and Labrador and Yukon
Arthritis Consumer Experts supports efforts to make the Newfoundland and Labrador and Yukon public drug plans more sustainable, expand coverage for new treatments and improve patient access to medications
Newfoundland and Labrador and the Yukon are the latest Canadian jurisdictions to implement biosimilar transition policy, which moves patients from certain originator biologics to the biosimilar versions, following British Columbia, Ontario, Quebec, Alberta, Saskatchewan, New Brunswick, Nova Scotia and the Northwest Territories.
Starting on March 31, 2023,
Newfoundland and Labrador
became the ninth Canadian province and territory to implement biosimilars transition policy. Under the Newfoundland and Labrador Prescription Drug Program (NLPDP) Biosimilar Initiative, patients currently using Copaxone® (glatiramer acetate), Enbrel® (etanercept), Humalog® (insulin lispro), Humira® (adalimumab), Lantus® (insulin glargine), Lovenox® (enoxaparin), NovoRapid® (insulin aspart), Remicade® (infliximab), or Rituxan® (rituximab) will have 12 months to discuss transitioning from an originator to a safe and effective biosimilar version.
When more than one biosimilar option exists for an originator, it is the patient's choice, in consultation with their health professional, which biosimilar option they will use. At the end of the
12-month
transition period, funding and/or special authorizations for the originator biologic will end.
Announcing the new policy, the Government of Newfoundland and Labrador stated: "The Biosimilars Initiative provides an evidence-based opportunity to get the best value from medications funded under the program, without negatively affecting patient health outcomes. This will allow the program to invest in new and innovative drug therapies while continuing to expand access to existing drug treatments."
Most recently,
the Government of Yukon
announced on March 29, 2023, that it was enhancing the public drug plan with biosimilars as part of its commitment "to building a sustainable, people-centered approach to improving health systems." Yukoners enrolled in Pharmacare or the Chronic Disease and Disability Benefits programs currently using Humira® (adalimumab) or Lantus® (insulin glargine) will have
six months
to work with a health care provider to make the transition from their current biologic originator to a biosimilar to maintain coverage.
"The Government of Newfoundland and Labrador and the Government of Yukon's drug policy announcements will help ensure continued reimbursement coverage for patients with inflammatory arthritis who transition to a biosimilar biologic. Biosimilars are as effective and safe as originator biologics but are available at a much lower cost. Patients and prescribers should feel confident about the transitioning and that their government will reinvest savings into their healthcare system, especially at this time when resources to maintain and improve patient care are urgently needed," said Cheryl Koehn, Founder and President, Arthritis Consumer Experts.
During the transition period in both the Yukon and Newfoundland and Labrador, patients are encouraged to discuss a transition plan with their health care provider. Both prescribers and their patients should be fully informed and have all available information about the biosimilar medicine, such as details about the reimbursement policy, patient support program information, including contact names and phone numbers.
Biosimilars are new versions of medicines that are made when patents and data protection expire for originator biologic drugs. Biosimilars undergo the same robust and rigorous approval process by Health Canada and to be approved in Canada, a biosimilar must be proven to be highly similar to its originator, with no clinically meaningful differences in terms of safety and efficacy. Biosimilars have been approved for use in Canada since 2009. Fifty-two biosimilars are currently approved by Health Canada.
Biosimilars can improve patient access to high quality medicines at a lower cost and produce significant savings for public and private healthcare systems. Companies that make copies of other drugs typically do not have the same costs to bring the product to market and can therefore offer it at a lower price
1
. A study commissioned by the Canadian Government's Patented Medicine Prices Review Board (PMPRB) has estimated that private and public drug plans across Canada could save from $332 million CDN to $1.81 billion CDN in the third year following biosimilar entry across a portfolio of products
2
.
Patients can find additional information at:
Newfoundland and Labrador Biosimilars Initiative website
Yukon government website
Arthritis Consumer Experts: Biosimilars•Exchange website
Arthritis Consumer Experts: Biosimilar Biologics Patient Guide
---
1
Canadian Agency for Drugs and Technologies in Health (CADTH): Biosimilar Drugs: Your Questions Answered
https://www.cadth.ca/sites/default/files/pdf/biosimilar_drugs_patient_en.pdf
2
The Patented Medicines Prices Review Board, Government of Canada. Potential Savings from Biosimilar in Canada poster.
http://www.pmprb-cepmb.gc.ca/CMFiles/NPDUIS/2017_Conference_Posters/post_6_biosim.pdf