JointHealth™ express
April 27, 2023
---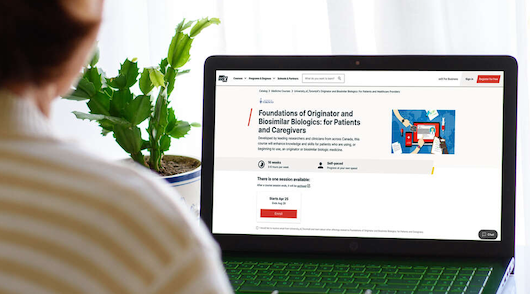 Massive Open Online Course (MOOC) on Biosimilar Biologics Launched
Ontario Health (Cancer Care Ontario) and the Leslie Dan Faculty of Pharmacy, University of Toronto have collaborated to develop online courses to increase awareness and knowledge of biologic (originator and biosimilar) medications among relevant patients, caregivers, and health care providers by providing accessible, evidence-based educational content and resources. The online course for patients and caregivers is free of charge: Foundations of Originator and Biosimilar Biologics: for Patients and Caregivers
Click hereto register for the course.
Background
In December 2022, the Ministry of Health in Ontario announced that starting March 31, 2023, Ontario Drug Benefit (ODB) recipients who are on certain originator biologics for some medical conditions will begin to transition to a Health Canada-approved biosimilar version of the drug at no cost. For more information, go to
this special edition
of JointHealth™ insight.
Arthritis Consumer Experts also issued a
news release
about Ontario's implementation of biosimilars transition policy.
In response to the expanding use of biosimilars and in anticipation of the new policy from Ontario, the MOOC online courses were developed by leading researchers, clinicians and people with lived experience from across Canada, these online courses will help patients, caregivers, and health care professionals enrich their knowledge and skills related to biologics, including biosimilars. Cheryl Koehn, President of Arthritis Consumer Experts, was one of the co-leaders in the development of the online course for patients and caregivers.