JointHealth™ express
July 27, 2023
---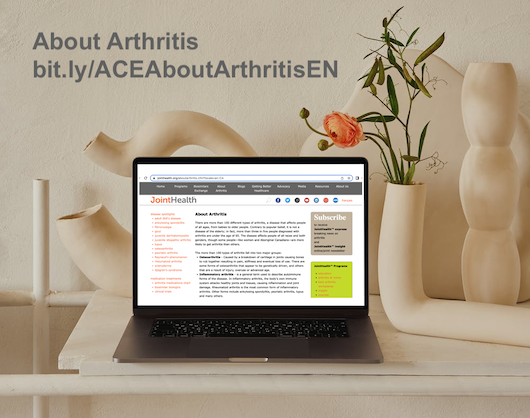 ACE Releases New About Arthritis Website Resource
(Vancouver, B.C.)
— Arthritis Consumer Experts (ACE) today relaunched its comprehensive
About Arthritis
resource for people living with osteoarthritis or inflammatory arthritis, their families and caregivers, and the public.
"ACE's About Arthritis page on our website has helped thousands of people living with arthritis become more knowledgeable about the diagnosis, treatment and care of their disease. Many of those users provided ACE with comments and feedback, which have been implemented to improve this valued and trusted resource," said Cheryl Koehn, Founder and President, Arthritis Consumer Experts.
The new high quality, expertly developed About Arthritis resource has been reviewed by members of ACE's Advisory Board and now includes the most current scientific information about disease types and extensive disease information organized under new headings:
Type of disease
Diagnosis
Who can develop it
Symptoms
Treatment
Self-care
Key takeaways
References
About Arthritis Consumer Experts
Arthritis Consumer Experts (ACE) is a national organization that provides free, science-based information and education programs to people with arthritis. ACE serves people living with all forms of arthritis by helping them take control of their disease and improve their quality of life through education and empowerment. ACE is guided by a strict set of guiding principles, set out by an advisory board comprised of leading scientists, medical professionals and informed arthritis consumers.
ACE is committed to using inclusive language that is free from words, phrases and tone that reflect discriminatory or stereotyped views of underrepresented people or groups. In our attempt to avoid bias or using language that appropriates other cultures as it relates to Indigenous Peoples health and wellness, ACE consults with Indigenous advisors to ensure its website and other written materials use terms and expressions that align with Indigenous identities and are culturally appropriate.
- 30 -
For further information, please contact:
Kelly Lendvoy
Vice President, Communications & Public Affairs
lendvoy@jointhealth.org
Direct: 604.379.9898