JointHealth™ express
August 23, 2023
---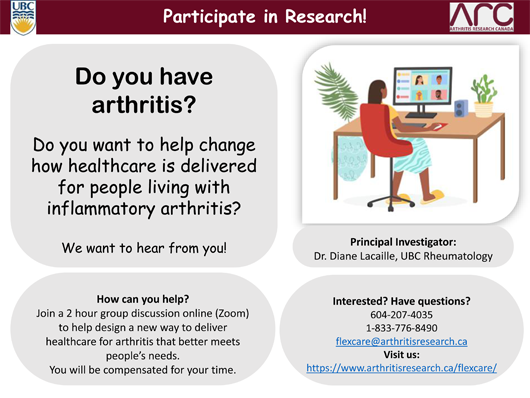 Do you have arthritis?
Researchers at Arthritis Research Canada and the University of British Columbia, along with patient and public advocates, are looking for research participants! The study will help change how healthcare is delivered for people living with inflammatory arthritis. Arthritis Consumer Experts is a co-investigator for this study.
As a participant, you will join a 2 hour group discussion online via Zoom to help design a new way to deliver healthcare for arthritis that better meets people's needs. You will be compensated for your time. To learn more about the study, please contact 604-207-4035 or email
flexcare@arthritisresearch.ca
. To join the study, please
click here
.