JointHealth™ express
September 18, 2023
---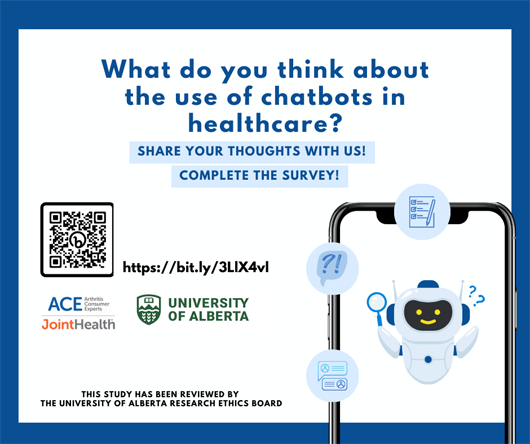 Participate in our research study on the use of Chatbots in healthcare!
Why participate?
The University of Alberta invites you to join their research study exploring the role of chatbots in healthcare. You've been selected as a potential participant, and your insights can shape the future of healthcare services!
How to participate:
Complete the Online Survey. It'll only take around 5 minutes of your time. Your valuable input will help us understand the impact of chatbots in healthcare.
Confidentiality guaranteed:
Your responses will remain strictly confidential and anonymous. Only the research team will have access to your data.
What's required:
Open to anyone accessing healthcare services
Willingness to share your opinions via the survey
No obligation to answer any questions you're uncomfortable with
How to get started:
Scan the QR code. The QR code will take you to a detailed information and consent page.

https://bit.ly/3LlX4vl
Your input can revolutionize healthcare practices. Thank you for considering this opportunity to make a difference. Your time and insights are highly valued!
Research study details:
Principal Investigator: Dr. Carrie Ye
Tel: 780-492-1965
REB ID Pro00133202
For more information, contact:
research@universityalberta.edu