JointHealth™ express
November 8, 2023
---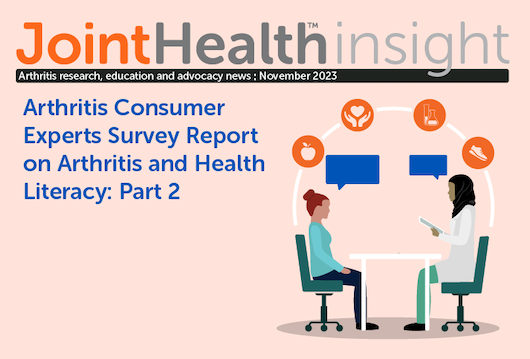 In this issue of
JointHealthTM insight
, Arthritis Consumer Experts (ACE) takes a deeper look at the findings* from the ACE National Survey on Arthritis and Health Literacy. In Part 2 of the analysis, we take a deeper look at the responses from Black, Indigenous, and people of colour versus white respondents.
In this issue, you will learn more about:
Who the Survey respondents were
How respondents find, process, and use health information
How respondents use information they gathered in decision making
The implications the findings have for arthritis care
Read and share the Survey
findings
and
infographic
.
*It is important to note that there is a number of individuals who did not complete the survey; therefore, many of the percentages will not add up to 100%.