---
In this issue
Listening to you
Arthritis Consumer Experts (ACE)
JointHealth™ insight
Published March 2023
---


Ontario is following seven other Canadian provinces and territories in expanding the use of safe and effective biosimilar medication treatments for Ontarians. Starting March 31, 2023, Ontario Drug Benefit (ODB) recipients who are on an originator biologic will begin to transition to a Health Canada approved biosimilar biologic version of the medication.
Commenting on the new policy, Sylvia Jones, Deputy Premier and Minister of Health, said: "Patients will continue receiving the same high-quality treatment, while allowing the government to fund more new drug therapies, bring innovation to the health care system and continue its work to deliver better, connected patient care."
Ontarians receiving coverage under the ODB program for Copaxone® (glatiramer acetate), Enbrel® (etanercept), Humalog® (insulin lispro), Humira® (adalimumab), Lantus® (insulin glargine), NovoRapid® (insulin aspart), Remicade® (infliximab), or Rituxan® (rituximab) -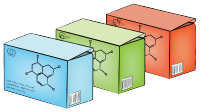 biologic medicines used to treat many disabling and life-threatening chronic diseases, including types of inflammatory arthritis, cancer, diabetes, inflammatory bowel disease, multiple sclerosis and psoriasis - will be required to transition to the biosimilar version by December 29, 2023. Patients will need a new prescription for a biosimilar to maintain ODB program coverage for their biologic.
What is a biosimilar biologic?

Biologic medications have been a treatment option for patients with inflammatory arthritis for the past 22 years. As patents expire for originator biologics, other manufacturers may produce new versions of the medications called biosimilar biologics. To receive Health Canada's approval, a biosimilar must demonstrate that it is highly similar and has no clinically meaningful differences in safety and efficacy compared to its originator.1 Biosimilars have been approved for use in Canada since 2009 and 50 biosimilars are currently approved by Health Canada.

Because biosimilars are produced post-patent, biosimilar manufacturers do not have the same costs to bring the product to market and can therefore offer it at a lower price. The savings from biosimilars to public and private healthcare systems is potentially billions of dollars over the coming years, which can be reinvested into healthcare resources for Canadian patients.2

How does the transition work for inflammatory arthritis patients?
Usually, patients begin transitioning from the originator biologic they are taking to its biosimilar biologic when they next meet with their rheumatologist on the renewal of their biologic prescription. In Ontario, a patient receiving ODB program coverage of any of the originator biologics listed above (as a senior, OHIP+ recipient, Trillium Drug Program household, resident in a long-term care home, home for special care or community home for opportunity, recipient of professional home and community care services, or recipient of drug benefits under Ontario Works or the Ontario Disability Support Program) may require a new prescription for a biosimilar version of their medication to continue to receive ODB program coverage. The new prescription will allow patients to transition from the originator biologic medication that they are currently using to a biosimilar version of the same drug.
During the nine-month transition period in Ontario, inflammatory arthritis patients should discuss the transition process with their rheumatologist or nurse practitioner to discuss the transition, including details about how to get a prescription for the biosimilar to keep their drug plan coverage, patient support program information and contact details. Patients will be required to have their new biosimilar biologic prescription before the end of the transition period. After the transition period ends, the ODB will only cover the biosimilar version(s).
There are rare medical reasons or circumstances that may require a patient to stay on their originator biologic. Under the new policy in Ontario, a health care provider will need to ask the ODB program if a patient qualifies for an exemption.

Why are public drug plans transitioning patients from an originator biologic to a biosimilar biologic?
More biosimilars are coming to market for various chronic diseases as well as for rare diseases. However, they are complex medications and can be very expensive and time consuming to develop. This can limit patients' access to these medicines and can make it difficult for the healthcare system to afford them. What does this mean for publicly funded drug plans? According to data from the Canadian Institute for Health Information, public drug program spending on biologic medicines reached $4.4 billion in 2021 (29% of total public drug program spending).
3
For the tenth consecutive year, anti-TNF biologic medicines used for rheumatoid arthritis and Crohn's disease accounted for the highest proportion of that public drug spending total.
4
With the rising cost of biologic medications and the impact on drug spending, lower cost alternatives can ensure drug program sustainability. When patents expire on originator biologics, more pharmaceutical companies can manufacture and market the drug so there is more competition and lower drug costs. Public drug plans can capture these savings through biosimilars reimbursement policy, which has the potential for hundreds of millions of dollars in cost savings to the Canadian healthcare system.
5
Ontario has become the eighth Canadian province and territory to implement biosimilars transition policy following British Columbia, Quebec, Alberta, New Brunswick, Nova Scotia, Northwest Territories, and Saskatchewan who have implemented transition policies over the past four years. The Patent Medicines Prices Review Board estimates that Ontario could save more than $200 million annually with the implementation of its biosimilar transition policy.
6
The Ontario Ministry of Health has stated its transition policy will allow Ontario to fund more new drug therapies, continue to grow the roster of publicly funded life-saving drugs, bring innovation to the healthcare system and continue to deliver better, connected patient care.
For up-to-date information about biosimilars policies for each provincial and territorial public drug plan, please click
here
.

How to ensure a smooth transition from an originator biologic to a biosimilar biologic
Transitioning patients from originator biologics to biosimilar biologics is associated with the potential for a "nocebo" effect, a phenomenon that occurs when a patient's negative expectation causes a treatment to have a more negative effect than it otherwise would—essentially, the opposite of the placebo effect.
The way in which rheumatologists and other health care providers communicate with patients about transitioning to a biosimilar is key to preventing the nocebo effect. Patients should be informed about the transition well in advance and the availability of research-based information is important for patient understanding and empowerment. Finally, an appointment with a rheumatologist to discuss biosimilar transitioning should ideally allow enough time for the patient to understand the concept of biosimilars and transitioning and to address any concerns properly.

Want to learn more?
ACE has published the most comprehensive patient guide to biosimilars. Click
here
to download or print a copy.
---
References
`
---
Listening to you
We hope you find this information of use. Please tell us what you think by writing to us or emailing us at
feedback@jointhealth.org
. Through your ongoing and active participation, ACE can make its work more relevant to all Canadians living with arthritis.
---
Update your email or postal address
Please let us know of any changes by contacting ACE at
feedback@jointhealth.org
. This will ensure that you continue to receive your free email or print copy of JointHealth™ insight.
---
Arthritis Consumer Experts (ACE)
Who We Are
Arthritis Consumer Experts (ACE) and its team members acknowledge that they gather and work on the traditional, ancestral and unceded territory of the Coast Salish peoples -ʷməθkʷəy̓əm (Musqueam), Sḵwx̱wú7mesh (Squamish), and Səl̓ílwətaʔ/Selilwitulh (Tsleil-Waututh) Nations.
Arthritis Consumer Experts (ACE) operates as a non-profit and provides free research based education and information to Canadians with arthritis. We help (em)power people living with all forms of arthritis to take control of their disease and to take action in healthcare and research decision making. ACE activities are guided by its members and led by people with arthritis, scientific and medical experts on the ACE Advisory Board. To learn more about ACE, visit
www.jointhealth.org
---
Disclosures
Over the past 12 months, ACE received grants-in-aid from: Arthritis Research Canada, Amgen Canada, Canadian Biosimilars Forum, Canadian Institutes of Health Research, Canadian Rheumatology Association, Eli Lilly Canada, Fresenius Kabi Canada, Novartis Canada, Organon Canada, Pfizer Canada, Sandoz Canada, Teva Canada, UCB Canada, and the University of British Columbia.
ACE also received unsolicited donations from its community members (people with arthritis) across Canada.
ACE thanks funders for their support to help the nearly 6 million Canadians living with osteoarthritis, rheumatoid arthritis, psoriatic arthritis, ankylosing spondylitis and the many other forms of the disease.
---
Disclaimer
The material contained on this website is provided for general information only. This website should not be relied on to suggest a course of treatment for a particular individual or as a substitute for consultation with qualified health professionals who are familiar with your individual medical needs. Should you have any healthcare related questions, you should contact your physician. You should never disregard medical advice or delay in seeking it because of something you have read on this or any website.
This site may provide links to other Internet sites only for the convenience of World Wide Web users. ACE is not responsible for the availability or content of these external sites, nor does ACE endorse, warrant or guarantee the products, services or information described or offered at these other Internet sites.
Although the information presented on this website is believed to be accurate at the time it is posted, this website could include inaccuracies, typographical errors or out-of-date information. This website may be changed at any time without prior notice.