---
In this issue
Listening to you
Arthritis Consumer Experts (ACE)
JointHealth™ insight
Published Summer 2023
---


Osteoarthritis (OA) is a degenerative joint disease that is the most common type of arthritis and a leading cause of chronic pain and loss of mobility in Canada. In the past, OA was often dismissed as an "old person's" disease and caused by the inevitable "wear and tear" of the joints. The cause of osteoarthritis is often muti-faceted and complex, making it difficult to pinpoint and treat. Risk factors for osteoarthritis include age, a family history of the disease, excess body weight that increases the pressure on joints, as well as joint injury. The greatest increase in OA is seen among young to middle aged people (20-59 years), due largely to increases in sedentary lifestyle, childhood obesity, and knee injury
1
.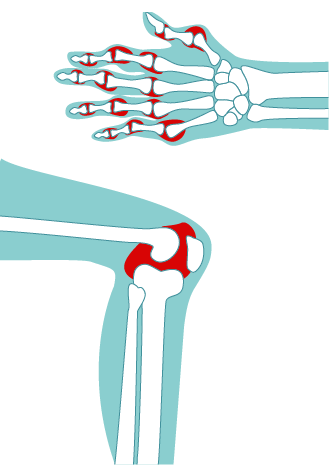 Arthritis Consumer Experts (ACE) is Canada's largest patient led arthritis group and is committed to understanding and raising awareness about osteoarthritis care. As part of that commitment, ACE recently conducted a national Survey to better understand the experiences of those living with OA, including time to diagnosis, access to care, impact on lifestyle and employment, interactions with care providers, and surgical wait times.
Background
Osteoarthritis affects 5 million Canadians of all ethnicities from youth to old adults. The disease is caused by the breakdown in cartilage in the joints that causes bones to rub against each other, resulting in movement becoming stiff and unpleasant and reduced quality of life.
Currently, there are no medications that effectively treat the underlying disease process of OA, only medications to treat the symptoms associated with the disease such as pain. For this reason, lifestyle changes and physical activity are often considered the "best medicines" to treat OA. The high prevalence of other medical conditions in people with OA also makes disease management challenging. As many as 90 per cent of people with OA have at least one additional chronic condition—most often diabetes, heart disease, and high blood pressure
2
.
What is the economic and social cost of osteoarthritis?
It is estimated that by 2040, 12 million Canadians will have osteoarthritis. Researchers from the Alberta Bone and Joint Health Institute estimate the rising rates of OA will cost the Canadian economy
3
:
an estimated $17.5 billion a year in lost productivity by 2031 due to OA symptoms
a greater number of people will be forced to stop working or work less due to mobility limitations and pain
How the Survey was conducted
ACE conducted a 41-question online Survey (March 23 to April 14, 2023) in English and French. Respondents shared their lived experience living with osteoarthritis, including symptoms, interactions with their health care providers, lifestyle changes and any other treatments and self-care strategies they use to live a full life with the disease.
Who were the Survey respondents?
A total of 384 responses were received.
23 (6%) respondents identified as black, Indigenous, or person of colour (BIPOC) and 361 (94%) of respondents identified as white
259 (67%) identified as women, 52 (14%) as men, and 2 (<1%) as non-binary
131 (34%) of respondents lived in urban areas; while 115 (30%) lived in suburban or rural areas
It is important to note that the number of individuals who did not complete the survey was significant. Therefore, many of the percentages will not add up to 100%.
Diagnosis of osteoarthritis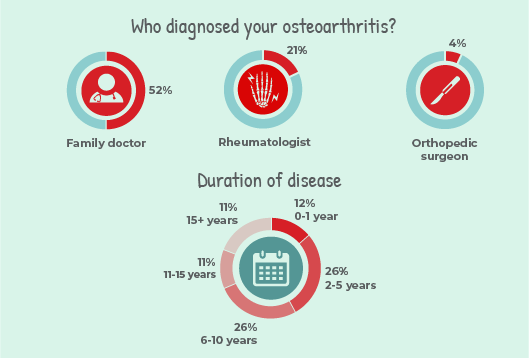 Osteoarthritis was most commonly diagnosed by family doctors (52%), rheumatologists (21%), or orthopedic surgeons (4%).
Half of Survey respondents had a duration of disease between 2 to 10 years (26% at 2 to 5 years and 23% at 6 to 10 years), followed by 17% at more than 15 years, 12% at 0 to 1 year, and 11% at 11 to 15 years.
Areas in the body affected by osteoarthritis
Respondents were asked which joints were affected by osteoarthritis and were able to select all that apply. The most common areas in the body reported were the knees, hands, hips, and lower back. Other areas included the neck, shoulder, feet, ankles, and other joints. Respondents were asked to specify if they selected other joints; answers include upper spine, wrist, and fingers.



Knees: 57%
Hands: 48%
Hips: 42%
Lower back: 40%
Neck: 27%
Shoulders: 26%
Feet: 24%
Ankles: 17%
Other: 8%

When compared to men, women reported higher occurrence of OA in the neck, lower back and feet.
Osteoarthritis symptoms and daily activities
The Survey asked respondents to rate how osteoarthritis symptoms impact their daily activities. Respondents were asked to rate their pain, stiffness, and difficulty with completing certain tasks. Findings include:
Individuals reported
moderate-to-extreme
pain upon
climbing stairs (53%)
walking (49%)
standing (43%)
sleeping (39%)
resting (25%)
Over half (58%) of individuals reported morning stiffness and approximately half (49%) of individuals reported evening stiffness.
On average, respondents experienced
moderate-to-extreme
difficulty
with heavy chores (60%)
going up stairs (48%)
going down stairs (43%)
rising from sitting (42%)
walking on uneven ground (42%)
bending to floor (40%)
getting in and out of car (39%)
standing (37%)
going shopping (36%)
getting in and out of the bath (35%)
putting on socks (33%)
rising from a bed (30%)
taking off socks (29%)
sitting (23%)
with light chores (23%)
getting on and off the toilet (22%)
lying in bed (21%)
Women reported experiencing greater difficulty with standing, getting in and out of the bath and heavy chores, while respondents who reside in rural areas reported standing, light chores, and heavy chores to be more difficult.
Surgery wait time
Seventy-five respondents were referred to see a surgeon for an initial consult, referral times ranged from 0 months to over 1 year.
0 to 2 months - 11 (3%)
3 to 4 months - 19 (5%)
5 to 6 months - 13 (3%)
7 months to 1 year - 11 (3%)
over 1 year - 21 (5%)
Not applicable - 214 (56%)
It is interesting to note that 214 respondents answered "not applicable".
Similarly, the reported wait times for the 56 individuals who were on a surgical waitlist ranged from months to over 1 year to have their surgery.
0 to 2 months - 12 (3%)
3 to 4 months - 7 (2%)
5 to 6 months - 9 (2%)
7 months to 1 year - 16 (4%)
over 1 year - 12 (3%)
Not applicable - 233 (61%)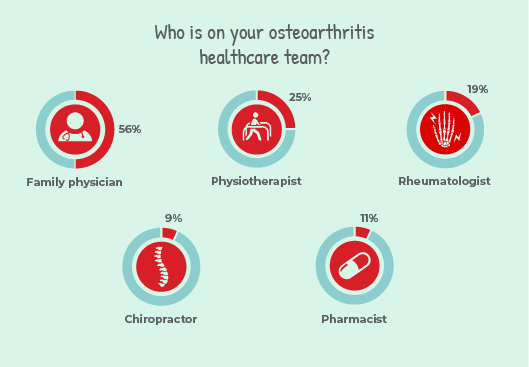 Healthcare team and interactions
Survey respondents identified all of the individuals on their osteoarthritis healthcare team. Healthcare teams most often consisted of family physicians (56%), physiotherapists (25%), rheumatologists (19%), chiropractors (11%) and pharmacists (9%).
When asked if a health care provider identified the joint symptoms described to them as those of osteoarthritis, respondents answered:
Strongly agree: 30%
Agree: 32%
Neutral: 6%
Disagree: 3%
Strongly disagree: 2%
When asked if a health care provider took the necessary time to explain the diagnosis of osteoarthritis, respondents answered:
Strongly agree: 15%
Agree: 27%
Neutral: 15%
Disagree: 13%
Strongly disagree: 3%
When asked if a health care provider gave specific advice for self-care practices for osteoarthritis, such as improved nutrition, weight management and therapeutic exercise, respondents answered:
Strongly agree: 9%
Agree: 25%
Neutral: 19%
Disagree: 16%
Strongly disagree: 4%
Discussions with health care providers
22%
said nutrition and weight management treatment options were discussed during the appointment where they received their osteoarthritis diagnosis:
White woman respondent: "Discussed but not in detail."
White woman respondent: "I have taken the initiative to research supplements for weight management that do not have side effects. My Nurse Practitioner has given me advice as well but it's on me to motivate myself to get my health back in line as much as my osteoarthritis can endure."
White woman respondent: "Weight control was mentioned, but specific nutrition suggestions were not."

35%
said physical activity and therapeutic exercise treatment options were discussed during the appointment where they received their osteoarthritis diagnosis:
White woman respondent: "When I was first diagnosed with osteoarthritis in my late 30's, I wasn't given any treatment options. I also could not afford physiotherapy at the time, I honestly did not have the means to seek help or given any resources for help. Now in my late 40's, living in a different province my osteoarthritis worsened and my current Nurse Practitioner has been very helpful in advising me to seek further guidance and gave me the resources. My former employer had great benefits as well so I was able to take advantage of that as well. I am now unemployed unfortunately and paying out of pocket for my extended insurance to alleviate health costs."
POC woman respondent: "I have tried to be active without a doctor's advice."
50%
said medication treatment options for osteoarthritis symptoms were discussed during the appointment where they received their osteoarthritis diagnosis:
White woman respondent: "Prescribed a medication, no discussion."
Indigenous respondent: "I got more advisable info from my Physical therapist than I did my doctors ."
POC respondent: "The OT has provided me with all information and treatment (exercise/splints). My GP (who diagnosed me) provided me with no additional information except drugs."
White woman respondent: "The physio focused on exercise, movement, and strengthening the muscles around my knee/no medication talk."
White woman respondent: "GP missed diagnosis in CT scan. I asked for another X-ray 2 years later. Referred to surgeon. Told 6 months to consult then another 24-40 weeks to surgery. Told to take Tynenol."
Satisfaction with osteoarthritis non-medication treatment(s)
Overall, 18% of individuals responded as "satisfied" with their osteoarthritis medication treatment. Yet, women reported being "satisfied" with non-medication treatment only half as often as men.
Further, women started non-medication treatment less than half as often as men.
Very satisfied: 4%
Satisfied: 18%
Neutral: 24%
Dissatisfied: 9%
Very dissatisfied: 3%
I did not start a non-medication treatment after I received my diagnosis: 13%
Satisfaction with osteoarthritis medication treatment(s)
Very satisfied: 2%
Satisfied: 15%
Neutral: 21%
Dissatisfied: 10%
Very dissatisfied: 6%
Not on a medication treatment for OA: 17%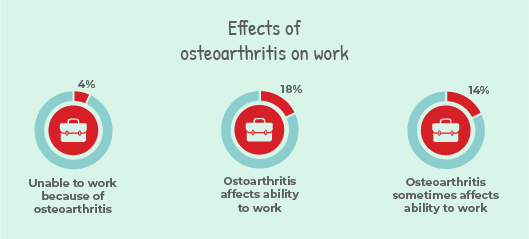 Effects on work
4% of respondents reported being unable to work because of osteoarthritis
18% reported that osteoarthritis affects their ability to work
14% reported that osteoarthritis sometimes affects their ability to work
That said, rural respondents reported that OA more often effects their ability to work when compared to non-rural respondents.
I am unable to work because of my osteoarthritis: 4%
Yes: 18%
Sometimes: 14%
No: 14%
Not applicable: 20%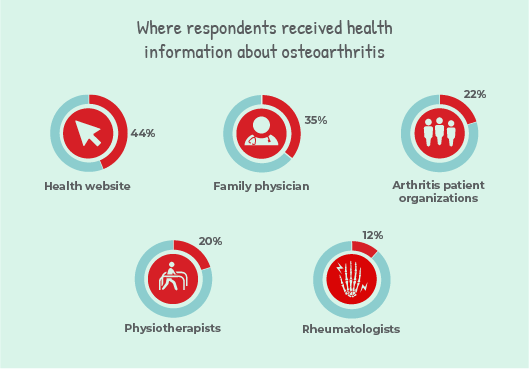 Where did respondents get information about osteoarthritis?
When asked about where they receive health information, individuals selected (all that apply): health website (44%), family physician (35%), arthritis patient organizations (22%), physiotherapists (20%), and rheumatologists (12%).
Potential tools that would help respondents communicate to their health care provider about osteoarthritis
When asked what potential tools would be helpful, individuals selected (all that apply): symptoms or medications checklist: 37%, followed by assessment tool*: 34%, mobile app: 24%, and health journal: 19%.
Below are some assessment tools that are useful for patients and health care providers:

Discussion
Respondents who have osteoarthritis and live in rural areas have limited access to the care they need to manage their disease symptoms. This is supported by research from Arthritis Research Canada that found distance and geographical isolation are significant barriers to accessing health care providers and services. Provincial and territorial governments need to assess these gaps in care and explore ways to
improve access to early treatment and pain management for rural residents living with osteoarthritis who are at risk for increased disease severity and reduced quality of life
.
4
Some individuals with severe OA require joint replacement surgery to achieve greater quality of life, joint function, and reduce pain. According to the Canadian Institute for Health Information, the guideline for knee and hip replacement is to receive surgery within 26 weeks. Many Survey respondents reported they were not treated within that guideline. This deeply impacts the lives of patients with OA who require these surgeries.
Table 1: Sociodemographic Information
Progress-Plus Framework
Place of residence*
Large urban centre (population of 100,000+)
mall-medium sized population centre (population of 16,000 to 99,999)
Rural or remote community (population of 15,999 or less)
131 (34%)
50 (13%)

65 (17%)
Ethnic group
White
Black, Indigenous and Person of Colour TOTAL
Black
Indigenous
Person of Colour
361 (94%)
23 (6%)
2 (<1%)
5 (1%)
16 (4%)
Education*
I prefer not to answer this question
Less than high school
High school or equivalent
Some college or university
College or university graduate
4 (1%)
3 (<1%)
30 (8%)
59 (15%)
151 (39%)
Socioeconomic status (Annual income)*
$40,000 or lower
$40,001-$80,000
$80,001-higher
I prefer not to answer this question
29 (8%)
66 (17%)
105 (27%)
47 (12%)
Access to care*
0-10 kilometres (0-6 miles)
11-25 kilometres (7-15 miles)
26-50 kilometres (16-31 miles)
51-100 kilometres (32-62 miles)
101-250 kilometres (63-155 miles)
251-500 kilometres (156-311 miles)
more than 500 kilometres (more than 311 miles)
121 (31%)
66 (17%)
31 (8%)
19 (5%)
6 (<2%)
3 (<1%)
1 (<1%)
Co-morbidities in > 5%**
High blood pressure
Cataracts
Anemia
High cholesterol
Pneumonia
Asthma
Cancer
Hypothyroidism
Diabetes
Heart murmur
Kidney stones
Stomach or peptic ulcer
123 (32%)
76 (20%)
62 (16%)
70 (18%)
63 (16%)
53 (14%)
47 (12%)
41 (11%)
32 (8%)
26 (7%)
24 (6%)
22 (6%)
Age*
2010 to present
between 1990-2009
between 1970-1989
between 1950-1969
between 1930-1949
before 1930
0 (0%)
1 (<1%)
21 (5%)
173 (45%)
52 (14%)
0 (0%)
Percentages do not add to 100% due to missing values (137*, 68**) and/or round off
---
References
| | |
| --- | --- |
| 1 | Ackerman, I. N., Bucknill, A., Page, R. S. et al. (2015). The substantial personal burden experienced by younger people with hip or knee osteoarthritis. Osteoarthritis and Cartilage, 23(8), 1276-1284. |
| | |
| --- | --- |
| 2 | Crowson, C. S., Gunderson, T. M., Dykhoff, H. J et al. (2022). Comprehensive assessment of multimorbidity burden in a population-based cohort of patients with rheumatoid arthritis. RMD open, 8(1), e002022. |
| | |
| --- | --- |
| 3 | Sharif, B., Garner, R., Hennessy, D. et al. (2017). Productivity costs of work loss associated with osteoarthritis in Canada from 2010 to 2031. Osteoarthritis and cartilage, 25(2), 249-258. |
| | |
| --- | --- |
| 4 | Darlow, B., Brown, M., Thompson, B., Hudson, B., Grainger, R., McKinlay, E., & Abbott, J. H. (2018). Living with osteoarthritis is a balancing act: an exploration of patients' beliefs about knee pain. BMC rheumatology, 2(1), 1-9. |
---
Listening to you
We hope you find this information of use. Please tell us what you think by writing to us or emailing us at
feedback@jointhealth.org
. Through your ongoing and active participation, ACE can make its work more relevant to all Canadians living with arthritis.
---
Update your email or postal address
Please let us know of any changes by contacting ACE at
feedback@jointhealth.org
. This will ensure that you continue to receive your free email or print copy of JointHealth™ insight.
---
Arthritis Consumer Experts (ACE)
Who We Are
Arthritis Consumer Experts (ACE) and its team members acknowledge that they gather and work on the traditional, ancestral and unceded territory of the Coast Salish peoples -ʷməθkʷəy̓əm (Musqueam), Sḵwx̱wú7mesh (Squamish), and Səl̓ílwətaʔ/Selilwitulh (Tsleil-Waututh) Nations.
Arthritis Consumer Experts (ACE) operates as a non-profit and provides free research based education and information to Canadians with arthritis. We help (em)power people living with all forms of arthritis to take control of their disease and to take action in healthcare and research decision making. ACE activities are guided by its members and led by people with arthritis, scientific and medical experts on the ACE Advisory Board. To learn more about ACE, visit
www.jointhealth.org
---
Disclosures
Over the past 12 months, ACE received grants-in-aid from: Amgen Canada, Arthritis Research Canada, Biosimilars Canada, Canadian Biosimilars Forum, Canadian Rheumatology Association, Eli Lilly Canada, JAMP Pharma, Novartis Canada, Organon Canada, Pfizer Canada, Sandoz Canada, Teva Canada, UCB Canada and the University of British Columbia.
ACE also received unsolicited donations from its community members (people with arthritis) across Canada.
ACE thanks funders for their support to help the nearly 6 million Canadians living with osteoarthritis, rheumatoid arthritis, psoriatic arthritis, ankylosing spondylitis and the many other forms of the disease.
---
Disclaimer
The material contained on this website is provided for general information only. This website should not be relied on to suggest a course of treatment for a particular individual or as a substitute for consultation with qualified health professionals who are familiar with your individual medical needs. Should you have any healthcare related questions, you should contact your physician. You should never disregard medical advice or delay in seeking it because of something you have read on this or any website.
This site may provide links to other Internet sites only for the convenience of World Wide Web users. ACE is not responsible for the availability or content of these external sites, nor does ACE endorse, warrant or guarantee the products, services or information described or offered at these other Internet sites.
Although the information presented on this website is believed to be accurate at the time it is posted, this website could include inaccuracies, typographical errors or out-of-date information. This website may be changed at any time without prior notice.