September 25, 2014
For Immediate Release
ARTHRITIS CONSUMER EXPERTS RECOGNIZES CANADA'S BEST WORKPLACES FOR EMPLOYEES LIVING WITH ARTHRITIS
TELUS, Agricultural Financial Services Corporation and cfactor Works recognized for best arthritis practices in the workplace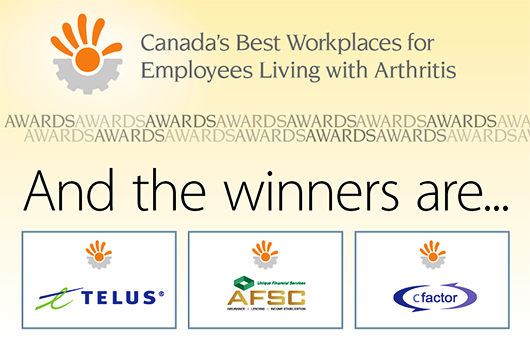 (VANCOUVER) - The results are in. Arthritis Consumer Experts (ACE) today announced the three companies awarded Canada's Best Workplaces for Employees Living with Arthritis for their efforts to make the work environments great for everyone, including employees living with arthritis.
Based on workplace insights shared by employees and company managers, the following companies stand out for best practices that take into account the unique concerns of employees living with the most common chronic disease in the workplace – arthritis:
Large workplace - TELUS
Medium workplace - Agricultural Financial Services Corporation
Small workplace - cfactor Works
Commenting on the arthritis in the workplace award, ACE President, Cheryl Koehn said: "As we hoped, the application process delivered insights to further strengthen Canadian companies' approaches to creating a more productive and arthritis sensitive workplace. During our exchanges with employees and employers, we also created opportunities for companies to assess their awareness of arthritis and support systems for employees living with the disease."
In the inaugural year of the program, recognizing the best arthritis practices of leading companies throughout Canada, ACE received 72 submissions, representing a total employee population of approximately 140,000. Based on those written submissions and interviews with employers and employees of nominated companies, ACE partnered with its scientific partner, the Arthritis Research Centre of Canada (ARC), and evaluated nominations using three criteria areas: Organizational Benefits, Physical Workplace and Employee Education. For more information on the award, please visit:
jointhealth.org
.
Dr. John Esdaile, ARC's Scientific Director, commented: "We live in exciting times for arthritis research and ARC's current work-related research led by Dr. Diane Lacaille and her team fills a much-needed role in the realm of arthritis self-management and employment. Thanks to this work, coupled with increased awareness of the capabilities of employees with arthritis through programs like
Canada's Best Workplaces for Employees Living with Arthritis
, more Canadians will be able to continue working with varying degrees of adaptations and adjustments, providing a win-win situation for both employers and employees alike."
Employees living with arthritis and working for one of the three award-winning companies commented in their submissions that their employers assisted them by providing a comfortable, adaptable work environment - whether from 9-5 or late at night; in the office or at home.
Managers at the three companies noted that the positive return for offering progressive health and wellness programs included improved employee health and morale, health care cost control, increased productivity, and absenteeism/presenteeism reduction. Managers at TELUS, Agricultural Financial Services Corporation and cfactor Works also spoke about how nurturing a culture of well-being had broader motivations, including low turnover rates, attraction of top candidates, job satisfaction, and recruitment and retention of workers.
Quotes from award-winners of
Canada's Best Workplaces for Employees Living with Arthritis
:
"At TELUS, we value all of our team members and respect that regardless of their diversity or abilities they should be treated with dignity and respect. This award confirms that we are upholding best practices in enabling mobility and flexibility for employees living with arthritis and providing a comprehensive approach to mental and physical well-being." -
Donna McNicol, SVP Community Investment & Wellness Strategy, TELUS
"Agriculture Financial Services Corporation makes significant investments to encourage employees to balance work and their personal lives through flexible work hours, healthcare plans and programs that assist all affected employees. At AFSC, our people are by far our greatest and most valuable asset. That's why we are proud to be one of Canada's Best Workplaces for Employees Living with Arthritis." -
Donna Bryden, Vice President Human & Corporate Services
"cfactor Works is committed to mobility and flexibility for our employees. Our head office was designed through a collaborative process between architects, designers and employees, which led to workplace features to assist mobility challenged workers. This recognition from Arthritis Consumer Experts reinforces our promise to be an innovative employer, offering comprehensive health and family benefits and programs such as complimentary ergonomic assessments to address physical workplace challenges." -
Cary Schuler, CEO, cfactor Works Inc.
Discover JointHealth™ online:
www.jointhealth.org
http://bit.ly/YouTubeJointHealth
http://www.facebook.com/ACEJointHealth
http://www.twitter.com/ACEJointHealth
Got arthritis? We have a free app to help you!
http://bit.ly/GetArthritisID
Treat arthritis? We have a free app to help you!
http://bit.ly/GetArthritisIDPRO