JointHealth™ express
July 2, 2020
---
Arthritis At Home Episode 33: A conversation about health inequities and race with Ms. Spencer O'Brien, member of the Canadian National Snowboard Team and Indigenous and environmental rights activist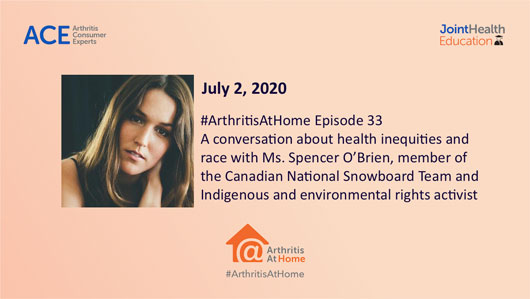 Born in Alert Bay, BC, Spencer O'Brien grew up as a member of the Haida Kwakwakw'wakw First Nation and learned from her mother that creativity and strength should guide her life. From the moment she first learned to snowboard at the age of 11 – turning pro just 5 years later – she's channeled this spirit to become one of the most progressive snowboarders in the world and the winner of five Winter X Games medals.
After battling pain, stiffness and swollen joints that kept her off snow for seven months in 2013, O'Brien was diagnosed with rheumatoid arthritis just months before the 2014 Winter Olympics in Sochi. After the diagnosis, and with her symptoms under control, she resumed training and completed a lifelong dream, winning the slopestyle event at Winter X Games in 2016.
Now a 15-year veteran of the Canadian National Team, she's taken her leadership responsibilities to heart – and into communities throughout British Columbia where sport can work for social change. She's a founding Ambassador for the
N7 Fund
to support aboriginal youth sport in Canada, works directly with the First Nations Snowboard Team and is also an active part of the Women's Sports Foundation and has done volunteer work with ACE (
Alliance for Climate Education
).
In this episode of Arthritis At Home, Spencer shares her insights on growing up in and being a part of her First Nations community and the issues of inequality in the health care system.
Visit Arthritis At Home online:
https://arthritisathome.jointhealth.org
Go Deeper
To learn more, please visit the resources below: