JointHealth™ express
July 22, 2020
---
Health inequities in arthritis: The language gap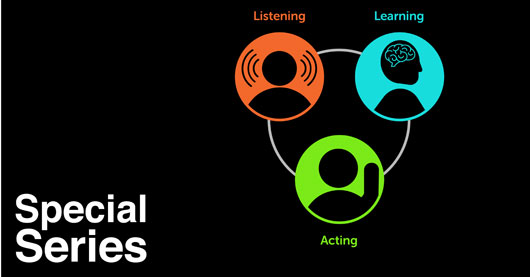 More than 7.8 million people in Canada have a first language other than English or French with Cantonese, Mandarin and Punjabi being among the most common
1
. Those who have a nonofficial first language may face significant barriers to healthcare, ultimately impacting one's ability to manage chronic diseases like arthritis. Drawing on research as well as firsthand experiences of community members, this article will focus primarily on the experiences of newly arrived immigrants and refugees in Canada.
Effects of language barriers on access and quality of care
The patient perspective
Many groups are affected by language barriers; in addition to immigrants and refugees, Francophones living outside Quebec or Anglophones living in Quebec, deaf persons, and members of some First Nations and Inuit communities all encounter challenges
2
. Language barriers can limit access to health care services, health promotion and prevention programs. According to a 2017 review by the Wellesley Institute, receiving care in a language you don't understand often leads to poorer health outcomes. These include a higher risk of receiving inappropriate medical testing, an increased risk of hospitalization and adverse medication reactions, and decreased patient satisfaction
3
. Language barriers have other impacts on a patient's care. It can lead to delays in seeking care, receiving a referral and diagnosis, misinformation about diagnosis and test results, non-adherence to treatment therapies, and poor management of a patient's chronic disease.
ACE's Progams Manager, Anita Chan, relates her family's experience accessing health care for her grandmother who doesn't speak English: "When I book medical appointments for my grandmother, I need to find a time that works for her, a family member and a trained medical interpreter. This causes a delay in receiving care and at 94 years of age, this can negatively affect my grandmother's health. This is only for routine care. For acute care, it all depends on what and who is available."
Many refugee women in Canada report that they experience dependence and isolation (i.e., rejection, fear, shame) as a result of language barriers
4
. They describe their dependence on others for direction on getting to the clinic and interpretation. Refugee clinics, where people are most likely treated by health care professionals (HCPs) who speak the same language as them, are scarce. General population walk-in clinics have no interpreter services. In the study, a participant recalls being turned away because she could not effectively speak to a specialist. She had to wait 7 months to get a new appointment. Another study respondent said: "It was frightening not knowing the language…I had no idea what they [healthcare workers] were talking about or what they were going to do to me." Below is a table outlining the impact of language barriers on patient outcomes
9
: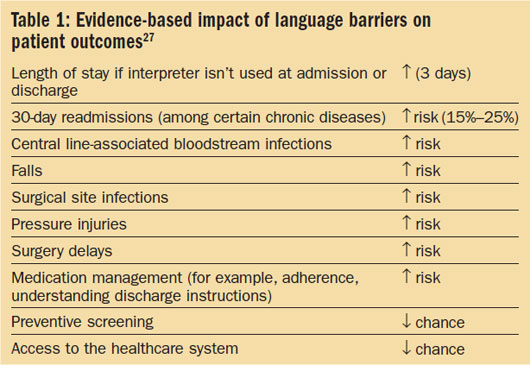 The health system perspective
When interpretation services are not available, HCPs may assign more medical testing to determine a patient's diagnosis, which may cost the healthcare system money and time. Patients with language barriers may often require re-hospitalization due to improper home care or treatment, which also burdens the health care system. To close the language barrier gap, health care institutions are using more interpretation services over-the-phone, in-person, via a bilingual HCP, and virtually – via a meeting platform, artificial intelligence, or mobile applications.
Access to interpretation
Despite commitments to accessible health services without barriers, like language in
Canada's Health Act
, the rights of minority language speakers are not clear (with the exception of deaf person who must be provided with interpreters for healthcare)
5
. When hospitals provide interpreter services, it is up to the patient or family members to request it and the services are typically offered during business hours.
To date, there is no national strategy for health interpreter training, interpreter accreditation and standards of service provision. Interpreters trained in medical terminology are available for patients in Canada's larger centers but are not readily available in smaller communities
6
.
Trained interpreters versus untrained or no interpreters
Trained interpreters have received formal training, in the classroom or on the job, from the health care institution or organization they work for. This added training helps them understand health care terminology, enabling them to serve as both knowledge translators and interpreters. Untrained interpreters are a broad term to refer to any person who engages in interpretation; they have no formal training and are often times friends, family members or volunteers.
Research has shown that trained interpreters lead to better clinical outcomes, better patient outcomes, and a decrease in clinical errors compared to untrained or no interpreters. There are often higher rates of omissions (leaving out information), and interpretation errors (providing incorrect information) among untrained interpreters
3
.
"The first time I sat in a medical appointment with my grandmother, she had a trained interpreter. Despite her best interpretation, I noticed that there are terms in Cantonese that simply have no equivalent in English and vice versa. Often, I find myself asking the interpreter to put medical terms in lay friendly language for us," said ACE's Anita Chan.
Cultural interpretation
Cultural differences have a profound impact on the interpretation process. Cultural understanding has been identified as a key component in providing adequate health care to immigrants. For example, in a recent study, Vietnamese-speaking doctors and nurses claimed that they had cultural knowledge about their Vietnamese clients' needs and behaviours that other service providers may not
7
. A literature review has also revealed that mental illness is heavily stigmatized and attributed to shame in many cultures
8
. In one study, participants stated that they felt "compelled to hide their distress for fear of being alienated".
"From a health care professional's perspective, it's sometimes not just language but culture. We have had patients and family turn down interpreters and only want family to interpret. Sometimes, they don't want an interpreter as they think their community is small and they don't want others to know. Sometimes, the family wants to control what the patient knows." – Pharmacist, Royal Columbian Hospital
Ethics and patient privacy
Language barriers make it difficult for providers to meet professional standards of care and increase their risk of liability for medical mistakes or negligence. Health care providers report they are sometimes not as effective and satisfied with the services they provide
2
. An appointment with a patient and a professional medical interpreter will require more time; HCPs feel like they have to rush the appointment and their explanations. Some are frustrated when untrained interpreters cut them off in the middle of an explanation to ask for clarification.
Language and cultural interpretation for patients plays a significant role in health outcomes for mental health, reproductive health and chronic diseases. Information for all patients is sensitive; professional ethics and confidentiality are important. The delivery of ethical care is dependent on obtaining informed consent and maintaining confidentiality. In order to do so, open and frequent communication is essential. Where language barriers occur, consent is given but the patient may not understand all the implications of the procedure.
Improving quality of care and health outcomes
Best health outcomes occur when a patient is matched to a healthcare provider who speaks the same language as them. One way to encourage this is through fundamental changes in medical education (i.e., inclusiveness, bursaries, including language or culture courses in the curriculum).
Change can also occur in the delivery of models of care. More public health funding can be allocated to the training of interpreters, creating a national model of interpretation services for Canada, providing language training to HCPs, and translating information packages for patients. The latter is crucial in preventative programs and patient self-care at home.
Partnering with patient advocates and immigrant service organizations may also alleviate some of the burden on the health care system. These organizations can provide language and soft-skills training to minority groups. For example, during the COVID-19 pandemic, S.U.C.C.E.S.S., an agency that assists people in all stage of their Canadian journey, has been providing online technology training. Learning to use online video platforms such as Zoom is crucial to a successful virtual medical appointment. Patient organizations can also help promote health education programs and resources that are available in different languages.
The research gap - under-representing minority groups

One of the indirect effects of language barriers is the impact it has on research participation of language minorities. Because of language barriers, some ethnic minorities are unable to participate in research and therefore are under-represented in both clinical and health services research. Furthermore, exclusion of certain ethnic groups from biomedical research may mean that study results cannot be generalized to the entire population. Less is known about risk factors, disease prevalence, and response to treatment of specific ethno-cultural groups. Our next Health Inequities in Arthritis article will provide in-depth coverage of this issue.
Go Deeper: Other articles in this series
---