JointHealth™ express
September 29, 2020
---
Expanding audience for ACE's Arthritis At Home program
Making it easier to listen to interviews with arthritis healthcare professionals, research scientists and patient experts with new Arthritis At Home (+ On the Go) Podcasts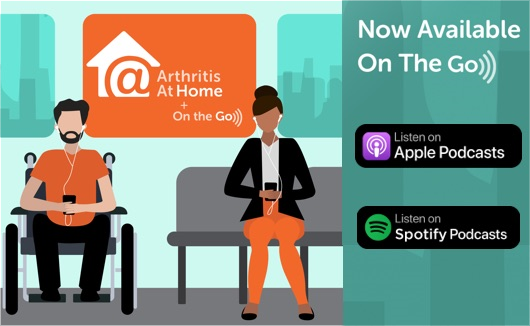 Arthritis Consumer Experts' new podcast series,
Arthritis At Home (+ On the Go)
, allows you to listen to our Arthritis At Home program interviews on the most popular podcast streaming platforms, including
Apple Podcasts
,
Spotify
,
Google Podcast
,
Overcast
and
more
.
Podcasts enable you to download episodes and listen to them outside of the house without internet connection – a great listening option for work commutes, exercising and dog walks!
We will be uploading new and historical episodes of Arthritis At Home. Follow or subscribe on the podcast apps
listed here
to be alerted when an episode gets uploaded.
More about Arthritis At Home
Arthritis At Home
and Arthritis At Home (+ On the Go) are 2020 additions to ACE's JointHealth™ Education programming that makes it possible for people living with arthritis to watch or listen to video interviews with Canadian experts in clinical rheumatology, arthritis scientists, physio and occupational therapists, psychologists and health economists as well as patent experts and advocates. We hope you find Arthritis At Home informative and fun as you live your best life with arthritis!
Follow #ArthritisAtHome on our social media channels to stay tuned.