JointHealth™ express
November 4, 2020
---
Rheumatoid Arthritis (RA) Quality of Care Survey
Researchers at the University of Calgary need your help.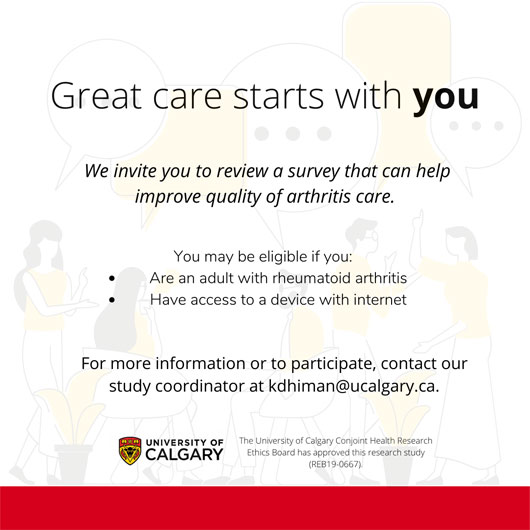 Researchers are inviting adults with rheumatoid arthritis to participate in a University of Calgary study that is looking at the quality of arthritis care. The purpose of this study is to test and create a survey that can help improve the quality of care that arthritis patients receive.
Participation in this study involves:
Testing the quality of care survey online (15-30 minutes)
Participating in an online interview where you share your feedback about the survey (1-1.5 hours)
Your participation in this study is voluntary and there are no foreseeable risks that are associated with this study. You will be asked to fill out a consent form before participating. If you have any questions about this study or wish to participate, please contact the study coordinator, Kiran Dhiman, at
kdhiman@ucalgary.ca
.
This study has been approved by the University of Calgary Conjoint Health Research Ethics Board (REB19-0677).