JointHealth™ express
December 3, 2020
---
Arthritis At Home Episode 55 – Equity, access to medications and national pharmacare in Canada with Dr. Steve Morgan
This week's episode of Arthritis At Home features Dr. Steve Morgan, Professor of Health Policy, University of British Columbia.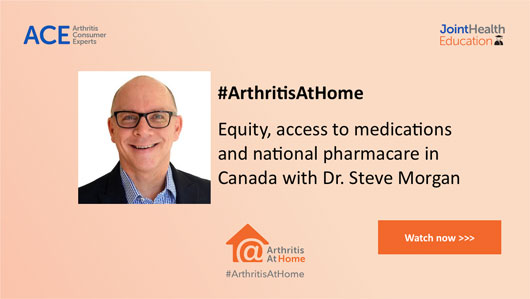 In this episode of #ArthritisAtHome, Dr. Steve Morgan discusses reimbursement access to medications in Canada and the current challenges during the pandemic. Dr. Morgan also looks at the concept of a national pharmacare program, explaining what a national pharmacare program would look like and how it could benefit individuals, households and the country as a whole.
Dr. Morgan's research focusses on policies to provide universal access to appropriately prescribed, affordably priced, and equitably financed prescription drugs. Dr. Morgan has published over 150 peer-reviewed research papers, received more than $4 million in peer-reviewed research grants, and provided policy advice to governments across Canada and around the world. He has won many awards for his work. Most recently, Dr. Morgan was named the 2019 Emmett Hall Laureate for career-long contributions to health system equity, fairness, justice and efficiency.
Check out these helpful resources