JointHealth™ express
December 20, 2022
---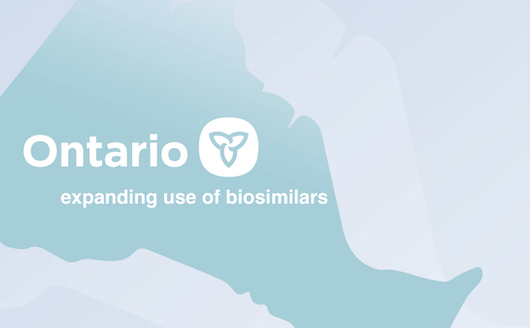 Ontario expanding use of biosimilars
Ontario has become the eighth Canadian province and territory to implement biosimilars transition ("switch") policy, which moves patients from certain originator biologics to the biosimilar versions. Under Ontario's biosimilar transition policy, patients and their prescribers, starting on March 31, 2023, have nine months to discuss transitioning from an originator to a biosimilar. The policy change involves medicines used for inflammatory arthritis, inflammatory bowel disease, multiple sclerosis, and psoriasis, as well as certain insulins used to treat diabetes.
"Today's drug policy announcement will help ensure continued reimbursement coverage for patients with inflammatory arthritis who transition to a biosimilar biologic. Biosimilars are as effective and safe as originator biologics but are available at a much lower cost. Based on the successful patient experience in British Columbia, Alberta, Quebec and other provinces and territories, patients and prescribers should feel confident about the transitioning and that the Ontario government will reinvest savings into their healthcare system, especially at this time when resources to maintain and improve patient care are urgently needed," said Cheryl Koehn, Founder and President, Arthritis Consumer Experts.
Biosimilars are new versions of medicines that are made when patents and data protection expire for originator biologic drugs. Biosimilars undergo the same robust and rigorous approval process by Health Canada and to be approved in Canada, a biosimilar must be proven to be highly similar to its originator, with no clinically meaningful differences in terms of safety and efficacy. Biosimilars have been approved for use in Canada since 2009. Fifty biosimilars are currently approved by Health Canada.
Biosimilars can improve patient access to high quality medicines at a lower cost and produce significant savings for public and private healthcare systems. The Patent Medicines Prices Review Board, for example, estimates that Ontario could save approximately $200 million annually with the implementation of its biosimilar transition policy.
1
In today's announcement, Sylvia Jones, Deputy Premier and Minister of Health said: "Ontario is joining other provinces and territories in the country by expanding the use of safe and effective biosimilar drugs. Patients will continue receiving the same high-quality treatment, while allowing the government to fund more new drug therapies, bring innovation to the healthcare system and continue its work to deliver better, connected patient care."
During the transition period in Ontario, between March 31 and December 29, 2023, patients are encouraged to discuss a transition plan with their health care provider through in-person, telephone or virtual visits. Both prescribers and their patients should be fully informed and have all available information about the biosimilar medicine, such as details about the reimbursement policy, patient support program information, including contact names and phone numbers.
Ontario patients can find additional information at:
---
1
Patented Medicines Prices Review Board, "Biosimilars in Canada: building momentum in the wake of recent switching policies"
https://www.canada.ca/en/patented-medicine-prices-review/services/npduis/analytical-studies/slide-presentations/biosimilars-cadth-2021.html