JointHealth™ express
April 11, 2023
---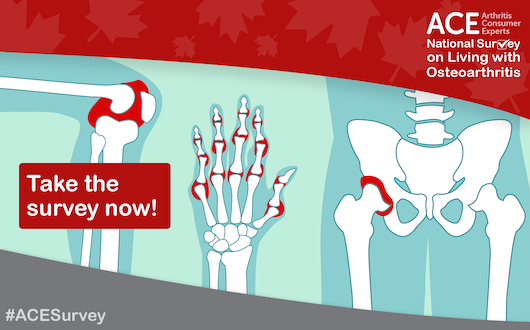 Reminder: Take the ACE National Survey on Living with Osteoarthritis
Osteoarthritis is the most common type of arthritis and affects more than 4 million Canadians. It can affect both younger and older adults. Osteoarthritis is a leading cause of chronic pain and loss of mobility in Canada and is associated with reduced productivity and increased use of health care resources.
The Survey asks you to share your lived experience living with osteoarthritis, including symptoms, interactions with your health care providers, lifestyle changes and any other treatments and self-care strategies you use to live a full life with the disease.
The Survey is open to people living with osteoarthritis and will take approximately 14 minutes to complete. Your identity will not be known and your responses will remain anonymous.
The Survey deadline is April 14, 2023.
Click here
to take the Survey.
We sincerely thank you in advance for your time and participation!
Arthritis Consumer Experts
P.S. If you are an arthritis health care provider, please help us spread the word about the Survey by downloading the PDF poster and placing it in your patient waiting area.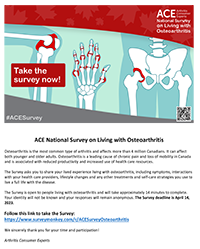 Download PDF poster