JointHealth™ express
July 11, 2023
---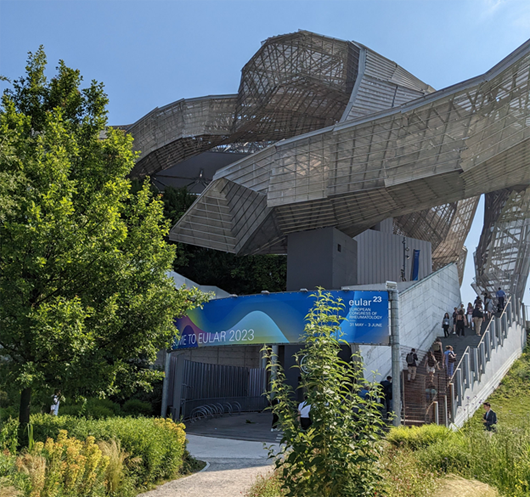 First impressions
The scientific meeting of the European Alliance of Associations for Rheumatology, EULAR, is one of the most important annual meetings for arthritis researchers, clinicians and patient organizations. This year the meeting took place in Milan, Italy and more than 14,000 people attended the meeting onsite and virtually. Walking into the conference centre the first day was an experience on its own. The venue was one of the most architecturally unique buildings I have ever set foot in. Once inside, the halls were covered in a dull coat of grey paint but was buzzing with life and noise. Trainees, researchers, delegates, and patients from all around the world were engaged in conversations about rheumatology, health care, advocacy, and policy. Attendees were animated, made large hand gestures, and individual voices were loud as if to make a statement. The conference centre was set up across three floors with two sides. On the ground floor, pharmaceutical companies were set up in an Exhibition Hall, while some of the larger oral presentations and poster presentations took place in the other half. The first floor contained the foyer and display booths for advocacy groups. One half of the second floor was filled with larger auditoriums, while the other contained private rooms for discussions.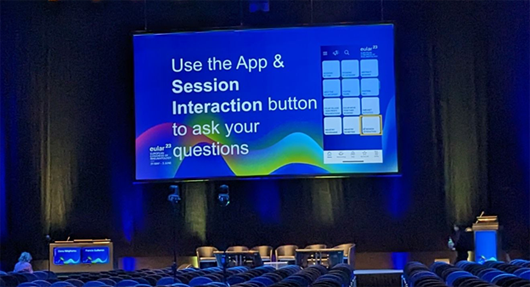 Being seen and heard
As a patient, I found myself feeling hopeful after attending an oral talk and poster session on Sjögren's syndrome. There have been some exciting research developments including two drugs that are moving to Phase III trials, namely Telitacicept and Dazodialibep, for the treatment of dry mouth and dry eye. When I walked out of those sessions, it was the first time I have ever felt seen as an arthritis patient. Although I appear to be healthy and vital, I live with symptoms that are not well studied or thus not appropriately treated, leaving me and many other women feeling like we are not truly seen and heard during our Sjögren's care. It is incredibly exciting to witness the evolution of research and know that there will be reliable treatment options for others like me in a couple of years.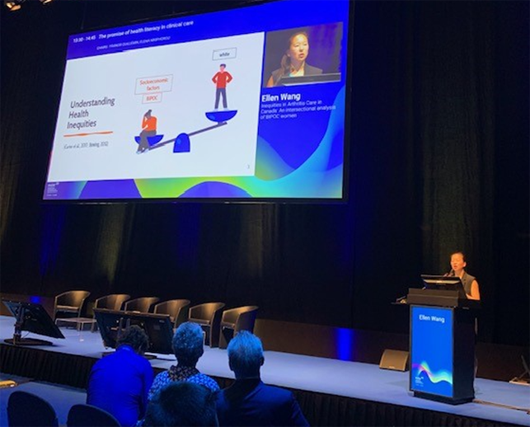 On the big stage
An abstract developed by our team at ACE on health inequities was accepted earlier this year by the EULAR meeting committee. As lead author, I had the incredible opportunity to present our work on an international stage, which was truly memorable. From the large room with rows on rows of seats with people focusing on me to the warm but intimidating stage lights. That said, I felt that my hours of preparation and rehearsal paid off. Overall, the oral session that described our work on
Inequities in Arthritis Care in Canada: An Intersectional analysis of BIPOC Women
was well received by the audience. Post session, I got to connect with fellow trainees and researchers from several countries, including the United Kingdom and France, two countries where health inequities are not well documented, understood or actioned upon. From the conversations, I came to realize how fortunate I am to be a part of Arthritis Consumer Experts, who is one of the organizations leading the way in Canada. As we celebrate a successful conference, we acknowledge that more work needs to be done.
Thank you to everyone who participated and shared their experiences on Arthritis Consumer Experts' National Survey on Arthritis and Health Inequities. This would not be possible without you! To learn more about the ACE National Survey Program, please
click here
. To learn more about health inequities,
click here
.