JointHealth™ express
August 18, 2023
---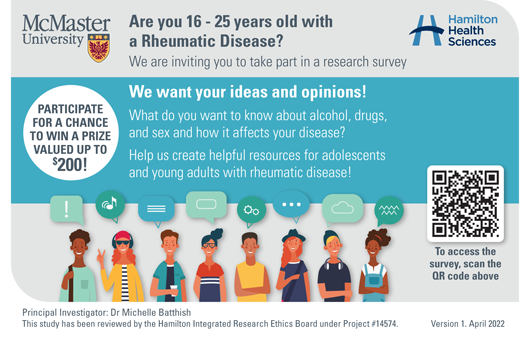 Take part in this research study for a chance to win a prize valued up to $200!
Are you 16-25 years old with a rheumatic disease? Researchers at McMaster University and Hamilton Health Sciences are inviting you to take part in a research study. The study aims to understand what, when, and how patients in this age group would like to receive information about how alcohol, drugs, and sexual activity affect their disease.
They want your ideas and opinions. It would help them create helpful resources for adolescents and young adults with rheumatic disease. Participants will be entered in a draw to win up to $200! To participate,
click here
to take the survey. The survey will take 8 to 15 minutes to complete. To learn more about the study, please contact Dr. Michelle Batthish
here
.