JointHealth™ express
September 28, 2023
---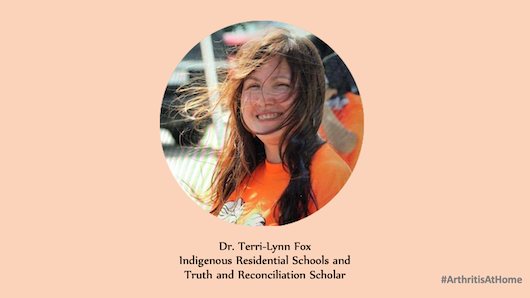 National Day for Truth and Reconciliation
September 30 is National Day for Truth and Reconciliation and Orange Shirt Day to memorialize the children lost to the residential school system and honour Survivors and their families. The annual theme, set by the National Centre for Truth and Reconciliation, is: Honouring Survivors: Remembering the Children.
In this episode of Arthritis At Home, Cheryl Koehn is joined by Dr. Terri-Lynn Fox to discuss the significance of the National Day for Truth and Reconciliation week for Indigenous Peoples and non-Indigenous people. Dr. Fox describes the activities the Blood Tribe of the Black Foot Confederacy in Alberta perform to honour traditional ways and acknowledge Elders and Knowledge Keepers in their community. Cheryl and Dr. Fox also look at the progress of one of Canada's most important tools for change – the Truth and Reconciliation Commission's 94 Calls to Action.
Cheryl and Dr. Fox also recommend ways for non-Indigenous people to broaden their understanding of Indigenous Peoples' culture and the damage from the residential school experience that continues to have an impact on Indigenous Peoples.
Mental health supports available
Former residential school students can call
1-866-925-4419
for emotional crisis referral services and information on other health supports from the Government of Canada.
Indigenous Peoples across Canada can also go to The Hope for Wellness Help Line 24 hours a day, 7 days a week for counselling and crisis intervention. Call the toll-free Help Line at
1-855-242-3310
or connect to the
online chat
(Please use Google Chrome).
Additional learning resources