JointHealth™ express
November 14, 2023
---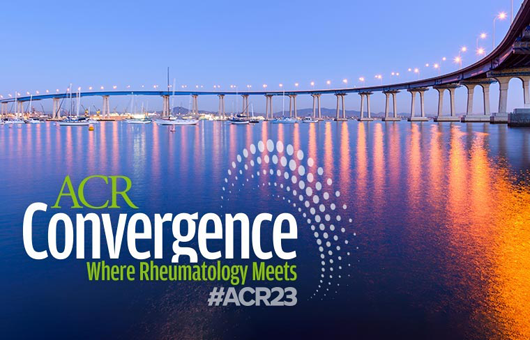 Is there a window of opportunity for PsA treatment?
Abstract 1641: The Window of Opportunity in Psoriatic Arthritis: Similar to Rheumatoid Arthritis?
A study from the Netherlands, presented at ACR Convergence, investigated the importance of early treatment for psoriatic arthritis (PsA). PsA is a disease where joints become swollen and painful, often occurring with psoriasis. Guidelines suggest early assessment and treatment, but there's usually a delay of 1-2 years in diagnosing PsA. This study attempted to find out if there's a crucial time window for starting treatment to achieve the best results.
The study included 855 patients grouped based on their delay in diagnosis: less than 12 weeks (early), 12-52 weeks (late), and more than 52 weeks. They measured outcomes like achieving Minimal Disease Activity (MDA), Disease Activity in Psoriatic Arthritis (DAPSA) remission, joint damage, and functional impairment.
The study found that the longer the delay in diagnosis (especially beyond 52 weeks), the less likely patients were to achieve MDA and DAPSA remission. They also had worse joint damage over three years. Interestingly, there was no significant difference in outcomes between those diagnosed within the first 12 weeks (early) and those diagnosed between 12 and 52 weeks (late). However, there was a trend suggesting slightly better outcomes in the early group.
This study provides evidence that early diagnosis and treatment are linked to better outcomes for PsA patients. Ideally, treatment should start within one year of symptom onset. The Netherland researchers concluded that the exact optimal time window for treatment needs further investigation.
ACR panel discussion looks at ongoing needs for managing COVID-19 patients living with arthritis
Researchers have been closely following and trying to understand the impact of COVID-19 on people with arthritis. The challenge they face is in distinguishing between long COVID and existing conditions such as fibromyalgia and chronic fatigue syndrome because the symptoms can be similar. During a special ACR Convergence panel discussion, Monica Verduzco-Gutierrez, MD, Academic Physiatrist, Professor, and Distinguished Chair of the Department of Rehabilitation Medicine at the University of Texas Health Science Center at San Antonio, an expert in rehabilitation medicine, emphasizes the increased risk of autoimmune diseases after COVID-19, especially for those on immunosuppressive treatments. She believes that COVID vaccination may help reduce this risk.
Other experts on the panel discussed identifying arthritis symptoms of long COVID and effective management strategies. Susan Lee, Associate Professor of Medicine, University of California, San Diego, stressed the severe suffering experienced by patients with long COVID and highlighted the need for more research on how COVID vaccination affects the risk of long COVID.
The discussion also covered medication treatments for COVID and long COVID in people living with arthritis, including alternative options like acupuncture. However, due to a lack of guidelines, the panelists were cautious about providing specific recommendations. Concerns about the risk of viral rebound in arthritis patients were raised by Zachary Wallace, MD, MSc, Rheumatologist and Clinical Epidemiologist at Massachusetts General Hospital and Harvard Medical School.
Despite the challenges, the panelists appreciated the audience's interest and expressed a need for more funding and research to provide comprehensive answers. Dr. Verduzco-Gutierrez emphasized the importance of ongoing research: "I know that a lot of the long COVID community and advocacy groups are really trying to get a moonshot to get more funding from the National Institutes of Health so we can provide you with better and more complete answers than we did today. This is especially important because people are still getting infected with COVID and are still getting long COVID."
Updates on how to improve osteoporosis patient care
Osteoporosis, a disease leading to fragile bones and fractures, poses a growing health risk, especially as people age. Research shows the connection between osteoporosis and arthritis is found in more severe cases of osteoarthritis that come with limited mobility along with increased pain that may accelerate bone loss and lead to osteoporosis.
While effective screening and treatments exist for osteoporosis, ongoing questions and debates surround their use. At a special session at ACR Convergence, experts in osteoporosis discussed the challenges in managing osteoporosis and navigating the complexities of osteoporosis treatment.
Dr. Bente Langdahl, MD, PhD, Professor at Aarhus University and Consultant at the Department of Endocrinology and Internal Medicine at Aarhus University Hospital, Denmark, focused on denosumab, a treatment proven to enhance bone density and reduce fracture risk. Patients using denosumab experienced long-term improvements compared to other treatments. However, discontinuing denosumab could lead to an increased risk of fractures, emphasizing the importance of careful consideration in treatment decisions.
Dr. Richard Eastell, BSc (Hons), MBChB, MD (Edin), FRCP (London, Edin), FRCPI (Hon), FRCPath, FMedSci, Professor of Bone Metabolism and Director of the Mellanby Centre for Musculoskeletal Research at the University of Sheffield, United Kingdom, argued for the broader use of bone turnover markers (BTMs) in managing osteoporosis. These markers reflect bone cell activity, providing more significant and early insights into changes compared to traditional bone density measurements. BTMs have been found to improve clinical outcomes and are gaining acceptance, especially in the USA.
Dr. Connie Weaver, PhD, MS, Distinguished Research Professor in Exercise and Nutritional Sciences at San Diego State University, addressed the importance of vitamin D supplementation and monitoring for bone health. While traditional recommendations focused on bone health parameters, a large study called VITAL challenged these norms, indicating that free vitamin D may be a better predictor of musculoskeletal health.
Special Lecture at ACR Convergence proposes shift in RA therapy from weakening immune system to strengthening it
Researchers exploring rheumatoid arthritis (RA) have uncovered that the immune systems of patients with RA face a breakdown in self-tolerance, leading to persistent inflammation. What is behind these processes has been challenging to identify. Dr. Cornelia M. Weyand, MD, PhD, Professor of Medicine and Immunology at the Mayo Clinic College of Medicine and Science and Professor Emerita of Medicine, Stanford University School of Medicine, addressed these challenges when she delivered the Klemperer Memorial Lecture, titled "Rheumatoid Arthritis as a Mitochondrial Disease" at the ACR annual scientific meeting.
Dr. Weyand described that in patients with RA, the immune system is under a kind of stress related to how cells generate energy. Malfunctions in the mitochondria, the cell's powerhouses, play a crucial role. Mitochondria are essential components of nearly all cells in the body, providing energy to carry out biochemical reactions and other cellular processes. Mitochondria make energy for cells from the chemical energy stored in the food we eat.
Inflammation in RA patients occurs when aged T-cells accumulate and cause inflammation, giving rise to inflammatory cells with high tissue invasiveness. Mitochondrial defects in this inflammation process result in energy depletion and miscommunication with other cell components. According to Dr. Weyand, these mitochondrial defects trigger the excessive production of tumor necrosis factor (TNF) alpha, a key feature of inflammation in RA. Traditionally, RA therapy involved suppressing the immune system to reduce inflammation, but Dr. Weyand challenges this approach. She believes that immunosuppressive medications make patients vulnerable, as observed during the COVID-19 pandemic. Dr. Weyand advocates for a shift toward repairing and strengthening the immune system rather than suppressing it: "During the COVID-19 pandemic, it became clear that the anti-inflammatory and immunosuppressive medications we give our patients make them immunocompromised. Immunology has taken a new direction, and the next horizon we are moving toward with RA is not to continue suppressing the immune system but repairing and strengthening it."
This new direction in understanding and treating RA could lead to new ways to enhance the immune system's function, providing hope for more effective and tailored therapies in the future.