JointHealth™ express
November 14, 2023
---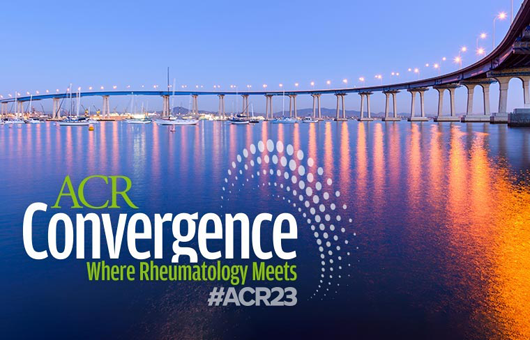 ACR and Centers for Disease Control and Prevention team up to develop new quality measures to improve lupus care by 2030
Abstract 1899: Healthy People with Lupus 2030: Goals to Improve the Quality of Care and Health of All People with Lupus in the United States
The American College of Rheumatology (ACR) and the Centers for Disease Control and Prevention (CDC) have collaborated on the Healthy People with Lupus 2030 project, aiming to establish equitable quality measures for lupus care by 2030. Lupus disproportionately affects women and people of color, leading to disparities in care. The project, presented at ACR Convergence 2023, developed five quality measures focusing on clinical and patient-reported outcomes.
Two interdisciplinary teams worked on electronic health records (EHR)-based measures related to hydroxychloroquine, steroid use, and renal screenings, as well as patient-reported outcome measures (PROMs) covering quality-of-life measurements. Patient input played a key role in selecting the final measures. The priorities include increasing hydroxychloroquine use, reducing glucocorticoids, bi-annual monitoring for lupus nephritis, reducing disability, and addressing depression and suicide among lupus patients.
These measures are designed to enhance health care quality, safety, and outcomes for lupus patients, addressing long-standing disparities. The teams hope to implement these measures by 2030, targeting reduced morbidity and improved functional outcomes for lupus patients. The ACR's Rheumatology Informatics System for Effectiveness (RISE) registry plays a crucial role in incorporating these measures into clinical practice, allowing nationwide implementation and monitoring of lupus care. The initiative emphasizes simplicity with a high impact for patients and represents a collaborative effort to enhance lupus care and reduce associated morbidity, ultimately improving the lives of people with lupus by the end of the decade.
Hydroxychloroquine Lowers Risk of non-alcoholic fatty liver disease in RA patients
Abstract 0396: Hydroxychloroquine Is Associated with a Decreased Risk of Non-alcoholic Fatty Liver Disease in Patients with Rheumatoid Arthritis: A Population-based, Cohort Study
The latest research presented at ACR Convergence 2023 suggests that treating rheumatoid arthritis (RA) with hydroxychloroquine (HCQ) may reduce the risk of non-alcoholic fatty liver disease (NAFLD), especially in women and men under 50 years old. RA is an autoimmune inflammatory disease affecting joints and other organs, and NAFLD is a prevalent condition in RA patients.
Drawing on data from Taiwan's National Health Insurance Research Database (2000-2020), the study included over 21,000 patients. The results indicate that 399 patients (1.86%) developed NAFLD after eight years, and taking HCQ was associated with a significantly lower risk of NAFLD, particularly in women under 50. The potential explanation lies in HCQ's impact on adiponectin, a factor linked to insulin resistance, inflammation, and NAFLD. The study revealed common NAFLD risk factors like obesity, higher prednisone doses, and nonsteroidal anti-inflammatory drugs (NSAIDs). However, conventional risk factors such as diabetes and high cholesterol were not prevalent in this sample of RA patients.
Despite the study's limitations using claims data, the findings highlight a potential benefit of HCQ in reducing NAFLD risk for RA patients. Nevertheless, the researcher, Hsin-Hua Chen, emphasizes the need for double-blind randomized controlled trials to confirm HCQ's preventive or therapeutic effect on NAFLD. Until then, regular liver function tests are recommended every three months for all RA patients and monthly for those taking medications with potential liver toxicity. This research adds valuable insights to managing RA and associated conditions, promoting better care for individuals with RA.
Canadian researchers show AI model accurately identifies, predicts joint damage in hand X-Rays.
Abstract 0745: Artificial Intelligence Models for Computer-Assisted Joint Detection and Sharp-van Der Heijde Score Prediction in Hand Radiographs from Patients with Rheumatoid Arthritis
Artificial intelligence in health care is a key topic at this year's ACR annual meeting. Today, researchers presented a deep learning system that accurately identifies and predicts joint space narrowing and erosions in hand X-rays of patients with rheumatoid arthritis (RA). Deep learning is a type of machine learning and artificial intelligence (AI) that imitates the way humans gain certain types of knowledge. Deep learning models can be taught to perform classification tasks and recognize patterns in photos, text, audio, and other various data. Traditional methods of evaluating RA can be time-consuming and require specific expertise.
The study, led by Dr. Carol Hitchon, from the University of Manitoba, explores the potential of machine learning to enhance RA detection and diagnosis. Using a neural network (CNN) called You Only Look Once (YOLO), the researchers trained the model to detect joints in hand radiographs. YOLO is known for its real-time object detection capabilities and efficiency in image processing. The model developed by Dr. Hitchon's team achieved high accuracy in identifying target joints.
The researchers also use a deep learning and AI model to provide highly accurate predictions for joint space narrowing and erosion.
Despite the promising results, the study acknowledges limitations, such as a sample of patients primarily composed of white women. The findings may not be universally applicable, and the researchers emphasize the need for replication in diverse groups. Additionally, the model currently lacks continual learning ability, but the team is working on a new deep learning framework to address this limitation.
Dr. Hitchon underscores that while AI models cannot replace human radiologists, they serve as excellent complementary tools, enhancing the overall quality and efficiency of radiograph scoring analysis. The study envisions these models being applied to interpret large volumes of X-rays in clinical trials, showcasing the potential for AI to assist and complement human expertise in the field of rheumatology.
ACR Initiative Aims to Close Racial Disparities Gap in Lupus Clinical Trials
The American College of Rheumatology (ACR) is intensifying efforts to address racial disparities in lupus clinical trials through the Training to Increase Minority Enrollment in Lupus Clinical Trials with Community Engagement (TIMELY) initiative. Designed to reduce lupus-related health disparities in disproportionately affected populations, the program aims to engage and educate an additional 60 rheumatologists, nephrologists, and dermatologists, along with 75 community health workers. Lupus, a chronic autoimmune disease, particularly affects African American and Latinx populations, yet individuals from these communities are underrepresented in clinical trials.
TIMELY, funded by the U.S. Department of Health and Human Services Office of Minority Health (OMH), initially recruited 54 physicians and 57 community health workers during its pilot phase. The ACR plans to extend the program for an additional three years, expanding its reach and impact.
The initiative combines the ACR's Materials to Increase Minority Involvement in Clinical Trials (MIMICT) and collaborative efforts with healthcare providers and community health workers serving African American and Hispanic patients. The integrated approach addresses barriers to lupus clinical trial participation reported by both providers and patients.
Co-leaders of TIMELY, Dr. Allen Anandarajah, and Dr. Saira Sheikh, highlight the program's importance in building practical models that strengthen partnerships between academic and community practices, emphasizing the value of diversifying clinical trials on a national scale. The ACR's commitment to this initiative aligns with its broader lupus-related health disparities reduction goals, promoting inclusivity and awareness in lupus clinical research.