JointHealth™ express
November 15, 2023
---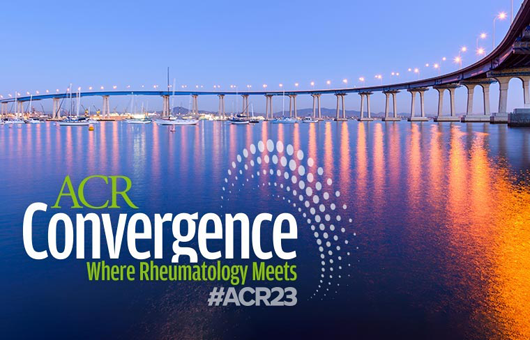 Gout patients at greater risk of premature mortality
Abstract 0742: Risk of Incident Gout Associated with Initiation of Sodium-glucose cotransporter-2 Inhibitors versus Other Second-line Agents Among Metformin Users with Type 2 Diabetes
A recent study looked at adults in the U.S. and the UK to understand how gout, a type of arthritis, affects the risk of early death. The researchers found that people with gout had a 20% higher chance of dying from any cause compared to those without gout. Even when considering a marker called serum urate, linked to gout, the risk of early death remained high. The study revealed that the risk was greater for certain groups based on sex and self-reported race/ethnicity.
Dr. Natalie McCormick, PhD, MSc, Instructor in Medicine in Rheumatology, Allergy, and Immunology at Massachusetts General Hospital and Harvard Medical School, who worked on the study, pointed out that unlike other arthritis conditions, the survival rates for gout have not been improving. Even after considering serum urate, gout patients still face an increased risk of early death, suggesting a unique pathway in gout that needs attention.
One potential solution discussed is colchicine, an anti-inflammatory used for gout treatment. Dr. McCormick highlighted that colchicine is increasingly being used to lower cardiovascular risk and has recently been approved for preventing heart issues in the United States.
Additionally, the study touched on a separate finding related to type 2 diabetes and gout. SGLT2 inhibitors, a type of medication, were found to potentially reduce the risk of gout by 40% to 60% among patients with type 2 diabetes. These inhibitors, in addition to their known cardiovascular benefits, may substantially lower the risk of gout for patients needing a second-line treatment after metformin. However, it's important to note that SGLT2 inhibitors were associated with an increased risk of genital infections compared to other interventions.
"Mortality has been improving in other rheumatic diseases, including rheumatoid arthritis and lupus, but not in gout before and after adjustment for serum urate," said Dr. McCormick. "There is increased risk above and beyond the traditional risk factors in cardiovascular disease that gout patients have. These data point to a more specific pathway in gout."
Examine potential for lupus disease modification and prevention
An ACR Convergence session, titled "Lupus Prevention and Disease-Modifying Anti-Lupus Drugs (DMALDs)," focussed on the concept of disease modification in lupus, a chronic disease that has been challenging to manage. Unlike diseases like rheumatoid arthritis, lupus has not seen established strategies for modifying its course. Dr. Anca Askanase from Columbia University highlighted that recent therapies and ongoing clinical trials are changing this landscape.
According to Dr. Askanase, lupus can now be successfully managed with the hope of achieving remission, thanks to targeted therapeutics. She also discussed whether the current drugs used for lupus can be classified as disease-modifying agents as well as the need for sustained improvement in disease activity, flare prevention, and minimizing steroid use over time to establish disease modification in lupus.
Another panelist, Dr. Maria Dall'Era, from the University of California, San Francisco, focused on lupus nephritis and discusses newly approved therapies, such as belimumab and voclosporin. Despite advances, he noted that genetic susceptibility data is not fully utilized to predict damage progression. A special task force, including, Dr. Dall'Era and Dr. Askanase, has proposed criteria for disease modification, emphasizing long-term outcomes, but some immunosuppressant medications lack long-term data.
Finally, Dr. David Karp from the University of Texas Southwest Medical Center explored the possibility of preventing lupus. His research investigates intercepting the disease's course early on to prevent irreversible organ or tissue damage. He shared insights from an NIH-supported clinical trial using hydroxychloroquine for lupus prevention in individuals at risk, with trial data expected by ACR Convergence 2024.
Physical therapy app together combined with physical therapist phone follow up improves RA patient self-care
Abstract 0806: Effectiveness of a Technology-enabled Self-monitoring and Physical Therapist Counselling Program for Improving Self-management Ability in People with Rheumatoid Arthritis: A Randomized Controlled Trial
A recent study led by Dr. Linda Li, PT, PhD, Professor, Department of Physical Therapy, University of British Columbia and Senior Scientist, Implementation Science at Arthritis Research Canada, explored the impact of a technology-based physical therapy intervention on patients with rheumatoid arthritis (RA). The study involved a Fitbit-compatible app called OPERAS, co-developed with patient partners, to monitor symptoms, disease activity, and self-care goals.
The study, presented by Dr. Li at ACR Convergence 2023, included 132 participants. Half received an immediate intervention with group education, a Fitbit, the OPERAS app, and phone calls from a physical therapist. The other half, the delay group, received monthly newsletters for the first 26 weeks and the same intervention from weeks 27 to 52. Assessments were conducted at weeks 27 and 53.
Results showed that the intervention group, with remote counseling by a physical therapist, experienced improved self-management, RA disease activity, fatigue, depression, and self-reported walking habits.
Dr. Li emphasized that integrating counseling with a health care professional and tailored educational content had a positive effect on self-management While the effect size was small, the intervention demonstrated positive outcomes in RA disease activity, fatigue, depression, and walking habits. The findings highlight the potential benefits of remote, technology-based interventions in improving the well-being of people living with RA.