---
In this issue
Listening to you
Arthritis Consumer Experts (ACE)
JointHealth™ insight
Published April 2023
---


The latest advances in Canadian arthritis research
In this issue of JointHealth™ insight, Arthritis Consumer Experts (ACE) shares takeaways from the 9
th
annual #CRArthritis event, hosted on ACE's digital platform, Arthritis Broadcast Network, and supported by Arthritis Research Canada. This year's #CRArthritis features interviews and conversations with esteemed speakers, researchers, clinicians and patients attending this year's
in-person and virtual Canadian Rheumatology Association (CRA) and Arthritis Health Professions Association (AHPA) Annual Scientific Meeting.
Inflammatory arthritis
The Spondylitis Association (SPA) recently completed a rebrand and launched their new website with the goal of improving connectivity between patients, care providers and resources. In an
interview with Jeff Beach
, former President of the SPA,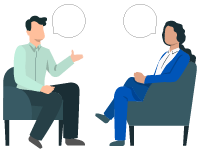 we discuss the role that patient organizations play in advocacy and getting knowledge into the hands of patients. Jeff shares a few initiatives that are coming down the pipeline, including an online tool to help patients weight the risks and benefits of arthritis medications. This tool will help to generate a report that can be used when communicating with care providers.
Ayesha Baig, a nurse clinician, patient, and support group leader, shares her journey as a health care provider living with a "rare" condition and how she has navigated through the ups and downs of her disease journey. In this
heartfelt conversation
of overcoming a misdiagnosis that lasted close to two decades, Ayesha goes into the details about living with pain and fatigue, and how that has affected her everyday life. She explains how her arthritis diagnosis has changed her relationships with family and close friends, and how to ask for support.
In an
interview with Dr. Murray Baron
, recipient of the CRA Distinguished Investigator Award and founder of the Canadian Scleroderma Research Group, ACE discusses about his keynote presentation titled New Outcome Measures for Systemic Sclerosis. Over the past few decades, Dr. Baron has made countless contributions as a clinician, scientist and mentor. He explains how outcome measurements are being used in observational studies for scleroderma to track changes over long periods of time. He cautions about the flaws of common measurement scales and the lack of face validity and content validity. In conclusion, he emphasizes the importance of involving patients and following rigorous steps in the development of measurement tools that correctly capture patient experiences.

Osteoarthritis
In
a live interview in Quebec
, Dr. Tom Appleton, rheumatologist and scientist, Lawson Health Research Institute at the Rheumatology Centre, St. Joseph's Health Care, debunks common myths associated with osteoarthritis (OA). He discusses about the misconception of osteoarthritis being a "wear and tear" condition and the benefits of physical activity and exercise to stimulate physical function. Common misconceptions in health messaging around osteoarthritis are that movement can feel uncomfortable or unpleasant and the fear of doing too much. With guidance from a health care professional, it is possible to include physical activity as part of your OA treatment plan. Dr. Appleton dispels myths about popular supplements including turmeric and glucosamine. He explains that although there is "physiologic plausibility", the desired affect is possible, the improvements seen with supplementations have been greatly exaggerated by those who stand to profit from them. Below are some helpful links to learn more about osteoarthritis:
Last chance to complete the ACE National Survey on Living with Osteoarthritis!
The Survey asks you to share your lived experience with osteoarthritis, including symptoms, interactions with your health care providers, lifestyle changes and any other treatments and self-care strategies you use to live a full life with the disease. Your participation is genuinely appreciated and will contribute to our understanding of the lived experience of people diagnosed with OA and help guide the creation of OA information and educational materials. The Survey deadline is April 14, 2023.
Take the Survey now!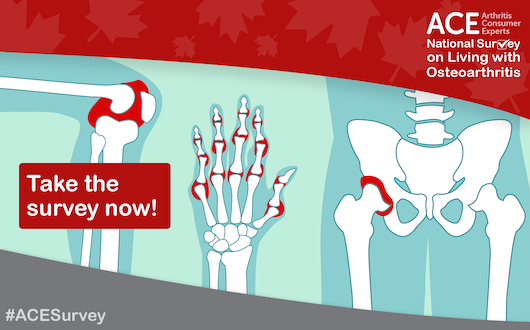 Juvenile idiopathic arthritis: Journey towards patient advocacy
Natasha Trehan is the founder of
Take a Pain Check
, a non-profit organization that connects youth living with arthritis, and she is a member of the Arthritis Patient Advisory Board at Arthritis Research Canada. Natasha was diagnosed with juvenile idiopathic arthritis (JIA) at the age of 13. Throughout her
#CRArthritis interview
, she shares her story of advocacy and empowerment. Take a Pain Check has now become a global community and provides learning opportunities to help youth to practice self-care when it comes to patient advocacy. At the Scientific meeting, Natasha presented alongside Dr. Karine Toupin April, Dr. Elizabeth Stringer, and Laurie Proulx, on the topic of shared decision-making – often defined as an approach where clinicians support patients to consider best available treatment and management options and achieve informed preferences that are aligned with their values. Natasha was also featured in Canadian Broadcasting Network's (CBC)
What's it like to be diagnosed with arthritis at 13
.

Transitioning from pediatric to adult arthritis care
Dr. Michelle Batthish, Associate Professor of Pediatrics, McMaster University, is dedicated to supporting youth transition from pediatric care to adult care. She leads a specialized transition clinic that aims to support youth patients and ensure they receive the support they need to continue thriving well into adulthood. In
this interview
, she walks us through the transition process and how it may differ between each person. A smooth transition process may require adult rheumatologists to be present during visits between the pediatric rheumatologist and the youth patient. The goal is to ensure the continuity of care and build trust with and between the patient, pediatric and adult healthcare team. Dr. Batthish and her team have designed the
MyTransition App
– an easy-to-use mobile application for youth patients to learn, stay organized, gain confidence and work towards their goals. To learn more about how to optimize the transition from pediatric to adult rheumatology care, read the Canadian Rheumatology Association
position paper here
.

Communicating science to patients and how to recognize pseudoscience
Dr. Fiona Rawle, Associate Dean of Pedagogical Development and Scholarship, University of Toronto, was a keynote speaker at this year's Scientific meeting meeting. During her
educational conversation
with ACE, she explains the difference between misinformation and disinformation. Dr. Rawle also shares tips on communicating information to patients in ways that are both accessible and equitable, and a tool she uses to recognize pseudoscience – the acronym FALSE CASE*:
Feeling/Emotion: How does the advertisement make you feel?
Author: Who is the author? What credentials do they have?
Language: What language is being used? Is it vague?
Source: What is the source? What is the source associated with?
Exclusive/Secret: Does the claim involve a statement implying "secret" or "exclusive"? This is often found in health misinformation.
Claim: What claim is made? What is claim based on?
Agenda: Does the author have an agenda?
Scheme/Conspiracy: Dose the claim say there is a scheme or conspiracy keeping information from you?
Everything is cured: In health misinformation, it is common the see claims that a product/approach "cures everything"
*The above infographic is adapted from Dr. Rawle's presentation slides at the 2023 CRA and AHPA Annual Scientific Meeting.
Advanced Clinician Practitioner in Arthritis Care program
Ms. Laura Passalent, clinician researcher with the
Schroeder Arthritis Institute
, University Health Network, leads the Advanced Clinician Practitioner in Arthritis Care (ACPAC) program. Laura landed in rheumatology care after she completed the ACPAC program. She now works to train other physiotherapists to better serve people living with arthritis. During the conversation, she discusses the content of the training program in more detail and the many benefits of being able to provide more specialized care for people living with arthritis. Learn more about the
ACPAC program here
.
Small and actionable steps for managing arthritis
Dr. Janet Pope was awarded the CRA Distinguished Teacher-Educator Award at this year's meeting. She wears a countless number of hats in the field of rheumatology, including supporting education, mentorship, and leadership of students in rheumatology. In
her #CRArthritis interview
, Dr. Pope shares time-management tips for participating in multiple projects and how these tips can be adapted into self-care practices for people living with arthritis. She encourages patients to take time for themselves, set realistic goals, and recognize the importance of sleep and rest. Little things such as journalling or breathing exercises can be incredibly helpful. Most importantly, she reminds the audience that it's alright to say "no".
Thank you to everyone who participated in this year's #CRArthritis event! To see the full collection of #CRArthritis interviews on Arthritis Broadcast Network, please visit the articles below:

---
Listening to you
We hope you find this information of use. Please tell us what you think by writing to us or emailing us at
feedback@jointhealth.org
. Through your ongoing and active participation, ACE can make its work more relevant to all Canadians living with arthritis.
---
Update your email or postal address
Please let us know of any changes by contacting ACE at
feedback@jointhealth.org
. This will ensure that you continue to receive your free email or print copy of JointHealth™ insight.
---
Arthritis Consumer Experts (ACE)
Who We Are
Arthritis Consumer Experts (ACE) and its team members acknowledge that they gather and work on the traditional, ancestral and unceded territory of the Coast Salish peoples -ʷməθkʷəy̓əm (Musqueam), Sḵwx̱wú7mesh (Squamish), and Səl̓ílwətaʔ/Selilwitulh (Tsleil-Waututh) Nations.
Arthritis Consumer Experts (ACE) operates as a non-profit and provides free research based education and information to Canadians with arthritis. We help (em)power people living with all forms of arthritis to take control of their disease and to take action in healthcare and research decision making. ACE activities are guided by its members and led by people with arthritis, scientific and medical experts on the ACE Advisory Board. To learn more about ACE, visit
www.jointhealth.org
---
Disclosures
Over the past 12 months, ACE received grants-in-aid from: Amgen Canada, Arthritis Research Canada, Biosimilars Canada, Canadian Biosimilars Forum, Canadian Rheumatology Association, Eli Lilly Canada, JAMP Pharma, Novartis Canada, Organon Canada, Pfizer Canada, Sandoz Canada, Teva Canada, UCB Canada and the University of British Columbia.
ACE also received unsolicited donations from its community members (people with arthritis) across Canada.
ACE thanks funders for their support to help the nearly 6 million Canadians living with osteoarthritis, rheumatoid arthritis, psoriatic arthritis, ankylosing spondylitis and the many other forms of the disease.
---
Disclaimer
The material contained on this website is provided for general information only. This website should not be relied on to suggest a course of treatment for a particular individual or as a substitute for consultation with qualified health professionals who are familiar with your individual medical needs. Should you have any healthcare related questions, you should contact your physician. You should never disregard medical advice or delay in seeking it because of something you have read on this or any website.
This site may provide links to other Internet sites only for the convenience of World Wide Web users. ACE is not responsible for the availability or content of these external sites, nor does ACE endorse, warrant or guarantee the products, services or information described or offered at these other Internet sites.
Although the information presented on this website is believed to be accurate at the time it is posted, this website could include inaccuracies, typographical errors or out-of-date information. This website may be changed at any time without prior notice.