---
In this issue
Listening to you
Arthritis Consumer Experts (ACE)
JointHealth™ insight
Published September 2023
---


Arthritis Consumer Experts (ACE) is Canada's largest patient led arthritis non-profit organization. ACE is committed to raising awareness about unfairness in arthritis care. From June 1 to 25, 2023, ACE conducted a 40-question national online Survey in English and French to understand health literacy levels of people living with arthritis. People who responded answered questions about their socioeconomic status, ability to understand and use health information, communication with health care providers, ability to use information in decision making, self-care and how they increase health knowledge.
In Part 1 of the analysis, we look closely at results from two groups of Survey responses:
Women compared to men
Age groups (over 54 years, 34-53 years, and under 33 years)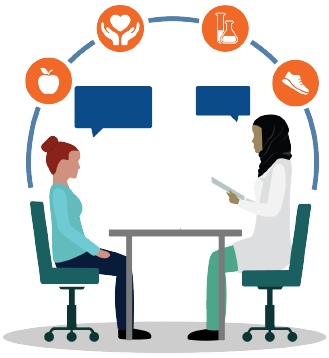 Background
Health literacy means being able
to find, understand and use basic health information and services to take care of one's daily health needs.
1
Health literacy includes knowing how to:
understand medical information
find health services and resources
make lifestyle changes to improve overall health
talk about symptoms with health care providers
take medications
self-care for physical, emotional, and mental health
share health and wellness activities with others
address health issues in the community and advocate for better health care
People with limited health literacy have challenges understanding and using health information they find unfamiliar, complicated or too technical, which can lead to increased healthcare costs and worse health outcomes.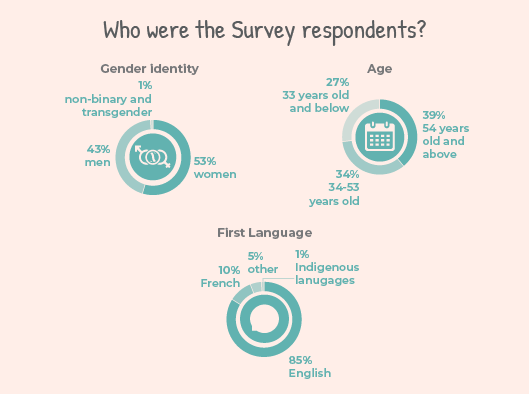 Who were the Survey respondents?
A total of 1,148 Survey responses were received. These people will be referred to in this writing as "respondents."
Half of respondents identified as women (53%), while 43% were men. Non-binary and transgender respondents represented approximately 1% of responses. Nearly half of the Indigenous respondents said they were Two-spirited.
Age range was well distributed:
448 (39%) were born before 1969 = 54 years and above
386 (34%) were born between 1970 to 1989 = 34 to 53 years
314 (27%) were born after 1990 = 33 years and below
Most respondents spoke English as their first language (85%), then French (10%), other languages (5%) and Indigenous languages (1%).
For more demographic information including ethnicity, education, income and type of arthritis, please refer to the
Appendix
at the end of this newsletter.
Survey findings

Understanding and using health information
Navigating the world of health information can be challenging. Information can come from online content and main stream media sources to advice from family and friends. It's important to understand this information and use it to make the best choices possible and communicate effectively with health care providers to improve health outcomes.
ACE's Survey findings showed that women can find, understand, and use health information about the same as men. But younger respondents under 33 years were better at finding, understanding, and using health information when compared to those 34 years and older.
Communicating with health care providers
To make arthritis care fair for everyone, it's important that patients and health care providers talk to each other in a clear, respectful, and inclusive way. Compared to respondents who are under 53, people who were 54 and older said that their health care provider explained health issues clearly and listened carefully, but also reported their provider used hard-to-understand words.
---
Using information to make better health decisions
Using health information to make choices is very important. It helps people understand their health challenges, pick the best treatments, do beneficial physical activities, and eat healthy foods. ACE asked people to rate their ability to use information to make decisions from 1 (not confident) to 5 (very confident).
Women (when compared to men) were better at understanding why they take medications (56% vs 44%), how to take them (63% vs 52%) and had fewer challenges taking medications as told (38% vs 31%).
Women and men felt about the same about doing physical activities regularly (20% said they were "very confident"). Women reported higher understanding compared to men about the purpose of physical activity (57% vs 46%) and how, where, and when to do it (41% vs 31%). The biggest difference between women and men was related to diet. Women were better at understanding healthy eating (56% vs 32%), reading food labels (32% vs 19%) and what foods to avoid (24% vs 18%).
People 54 years and older reported better understanding why they take medications, how to take them and had fewer challenges taking them compared to those under 53. This was also true for exercise and eating habits. Older respondents demonstrated better understanding, ability, and confidence to follow healthy behaviours.
What people told us about their self-care routines
"I participate in meditation and creative activities to manage my mental health."
– Woman with psoriatic arthritis born between 1950-1969
"Tremendous support from OASIS, Choose to Move, GLAD, personal trainer, gym close by. OASIS started me on a journey of what to do to help myself – food, exercise, meds, walking pole, shoes. From their early educational sessions, I was on my way. Just marvellous resource. Being tech savvy has helped."
– Woman living with osteoarthritis born before 1949
"There are little to no resources in the Northwest Territories for people with arthritis. "
– Woman living with psoriatic arthritis born 1990-present
"I rely on myself. I feel like my immune issues are all invisible disease and therefore not taken seriously by people."
– Woman living with lupus and fibromyalgia born between 1970-1989
"I know which foods are recommended to avoid to reduce arthritic pain but it would be such a major change to diet that I am choosing to live with the pain, with topical pain relief, for the present."
– Man living with osteoarthritis born before 1949
"I walk floors in my apartment and try to do between 3000 to 5000 steps per day using my walker. I can only do certain things like walking some with my walker and need now home care to put on my socks to keep swelling down on my legs and ankles. I also have arthritis in my wrists and in my feet ankles and some in my lower back."
– Man living with gout and psoriatic arthritis born before 1949

Taking care of yourself
Self-care is an important part of managing arthritis. This can include going to educational workshops and webinars, seeking help from others, and using resources online. Doing these things helps patients learn more about how to manage and take control of their health.
ACE's Survey uncovered interesting trends in self-care habits. More men than women said that they went to workshops or webinars (32% vs 25%) and to support group meetings (36% vs 19%). But more women reported asking for help from other (35% vs 25%).
Respondents 53 years and younger went to workshops and webinars, support group meetings, and used online guides more often compared to respondents over 54.
What health knowledge or skills do you need the most?
Men said that the most valuable health knowledge or skills were finding health info (20%), finding health programs and services (20%) and learning how to advocate (20%). Women reported the most valuable skill was finding health info (20%), while 27% of women said they were confident in their own knowledge and skills.
54 years and older: I am confident in my own knowledge and skills (37%)
34 to 53 years: find health programs and services (20%), learn how to advocate (23%)
33 years and younger: find health info (21%), find health programs and services (22%), learn how to advocate (26%)
Overall, these findings highlight the importance of creating an environment that supports and encourages self-care skills and acknowledges the diverse needs and preferences of patients.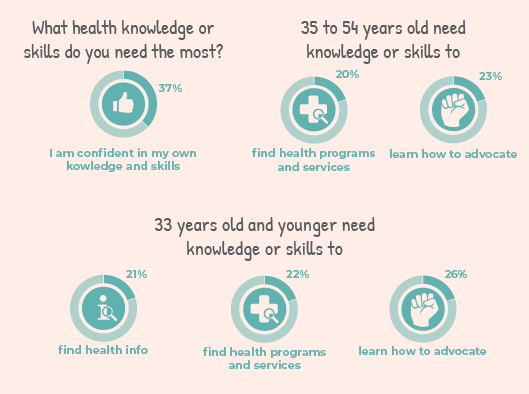 Gaining knowledge
Increasing your health knowledge and skills allow patients to learn about new treatments, understand research, and deal with changes in health.
ACE asked people how they want to improve their health literacy and most said they want to learn from a health care provider.
Women respondents more often than men wanted to learn from:
A health care professional (51% vs 43%)
Online courses (25% vs 16%)
I'm confident in my current health knowledge and skills (20% vs 12%)
Men (compared to women) wanted to learn from:
Online community or support groups (35% vs 22%)
1 on 1 counselling (29% vs 22%)
Other patients (17% vs 13%)
People under 33 wanted to learn from "1 on 1 counselling" and "online community or support groups." Respondents over 34 years more often said they were "confident in my current health knowledge and skills."
Which way do you want to improve health knowledge and skills?
"By attending arthritis support groups."
– Woman living with osteoarthritis born between 1950-1969
"I would like more info on how to deal with two types of arthritis at once. Different doctors want different things. How does it come together?"
– Woman living with psoriatic arthritis born between 1950-1969
"Webinars are very informative when you can watch them."
– Woman living with polymyalgia rheumatica born before 1949
"Would like to have a dependable permanent doctor in or close to my community. Sometimes the small hospital we have, approximately 32 miles away, is closed due to no doctors."
– Na living with osteoarthritis and gout born between 1950-1969
"Having more information advertised about arthritis and its effects would be beneficial."
– Man living with gout born between 1950-1969
"Everyone's symptoms are different. I would be interested to learn what's unique about mine and how best to treat them."
– Woman living with osteoarthritis and fibromyalgia born between 1950-1969
What does it mean for arthritis care?
The Arthritis Consumer Experts Health Literacy Survey provides valuable insights into the challenges and needs of individuals living with arthritis. It shows us how health literacy is key to the self-care of arthritis and the various experiences and preferences among people living with arthritis.
Our findings show that men and women have different levels of health literacy. For example, women may have more confidence with medication and eating well, while men may have more confidence knowing how, where, and when to do physical activity.
When looking at the responses from different age categories, respondents 54 and older reported higher health literacy than those under 54, suggesting that knowledge, skills, and confidence increase over time.
One major challenge across all groups was knowing where to access health information. This highlights the need for better ways to find resources for arthritis care. Although we live today in an information-rich society many Canadians experience obstacles and barriers to find, understand and use health information. Eliminating these obstacles and improving the way health services, health care providers and policymakers, and the media communicate, and share health information would offer the best opportunity to achieve a gold standard of health literacy for all people.
The Survey findings also highlight how we can take steps to improve health literacy.
People living with arthritis
need to develop skills to find, understand, evaluate, communicate, and apply health information to their specific context. Here are some ways how:
Take an active role in healthcare decisions – be a participant in health, not a spectator
Ask questions and get good information to better understand the disease and how to better manage it – being curious is a good thing
Ask for support where and when needed – asking questions is the road to learning
Health care providers
can help their patients improve their health literacy by giving information in ways that make it easier to understand and use. Based on Survey findings, here are some ways how:
Talk with patients in clear and simple terms
Take medical jargon out of the conversation with the patient
Show patients in real ways that you have heard their concerns and understand them
Give time for patients to ask questions and consider using pictures, videos and graphs to help them learn what you need them to know
Policymakers
can support health literacy by providing culturally relevant and sensitive information and resources to ensure fair access to health care services. Here are some ways how:
Think about ways to make sure online health information is current, easy to find, and written at a grade 6 to 8 reading level
Work with the medical education community to make certain that racial minorities have equal opportunities to train to be medical doctors
Work with the medical research community to make certain the voice of racial minorities is represented and included in health research

More information sources on health literacy can be found here:
---
References
Appendix
Table 1: Sociodemographic information
Progress-Plus Framework
Place of residence*
Large urban centre (population of 100,000+)
Small-medium sized population centre (population of 16,000 to 99,999)
Rural or remote community (population of 15,999 or less)
Reside on a First Nations, Metis, or Inuit reserve/settlement
I prefer not to answer this question
670
246

184
36
12
Canadian province or territory
British Columbia
Alberta
Saskatchewan
Manitoba
Ontario
Quebec
Nova Scotia
New Brunswick
Newfoundland and Labrador
Prince Edward Island
Northwest Territories
Yukon
Nunavut
I live outside of Canada
203
143
72
68
410
104
49
25
41
14
7
4
2
6
Language
English
French
An Indigenous language
Other
973
113
10
52
Ethnic group
White
Black, Indigenous and Person of Colour TOTAL
Black
Indigenous
Two-spirited
Person of Colour
449
601
48
280
152
121
Gender*
Woman
Man
Cisgender
Transgender
Non-binary
I prefer not to answer this question
I prefer to describe myself as
610
493
12
5
8
18
2
Education*
Less than high school
High school or equivalent
Some college or university
College or university graduate
I prefer not to answer this question
33
211
224
673
7
Socioeconomic status (Annual income)*
$40,000 or lower
$40,001 - $80,000
$80,001 or higher
I prefer not to answer this question
224
429
442
53
Social capital (How far do you have to travel to see a health care provider?)
0-10 kilometres (0-6 miles)
11-25 kilometres (7-15 miles)
26-50 kilometres (16-31 miles)
51-100 kilometres (32-62 miles)
101-250 kilometres (63-155 miles)
251-500 kilometres (156-311 miles)
More than 500 kilometres (more than 311 miles)
453
354
189
77
45
22
8
Plus (Age)
before 1910
between 1910-1929
between 1930-1949
between 1950-1969
between 1970-1989
between 1990-2009
2010 to present
2
7
94
345
386
312
2
Time since diagnosis
0-1 year
2-5 years
6-10 years
11-15 years
More than 15 years
I did not receive a diagnosis of arthritis
173
445
278
105
140
7
Plus (Type of arthritis)*
Adult-onset Still's disease
Ankylosing spondylitis
Fibromyalgia
Gout
Juvenile idiopathic arthritis
Lupus
Non-radiographic axial spondyloarthritis (not visible on
X-ray)
Osteoarthritis
Polymyalgia rheumatica
Psoriatic arthritis
Rheumatoid arthritis
Scleroderma
Sjögrens syndrome
Vasculitis
Do not know
Other
57 (5%)
80 (7%)
145 (13%)
180 (17%
112 (10%)
89 (8%)
57 (5%)

398 (45%)
88 (8%)
154 (13%)
386 (34%)
81 (7%)
83 (7%)
61 (5%)
83 (7%)
31 (3%)
---
Listening to you
We hope you find this information of use. Please tell us what you think by writing to us or emailing us at
feedback@jointhealth.org
. Through your ongoing and active participation, ACE can make its work more relevant to all Canadians living with arthritis.
---
Update your email or postal address
Please let us know of any changes by contacting ACE at
feedback@jointhealth.org
. This will ensure that you continue to receive your free email or print copy of JointHealth™ insight.
---
Arthritis Consumer Experts (ACE)
Who We Are
Arthritis Consumer Experts (ACE) and its team members acknowledge that they gather and work on the traditional, ancestral and unceded territory of the Coast Salish peoples -ʷməθkʷəy̓əm (Musqueam), Sḵwx̱wú7mesh (Squamish), and Səl̓ílwətaʔ/Selilwitulh (Tsleil-Waututh) Nations.
Arthritis Consumer Experts (ACE) operates as a non-profit and provides free research based education and information to Canadians with arthritis. We help (em)power people living with all forms of arthritis to take control of their disease and to take action in healthcare and research decision making. ACE activities are guided by its members and led by people with arthritis, scientific and medical experts on the ACE Advisory Board. To learn more about ACE, visit
www.jointhealth.org
---
Disclosures
Over the past 12 months, ACE received grants-in-aid from: Amgen Canada, Arthritis Research Canada, Biosimilars Canada, Canadian Biosimilars Forum, Canadian Rheumatology Association, Eli Lilly Canada, JAMP Pharma, Novartis Canada, Organon Canada, Pfizer Canada, Sandoz Canada, Teva Canada, UCB Canada, the University of British Columbia and the University of Toronto.
ACE also received unsolicited donations from its community members (people with arthritis) across Canada.
ACE thanks funders for their support to help the nearly 6 million Canadians living with osteoarthritis, rheumatoid arthritis, psoriatic arthritis, ankylosing spondylitis and the many other forms of the disease.
---
Disclaimer
The material contained on this website is provided for general information only. This website should not be relied on to suggest a course of treatment for a particular individual or as a substitute for consultation with qualified health professionals who are familiar with your individual medical needs. Should you have any healthcare related questions, you should contact your physician. You should never disregard medical advice or delay in seeking it because of something you have read on this or any website.
This site may provide links to other Internet sites only for the convenience of World Wide Web users. ACE is not responsible for the availability or content of these external sites, nor does ACE endorse, warrant or guarantee the products, services or information described or offered at these other Internet sites.
Although the information presented on this website is believed to be accurate at the time it is posted, this website could include inaccuracies, typographical errors or out-of-date information. This website may be changed at any time without prior notice.