---
In this issue
Listening to you
Arthritis Consumer Experts (ACE)
JointHealth™ insight
Published September 2012
---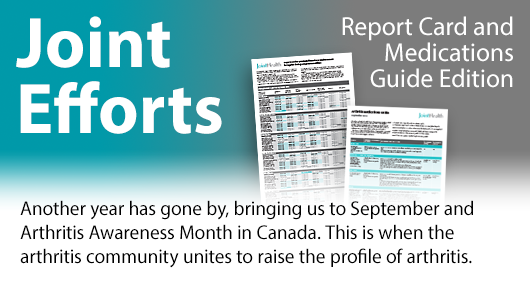 The arthritis community recently brought to this country's attention the current burden of arthritis and described what would be in store for Canada if drastic action is not taken soon. Late last year, the Arthritis Alliance of Canada (AAC) released a report titled
The Impact of Arthritis in Canada: Today and Over the Next 30 Years
. The report, the result of a two year study, looks into the current and future burden of osteoarthritis and rheumatoid arthritis on individuals and society. In particular, it examines the costs on Canada's publicly funded healthcare system, as well as the economic costs of people having to leave the workforce due to disability. The report, however, does more than just send a message of doom and gloom. In embryonic form, it provides solutions to the arthritis related problems facing Canadians.
Now, in a new AAC report published this September, the solutions have been fully formed. The
Joint Action on Arthritis: A Framework for Action to Improve Arthritis Prevention and Care in Canada
(the "Framework") is the result of the arthritis community coming together during the past year to work out which activities and initiatives will most effectively improve people's lives, while reducing the economic burden of arthritis.
Why Arthritis? More than 4.6 million Canadians of all ages live with a form of arthritis, as a result it is the leading cause of limited function and long term disability. That number is expected to more than double within 30 years. In 2010, the total direct and indirect economic cost of the disease was $33.2 billion, so over the next generation that figure will only grow. To avoid future economic and productivity losses, arthritis and its associated societal and personal burdens need to be addressed now.
The Framework is a long-term vision of the changes that need to take place to improve the lives of Canadians living with arthritis. Three pillars form the basis of the strategy to achieve seven objectives. They are:
Enhancing arthritis knowledge and awareness among the public, researchers, government, and healthcare professionals
Promoting prevention strategies and improving care for individuals with arthritis
Supporting ongoing stakeholder collaboration to ensure the success of the Framework
Given the wide range of objectives and strategies that will need to be addressed over time, certain priorities have been established. They are:
Implement a harmonized, pan-Canadian strategy to raise awareness about arthritis
Champion improvements in models of arthritis care
Promote research into arthritis prevention, self-management, and the effectiveness and efficiency of arthritis care
Support ongoing stakholder collaboration
A thoroughly well thought out document, the Framework explains in detail the plan for achieving its goals. In short, arthritis stakeholder collaboration is key to its success. To read the full report, visit
www.arthritisalliance.ca
.

The Arthritis Alliance of Canada (AAC) is committed to improving the lives of Canadians with arthritis. Made up for more than 20 member organizations, the Alliance brings together arthritis healthcare professionals, researchers, funding agencies, governments, voluntary sector agencies, industry, and consumer organizations. While each member organization continues its own work, the Alliance provides a central focus for discussing, sharing and developing national strategies to reduce the burden of arthritis.
Visit
www.arthritisalliance.ca
to learn more.
---
What's new in this year's
JointHealth™ Report Card?
With more biologics becoming available for more arthritis types, this year's JointHealth™
Report Card on provincial formulary reimbursement listings for biologic response modifiers
has been expanded to include two new medications and three new indications. Previously, the Report Card provided information about coverage criteria for eight medications and 4 arthritis types. Now, it looks at ten medications for 7 different diseases. The new items are as follows:
Rituximab (Rituxan®) for vasculitis, in addition to rheumatoid arthritis
Belimumab (Benlysta®) for systemic lupus erythematosus (SLE or lupus)
Denosumab (Prolia®) for osteoporosis
Provincial rankings also account for changes to the Report Card. In some cases, movement has to do with provinces adding more medications to their reimbursement formularies. In other cases it has to do with the expanded number of medications ACE is now including on the Report Card.
Last year, British Columbia was in first place and Ontario was in fifth. Now, Ontario is in first place and BC moved down one spot to second place. We congratulate Ontario for adding tocilizimab for the treatment of juvenile idiopathic arthritis, including rituximab for the treatment of vasculitis, and for covering infliximab for the treatment of psoriatic spondylitis (about 20% of people with psoriatic arthritis (PsA) eventually have spinal involvement). ACE, however, would like to see Ontario reconsider its decision to decline reimbursing infliximab for the 80% of people who have PsA without spinal involvement (not reflected on Report Card). Ontario lost a quarter point for making its criteria for tocilizumab to treat rheumatoid arthritis overly restrictive. Saskatchewan was in second place last year and has since moved down to fourth. Alberta moved down one position to fifth place. New Brunswick and Newfoundland/Labrador both dropped to sixth place from fifth. Prince Edward Island's ranking lowered from eighth to tenth. The Yukon is dead last, the same as last year. Neither PEI nor Yukon made any improvements in the last year and neither cover the new medications. Though Manitoba added four new medications plus rituximab for vasculitis, it is still behind PEI. ACE is pleased, however, that Manitoba has made significant improvements in the last year.
Formularies change frequently and new medications may have been added in the time between printing this issue of JointHealth™ monthly and it arriving in your mailbox. To view the most up-to-date Report Card and to view the reimbursement criteria for each medication, visit
www.jointhealth.org
often.
---
The JointHealth™ Arthritis Medications Guide: understanding the warnings
All those warnings about side effects associated with medications, could cause even the bravest among us to quiver, so ACE feels it is important to provide perspective.
Consider the risks of undertreated or untreated disease against a holistic treatment plan:
An early, aggressive treatment approach for inflammatory arthritis will reduce pain, slow disease progression, and raise the chance of your disease going into clinical remission
Biologics work by suppressing the body's overactive immune response, which can raise the risk of infection, in addition to other complications
Inflammatory forms of arthritis can shorten life span and cause pain, joint deformity, and disability.
When reading about the most serious side effects on the
JointHealth™ Arthritis Medications Guide
, understand that these refer to adverse events that occur during a medication trial. Adverse events are any undesirable outcome, which may or may not have to do with the medication under study, and could be related to the patient's disease process or simply chance. As Dr. Simon Huang, a Vancouver rheumatologist, puts it, ". . . side effects are also very common in the placebo group. In fact, these are adverse events observed in the trial, just like slipping on banana peels and cracking open one's skull while on treatment, which is probably not a side effect, but 'one of those things'."
Only when you have all the information about your medications will you feel most comfortable about starting a medication, so try to find out all you can. A good decision for yourself is one that is fully informed, and importantly, free from judgement from non-experts.
---
Emerging Treatments
Two emerging medications
for the treatment of moderately to severely active rheumatoid arthritis may soon become new options for those who do not respond to methotrexate, rituximab or tumour necrosis factor (TNF) inhibitors, such as adalimumab, etanercept, and infliximab.
These disease modifying anti-rheumatic drugs (DMARDs) are not biologics, which target inflammation from the outside of cells. Instead they prevent an inflammatory immune response from within cells. Also, unlike biologics, they are taken by pill rather than administered by infusion.
Tofacitinib:
Tofacitinib belongs to the class of medications called Janus kinase (JAK) inhibitors. It specifically targets the JAK3, one member of the Janus family of kinases (enzymes), to interfere with the inflammatory process that leads to joint damage. It has been shown to work as well as adalimumab in two phase III trials, though more adverse events are associated with it. Originally slated in August for a decision by the U.S. Food and Drug Administration (FDA) on whether to approve the medication, the agency delayed the decision until November 2012.
Fostamatinib disodium:
Fostamatinib is a Syk inhibitor (short for spleen tyrosine kinase), thought to block immune signals that lead to the destruction of bone and cartilage. A phase II study showed that while it worked about the same as placebo in those who did not respond to biologics, it was well tolerated. However, in those with an elevated C-reactive protein (CRP) level, the medication appeared to be significantly more effective compared to placebo. This medication is still in clinical trials (phase III trials began in 2010). Initial results may be reported this year and the pharmaceutical companies that developed it expect to file for FDA approval in 2013.
---

Now, more than ever, it is time to generate a wave of activity to increase awareness about the burden of arthritis on individuals and society. To be successful, we need your help.
Getting the word out
One way to take action is to write about your experience of living with arthritis and share it with your MLA, MPP or MP, your province's health minister, the federal health minister (Leona Aglukkaq), your local newspaper, in your own blog, or with us and we will share it on the Arthritis Broadcast Network (ABN). You could join Nathalie C. and Fran Halter on ABN, who write about what it is like to live with ankylosing spondylitis, and Carly who tells us about her life with with arthritis as a twenty something woman.
---

Carly:
Diagnosed more than a year ago with rheumatoid arthritis, Carly is only in her mid-20's. With a keen sense of humour, she writes about the physical and emotional challenges of living with arthritis as a young woman. (English only)
Fran Halter:
Fran's symptoms of ankylosing spondylitis (AS) first appeared 30 years ago when she was in her mid-twenties. She offers guidance and wisdom based on a lifetime of experience. (English only)
Nathalie:
Nathalie was diagnosed at the age of 41 with AS, after a 21 year journey marked with pain, fatigue, and frustration. She writes poignantly and humourously about her daily challenges and triumphs. (French only)
The stories that ABN's bloggers share resonate not just with those who have the same arthritis types, but with anyone who lives with a chronic and painful illness. Visit
arthritisbroadcastnetwork.org
often to read their latest posts.
Our bloggers want to hear from you. The ABN is an interactive, online community, so please feel free to comment on their posts and add your own wisdom and anecdotes.
---
Be a contributor
Attention men!
We want to hear about your experiences of living with a form of arthritis. Tell us about the day-to-day challenges you face as a dad, single or married, employed or unemployed, young or old, and we will share it on ABN. Please let us know if you would like to be a regular contributor. Contact us at
info@arthritisiscured.org
.
Book recommendations and reviews, please!
Is there a book you read that helped you to understand your arthritis and find ways to cope with pain or inspired you? Was the book so good, you think others like you would benefit from it? If so, let us know about it. ACE will share your recommendations in the ,
resources section
of the JointHealth™ website.
Write a full review, and we will publish it on the Arthritis Broadcast Network (ABN),
arthritisbroadcastnetwork.org
. Feel free to send in as many book recommendations and reviews as you please.
Contact us at
feedback@jointhealth.org
.
Write letters
For tips on how to compose a letter to an elected official or to a newspaper, please visit the "
What You Can Do
" section of the JointHealth™ website, and to find your federal or provincial representative, visit the "
Tell a Politician
" page.
---
If writing is not your thing
If writing is not your thing, you may still enjoy reading about the experiences of other people who live with a form of arthritis. If all you do is share those blog posts, you are doing something wonderful — you are spreading the word about the impact of arthritis on individuals. Here are some bloggers that ACE recommends:
Helgi Spencer Olafson
is a Canadian-born (U.S. resident) chef and athlete. In his blog, he writes about his journey to raise awareness about ankylosing spondylitis (AS), the disease he lives with, and raise funds for the Spondylitis Association of America:
www.helgiolafson.blogspot.ca
.
Rheumatoid Arthritis Guy
is a man in his early 30s. Since "a real superhero never reveals his true identity", his name is not given. In his blog,
www.rheumatoidarthritisguy.com
, he shares the ups and downs of living with chronic pain and debilitating inflammation, while maintaining a sense of humour.
Jennifer Dye Visscher
is an artist, blogger, and social media health activist who lives with ankylosing spondylitis (AS). She describes her blog, called
The Feeding Edge
, as "a place where we celebrate life, art, happiness and the necessity of giving to one another":
thefeedingedge.com
.
Carol Eustice
writes About.com's Guide to Arthritis,
arthritis.about.com
and
osteoarthritis.about.com
. She was diagnosed with RA at age 19. With a background in the medical field, she provides basic information about arthritis as well as insights into living and coping with arthritis based on her personal experience.
Christine Miserandino
is a blogger and originator of The Spoon Theory. If you struggle to get people to understand your situation, The Spoon Theory is a neat and simple explanation about what it is like to live with disabilities, which in Christine's case are lupus and myalgic encephalomyelitis (ME). She founded the community blog (similar to ABN)
But You Don't Look Sick
:
www.butyoudontlooksick.com
.
Kelly Young
is an RA advocate who writes the blog
Rheumatoid Arthritis Warrior
,
rawarrior.com
. The purpose of her blog is three-fold:
Encourage people with RA to live the best life possible and get the information they need to help them do so
Raise RA awarenss and debunk common myths
Help improve doctor's understanding of RA by providing the patient/consumer experience.
J. Chayko
, a Vancouver writer with rheumatoid arthritis, writes beautifully and colourfully about her experience in a blog called
The Old Lady in My Bones
:
theoldladyinmybones.wordpress.com
---
Listening to you
We hope you find this information of use. Please tell us what you think by writing to us or emailing us at
info@jointhealth.org
. Through your ongoing and active participation, ACE can make its work more relevant to all Canadians living with arthritis.
---
Update your email or postal address
Please let us know of any changes by contacting ACE at
info@jointhealth.org
. This will ensure that you continue to receive your free email or print copy of JointHealth™ monthly.
---
Arthritis Consumer Experts (ACE)
Who We Are
Arthritis Consumer Experts (ACE) provides research-based education, advocacy training, advocacy leadership and information to Canadians with arthritis. We help empower people living with all forms of arthritis to take control of their disease and to take action in healthcare and research decision making. ACE activities are guided by its members and led by people with arthritis, leading medical professionals and the ACE Advisory Board. To learn more about ACE, visit:
www.jointhealth.org
---
Acknowledgements
Over the past 12 months, ACE received unrestricted grants-in-aid from: Abbott Laboratories Ltd., Amgen Canada, Arthritis Research Centre of Canada, Canadian Institutes of Health Research, GlaxoSmithKline, Hoffman-La Roche Canada Ltd., Janssen Inc., Novartis Canada, Pfizer Canada, Sanofi-aventis Canada Inc., Takeda Canada, Inc., and UCB Canada Inc. ACE also receives unsolicited donations from its community members (people with arthritis) across Canada.
ACE thanks these private and public organizations and individuals.
---
Disclaimer
The material contained on this website is provided for general information only. This website should not be relied on to suggest a course of treatment for a particular individual or as a substitute for consultation with qualified health professionals who are familiar with your individual medical needs. Should you have any healthcare related questions, you should contact your physician. You should never disregard medical advice or delay in seeking it because of something you have read on this or any website.
This site may provide links to other Internet sites only for the convenience of World Wide Web users. ACE is not responsible for the availability or content of these external sites, nor does ACE endorse, warrant or guarantee the products, services or information described or offered at these other Internet sites.
Although the information presented on this website is believed to be accurate at the time it is posted, this website could include inaccuracies, typographical errors or out-of-date information. This website may be changed at any time without prior notice.