---
In this issue
Listening to you
Arthritis Consumer Experts (ACE)
JointHealth™ insight
Published October 2014
---

The Arthritis Consumer Experts (ACE) team views its members, subscribers and on-line or digital visitors as valued "customers". We strive to provide our customers the latest, most relevant information and education on all aspects of arthritis, and to improve how we do that each year. Your feedback is at the centre of our pursuit to do more and better for you, our arthritis customer.
To obtain your feedback each year, ACE conducts a JointHealth™ Program Satisfaction and Interest survey. By collecting your views in a standardized, fair way, we can improve our programs, activities and communications tools in a democratic way, while never losing sight of the most vulnerable in our arthritis community. The information we gather measures our relationships with people who live with arthritis and spotlights areas of information where we need to focus more attention.
Some key things the survey helps us do are:
Assess JointHealth™ program awareness
Assess JointHealth™ program satisfaction
Gain directions and suggestions for future JointHealth™ program editorial content and programming
Here's what you shared with the ACE team...
Do you have arthritis? If so, what type(s)?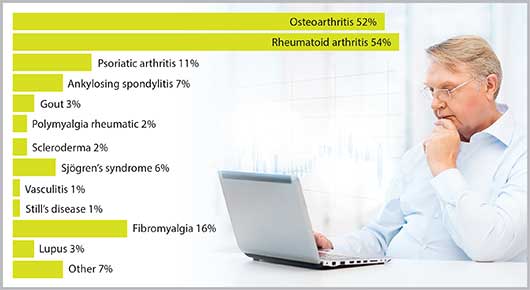 Information about you
Most of you who completed the survey were between the ages of 54-74. Eighty percent of the people who filled out the survey were women living with arthritis, which reflects research that shows that, with the exception of a few disease types (gout, vasculitis, and ankylosing spondylitis, for example), women more commonly have arthritis than men.
ACE is the primary source of information
| | |
| --- | --- |
| About eighty percent of the survey respondents found arthritis and general health information through the JointHealth™ monthly publications. In order of popularity, here is where consumers found information: | |
JointHealth™ publications
Rheumatologist
Doctor or primary healthcare provider
Online resources
Google search
Print and broadcast media
Pharmacist
Library
People also turned to friends and families, online journals and scientific papers, disease specific forums and community pages for information regarding their disease. This year, ACE saw an increase in the number of people who indicated that they learned more about their disease while being an active participant in the arthritis community, either through volunteering or attending workshops and special events.
What are consumers looking for?
| | |
| --- | --- |
| Seventy percent of the responders who completed the survey indicated that information on arthritis medication is the most important topic of interest to them. Information on the latest arthritis research and information on arthritis diseases ranked second, both at 57%, followed by the areas of interest listed below: | |
Diet and exercise;
Government health policy developments related to arthritis;
Evidence-based information on non-medicinal therapies;
How to work with your healthcare team;
How to participate in research studies;
How to connect with others with arthritis;
How to be an arthritis advocate; and
How to donate to arthritis advocacy and research.
To everyone across Canada who completed our survey, our "customers", thank you!

Armed with this knowledge, ACE will direct its efforts toward covering these topics in more depth.

This year's survey included a section for rheumatologists and allied healthcare providers who specialize in treating people living with arthritis. ACE intends to use this feedback to innovate and develop ways to meaningfully engage with and provide resources to patients at the doctor's office.
Rheumatologists consistently recommended JointHealth™ publications focus or increase awareness on the following topics in future programming: nutrition, medication and exercise, osteoarthritis, and exploring alternative therapy options.
About half of the healthcare professional respondents recognized the JointHealth™ Medications Guide and Report Card as a valuable and trusted resource tool for their patients.
We encourage rheumatologists to post these publications in their office for patients to review while they wait for their appointment. To receive a copy of these publications, please contact
info@jointhealth.org
.
I encourage my patients to read JointHealth™ monthly during their regular visits to my office."




– Rheumatologist

ACE evaluated JointHealth™ programs according to three criteria: personal relevance, educational value and community building.
Programs such as the JointHealth™ express (breaking news by email), JointHealth™ Medications Guide and JointHealth™ surveys were the most relevant to consumers. Other areas that scored well for education and personal interest to consumers were the JointHealth™ monthly, JointHealth™ web workshops, JointHealth™ Report Card and the JointHealth™ Medications Guide.
About half of the respondents think that the JointHealth™ and Arthritis Broadcast Network websites provided trusted daily arthritis-related information and news.
Respondents ranked the JointHealth™ website, JointHealth™ express, JointHealth™ web workshops, JointHealth™ Report Card, JointHealth™ survey, and the Arthritis Broadcast Network as great tools for community building.
ACE and the JointHealth™ family of publications have been my educator and helper since my RA diagnosis in 2004. The information supported me and my family through my most difficult periods and helped me manage my disease. Through ACE's social media channels, I have become part of a growing community where I have been able to share my experience and knowledge about staying healthy with others living with arthritis."




– ACE Ontario subscriber, mom and person living with RA
---

We also asked you to tell us what ACE should cover in future JointHealth™ monthlies to provide better information for your life with arthritis. Here are a sample of consumer comments and how ACE is working to meet your needs:
Consumer feedback:
"How to break out of 'status quo' treatment, how to get more involved in arthritis research, how to get access to treatment for early or worsening arthritis."
ACE Responds:
ACE is excited to hear that people living with or worrying about the onset of arthritis are taking a proactive approach to maintaining and monitoring their own health. Participating in a research study can be a great way to be introduced to new treatment therapies. ACE is currently collaborating with the Arthritis Research Centre of Canada in seeking research participants for research studies. In future JointHealth™ publications, we will provide coverage on some of these studies, including:
How Can Online Physical Activity Monitoring Tools Be Used in Arthritis Care?
How Is Technology Used in Health Care and What Are the Ethical Issues?
Arthritis and Employment: Making it Work! (Phase 3)
Could Joint Damage in Rheumatoid Arthritis Be Reversible?
Physical Activity Monitors: Are They Useful For People With Rheumatoid Arthritis?
Osteoarthritis Physical Activity & Exercise (OPEN)
Striving for a Cure: Enhancing Our Understanding of Psoriasis and Psoriatic Arthritis
Consumer feedback:
"Exercise, nutrition, cause of arthritis, prevention."
ACE responds:
These are recurring themes for our JointHealth™ programming. In 2015, ACE plans to broaden its coverage on arthritis prevention strategies. Consumers can expect to see information on the best defense against arthritis: a healthy lifestyle. We plan to look at the ways you eat, exercise, sleep, manage stress and interact with others, and whether you smoke or drink, as lifestyle factors that can have a tremendous influence on the health of your joints.
Consumer feedback:
"Relationship between my arthritis and other chronic diseases."
ACE intends to focus on diseases that may arise in conjunction with or as a result of arthritis. We will be looking in detail at the eighty per cent of Canadians living with arthritis who report having additional chronic conditions, versus just 37% of people with a different chronic condition. According to research conducted on adults, 57% of the people with heart disease (52% with diabetes, 44% with high blood pressure and 36% who are obese) also have arthritis.
Consumer feedback:
"More information on osteoarthritis treatment."
ACE responds:
According to a report from the Public Health Agency of Canada, aging baby boomers are at the centre of a growing epidemic. Today more than 4.6 million Canadians aged 15 years and older report that they have arthritis. With the aging population, this number is expected to increase to approximately seven million (20 per cent of Canadians) in 2031. This baby boom generation will also be the most active senior population in history.
ACE plans to focus JointHealth™ editorial coverage on ways our consumers can prevent arthritis types such as osteoarthritis, which affects one out of every 10 Canadians. It strikes most commonly after the age of 45, but people of all ages – from children to senior citizens – are at risk. If caught early, as with many arthritis types, the chances of treating osteoarthritis improve greatly.
"How can my workplace better accommodate me?"
Arthritis is the leading cause of disability in Canada. Through its work with Canada's leading employers and private payers, ACE will be sharing in future JointHealth™ programming its learnings on arthritis and the workplace such as how improved ergonomics allow arthritis sufferers to operate better. According to Dr. John Esdaile, Scientific Director, the Arthritis Research Centre of Canada (ARC): "What the focus has been for the last 30 to 40 years has been waiting until people lose their job because their arthritis is so bad. One of ARC's trials for back pain showed the most effective intervention was a simple improvement in ergonomics in the workplace, such as raising the platform they were standing on. It could be a better chair or an appropriate height for their computer. You can teach people things that can actually prevent them from losing their jobs."
"What makes a good rheumatologist and how to get referred to one?"
ACE responds:
In our upcoming JointHealth™ publications, ACE will be focusing on your arthritis healthcare team. We will be helping consumers once they have begun to build their healthcare team, with referrals to professionals like rheumatologists, physiotherapists, occupational therapists, and/or orthopedic surgeons, with the steps to take to make the most out of the time you spend with the members of your "team".
---
---
Listening to you
We hope you find this information of use. Please tell us what you think by writing to us or emailing us at
info@jointhealth.org
. Through your ongoing and active participation, ACE can make its work more relevant to all Canadians living with arthritis.
---
Update your email or postal address
Please let us know of any changes by contacting ACE at
info@jointhealth.org
. This will ensure that you continue to receive your free email or print copy of JointHealth™ monthly.
---
Arthritis Consumer Experts (ACE)
Who We Are
Arthritis Consumer Experts (ACE) provides research-based education, advocacy training, advocacy leadership and information to Canadians with arthritis. We help empower people living with all forms of arthritis to take control of their disease and to take action in healthcare and research decision making. ACE activities are guided by its members and led by people with arthritis, leading medical professionals and the ACE Advisory Board. To learn more about ACE, visit:
www.jointhealth.org
---
Acknowledgements
Over the past 12 months, ACE received unrestricted grants-in-aid from: AbbVie Corporation, Amgen Canada, Arthritis Research Centre of Canada, BIOTECanada, Bristol-Myers Squibb Canada, Canadian Institutes of Health Research, the Canadian Rheumatology Research Consortium, Celgene Inc., GlaxoSmithKline, Hoffman-La Roche Canada Ltd., Janssen Inc., Pfizer Canada, Purdue Pharma L.P., St. Paul's Hospital (Vancouver) and the University of British Columbia. ACE also receives unsolicited donations from its community members (people with arthritis) across Canada. ACE thanks these private and public organizations and individuals. ACE thanks these private and public organizations and individuals.
---
Disclaimer
The material contained on this website is provided for general information only. This website should not be relied on to suggest a course of treatment for a particular individual or as a substitute for consultation with qualified health professionals who are familiar with your individual medical needs. Should you have any healthcare related questions, you should contact your physician. You should never disregard medical advice or delay in seeking it because of something you have read on this or any website.
This site may provide links to other Internet sites only for the convenience of World Wide Web users. ACE is not responsible for the availability or content of these external sites, nor does ACE endorse, warrant or guarantee the products, services or information described or offered at these other Internet sites.
Although the information presented on this website is believed to be accurate at the time it is posted, this website could include inaccuracies, typographical errors or out-of-date information. This website may be changed at any time without prior notice.