---
In this issue
Listening to you
Arthritis Consumer Experts (ACE)
JointHealth™ insight
Published Summer 2005
---
This issue of JointHealth™ monthly - Summer Edition looks at the effects of lifestyle and arthritis on Canadians. This is an on-line edition only, offered both in English and French.
---
Education
Lifestyle: obesity and osteoarthritis
Obesity, being overweight and out of shape, is a growing lifestyle for many Canadians. Not only is it unhealthy it also places a strain the health care systems. Statistics Canada recently reported that in 2004 23% of Canadian adults - 25 - 64 years of age - were obese. In 1978-79 this figure was 14%. The report showed that 60% of all Canadian adults were either overweight or obese in 2004.
Obesity in children ages 2-17 years of age has increased from 3% in 1978-79 to 8% in 2004. This means last year about 500,000 children were reported as obese. The report from Statistics Canada suggests there is a trend that adolescence obesity or overweight conditions continue into adulthood.
Obesity is a contributing factor for potential cardiovascular disease, stroke, high blood pressure, and osteoarthritis to name a few. Type 2 diabetes generally developed in adulthood but now is seen increasingly in children and teenagers who are overweight.
Lifestyle plays a big role in our health outcomes and quality of life as we go through the aging process. For people with osteoarthritis keeping fat off the body is really important because:
losing 10 pounds (just under 5 kgs) decreases the risk of osteoarthritis by 50%
carrying an extra 22 pounds ( 10kgs) of weight almost doubles your risk of painful knee osteoarthritis. This is due to the extra mechanical stress placed on the cartilage
obese persons have osteoarthritis of the hand three times more often
excess weight puts added strain and stress on your joints
a person's risk of becoming obese increases when they are 15 pounds overweight, or if they have osteoarthritis in the hip, knee or hand.
stronger muscles are better able to absorb some of the pressure that extra weight exerts on your joints
How do you know if you are overweight or obese?
The body mass index (BMI) is a way of indicating whether one's weight is a healthy weight, overweight or obese. The calculation is dividing weight into height. There are many websites that do this calculation for you both using metric or imperial measures. Use a search engine like google and type in BMI calculations. One site is:
the BMI Calculator
. This site has easy calculations and an explanation area.
Once you have calculated your BMI, what does it mean?
BMI Measurement
Below 18.5
18.5-24.9
25-29.9
30 and above
Weight level
Underweight
normal
overweight
obese
Losing Weight: researched-based approaches
The research suggests there are three important areas to consider when losing and maintaining weight. They are how we think about weight loss, managing stress and social support.
it is important to have realistic expectations
physical activity increases one's sense of well-being
meditation is a good "stress reliever"
family, peer and community support is important
Exercise
If you want to loss weight and begin an exercise program it is important to first discuss this with your doctor and/or exercise consultant or physiotherapist. This is important as you can discuss the risk and benefits of exercise and how to do these exercises properly. Please refer to
June 2005
and
October 2004
issues of JointHealth™ monthly for more information on exercising.
There are many benefits to adding exercise to your lifestyle. The research suggests that for persons with early osteoarthritis, swimming is a good activity to strengthen the muscles and maintain mobility.
Helpful suggestions for losing weight and starting a healthy lifestyle:
keep a food journal to understand what you are eating and how much. Be truthful. Most people underreport their caloric intake by one-third.
keep an exercise and weight loss journal.
think about what causes you to overeat so you recognize the behaviour and can take steps to change it.
Try eating three bites less than normal at each meal
Helpful suggestions for maintaining weight and a healthy lifestyle:
eat a calorie-controlled, low fat diet.
eat breakfast - 90% of people in research studies kept their weight off.
keep track of what you are eating and your weight regularly.
try to get one hour of physical activity per day.
Additional suggestions on obesity and arthritis
focus at all times on 5-10% weight loss at a time.
focus on health and energy.
gradually reduce dietary fat.
change feelings of wanting unhealthy food choices with ones of making health food choices.
get involved with social support groups.
take control of the parts of weight loss you can control like healthy food choices and exercise.
It is never too late to begin a healthy lifestyle. This is an important message for the all ages. Having a healthy lifestyle as an adult is also a great role model for today's youth and children.
---
Education
Children's Arthritis Foundation
The Children's Arthritis Foundation (CAF) supports children with rheumatic diseases (childhood arthritis) and related diseases. This is done by providing funding for projects and programs that help meet the needs of these children and their families. The foundation also encourages and supports research that will lead to a cure one day.
CAF was founded in 2001 by a group of business people, parents and medical experts. Prior to this, children with arthritis received almost nothing beyond clinical care. Most resources had been directed to the larger (and more vocal) adult population. Despite having a similar or higher incidence than children with Leukemia, Diabetes or Inflammatory Bowel Disease, children with rheumatic illness have not had the attention that children with other issues have. This is, in part, due to the enormous burden of care that families with suffering children take, on a 24 hour a day 7 day week basis - there simply is no energy or money left.
The Children's Arthritis Foundation vision is to provide strategic funding for projects and programs that support children with rheumatic disease and related conditions and encourage research that will lead towards a cure. The Foundation provides an infrastructure for children living with rheumatic conditions, financial assistance, family support, education, research and advocacy.
There are more than 2000 children in BC with rheumatic disease and CAF's mission is to assist these children and their families to meet their needs. By implementing effective projects and programs in BC, this mission will grow to include all of Canada and eventually the world.
In its short history, the Foundation has funded and implemented:
a clinical database research project into rheumatic diseases of the eye for treatment and outcomes.
created a communications network, funded a program to provide the appropriate supportive shoes to children whose families cannot afford them.
Is creating a website for child/parent information (under development).
presented at national and international conferences, and undertaken numerous advocacy opportunities, to name a few initiatives.
the Foundation supports the work of the worldwide experts in Pediatric Rheumatology here in Vancouver and recognizes that this city could become a centre of excellence in this field.
The Children's Arthritis Foundation is a fully registered public foundation run largely by its volunteer Board and other volunteer contract members. Revenue generated through donations determines the number of projects carried out each year.
---
Education
Fall 2005 Workshop Schedule
Every Spring and Fall, ACE offers free workshops in communities across Canada. These researched-based education workshops are conducted by leading rheumatologists (arthritis specialists) and patient advocates. The workshops are held at times which are convenient for people with commitments during the work week.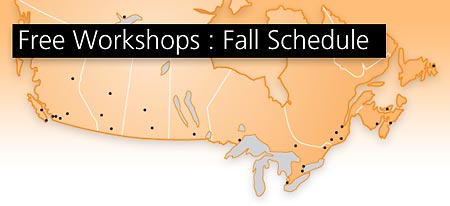 ***
Please note the workshop locations will be announced in future issues of JointHealth™ and on the ACE website as they become available
***
---
Plan to Win with Rheumatoid Arthritis (RA) workshop
These workshops provide you with the critical information you need to know to take control of
rheumatoid arthritis
, one of the most common forms of inflammatory arthritis. Topics covered include:
What rheumatoid arthritis is and about its effects
Developing your own customized treatment plan (health care team, medications. exercises, work)
Healthy living strategies
Access to treatment and services in your community
Latest arthritis research news
"Question and Answer" session
Location
Charlottetown, PEI
St. John, NB
Halifax, NS
Ottawa, ON
Sudbury, ON
Victoria, BC
Trois-Rivières,
Thunder Bay, ON

Month
September 13
September 14
September 15
September 19
September 20
September 27
September 28 (F)
October 13

(F) = workshops conducted in French
---
Plan to Win with Ankylosing Spondylitis (AS) workshop - new
New for 2005, the Plan to Win with Ankylosing Spondylitis workshops will focus on
ankylosing spondylitis
, a common type of inflammatory arthritis, that commonly affects the spine and other large joints in the body.
Location
Montreal, QC
Toronto, ON
Calgary, AB
Winnipeg, MB
St. John's, NF
Hamilton, ON

Month
September 22
September 29
October 11
October 12
October 18
October 19

---
JointHealth™ workshops
JointHealth™ workshops will focus on two of the most common chronic diseases in Canada -
osteoarthritis and osteoporosis
. These diseases affect millions of Canadians making this a very popular workshop.
Taking an integrated approach to managing these two health challenges requires a whole-body perspective. More than ever, people need to develop a strong health care team to take advantage of all the opportunities to manage their health. These workshops will help you learn about prevention strategies and focus on what you can do to live well with osteoarthritis and osteoporosis.
Location
Halifax, NS
Coquitlam, BC

Month
September 17
October 6

---
Listening to you: follow-up to workshop evaluations
After every workshop ACE asks its participants to fill out an evaluation form including comments. This helps ACE deliver the kind of information its community members want. One of the questions asks if there was something the participant wanted to know more about.
A number of participants expressed an interest in knowing more about surgery and arthritis: Is surgery necessary or can it be avoided? ; How do I know if I should have surgery?; What are the risks of surgery?
For rheumatoid arthritis, if the disease is well controlled by a treatment plan that includes medication, exercise, physical and occupational therapy and other therapies, one may never need to have to think about surgery. However, if the disease is moderate to severe and joint damage has occurred causing pain, a decrease in joint function and disability then surgery could result in restoring some of the lost quality of life.
For osteoarthritis early diagnosis is more difficult. Often people do not go to the doctor with pain and joint mobility limitations until damage, and surgery maybe a consideration for treatment.
There is current arthritis research being conducted by the Arthritis Research Centre of Canada (ARC) called, "Tooling Up For Early Osteoarthritis: Measuring what Matters". This program focuses on discovering new ways to diagnose and treat OA early instead of just treating the disease once it is well established. The hope is that for people with slow progressing OA (not as a result of injury), early diagnosis and treatment may one day result in joint replacements known as a treatment of the past.
If you are facing surgery it is important to get information to make an informed decision about whether to have surgery or not. All surgeries deliver benefits but also pose a risk. The main reason for arthritis surgeries is as a pain management therapy. The goal is to decrease or eliminate joint pain. The surgery may restore some function as well but this is a side benefit.
To decide whether to have surgery or not, it is important to ask all the questions and concerns you have regarding your surgery with your surgeon. Knowing what you need to do to prepare for the surgery, what will happen when you arrive at the hospital, the length of surgery and how long you will be in the hospital and care after surgery are all important to help decide whether to have surgery as well as to mentally prepare for it.
Benefits of surgery
surgery is a treatment to reduce or eliminate pain
surgery can improve mobility and use
can improve appearance of severely damaged joints, though this is rarely the primary reason for surgery
improve quality of life and self-esteem
Risks of surgery
extensive blood loss - tell your surgeon all the medications you are taking and ask if and when you should stop taking them before the surgery
blood clots - a risk especially for knee and hip joint replacement surgery. Blood thinning medications are given after surgery for a period of time to reduce the chance of blood clots.
infections - the risk is higher for people with RA than OA due to the nature of the disease. However, the risk is reduced due to improved surgical procedures and use of antibiotics at the time of surgery.
loosening of the joint replacement - pain is the key symptom, so if you feel even mild pain, tell your surgeon right away.
Going home after surgery requires preparation before you go to the hospital. The hospital will provide some information when you go for the orientation prior to surgery. You will find out what you need to get such as a raised toilet seat, crutches or a walker and a tool that allows you pick up items you normally would have to bend down to get.
Other considerations include having things you use everyday easy to get at. Examples:
if you like peanut butter have it on a shelf or counter you can easily reach without bending.
arrange items in your fridge, closet, bathroom etc from your waist and up.
have a bag handy with handles that you can attach to your walker or hold and use your crutches.
You may need help with meal preparation and setting up to eat. It is sometimes difficult to ask for help but you need to until you are more mobile.
It is really important to follow the post surgery rules including doing the exercises and going to physiotherapy. The physiotherapist and occupational therapist in the hospital will show you exercises and how to dress in order to follow the rules. Remember - ask lots of questions.
For more information on surgery and questions to ask your rheumatologist and/or surgeon we are also pleased to recommend the following books on arthritis. For other books go to:
www.arthritisconsumerexperts.org
and click on Books on Arthritis.
Strong Women and Men Beat Arthritis by Miriam E. Nelson, Ph D., et al., The Berkley Publishing Group, 2003
Rheumatoid Arthritis Plan to Win by Cheryl Koehn, Taysha Palmer and John Esdaile, M.D., Oxford University Press, 2002
We hope you find this information of use. Please tell us what you think by writing to us or emailing us at
feedback@jointhealth.org
. Through your ongoing and active participation, ACE can make its work more relevant to all Canadians living with arthritis.
---
Update your email or postal address
Please let us know of any changes by contacting ACE at
feedback@jointhealth.org
. This will ensure that you continue to receive your free email or print copy of JointHealth™ monthly.
---
Arthritis Consumer Experts (ACE)
Who We Are
Arthritis Consumer Experts (ACE) provides research-based education, advocacy training, advocacy leadership and information to Canadians with arthritis. We help empower people living with all forms of arthritis to take control of their disease and to take action in health care and research decision making. ACE activities are guided by its members and led by people with arthritis, leading medical professionals and the ACE Advisory Board. To learn more about ACE, visit
www.arthritisconsumerexperts.org
---
Guiding principles and acknowledgement
Guiding Principles
Health care is a human right. Those in health care, especially those who stand to gain from the ill health of others, have a moral responsibility to examine what they do, its long-term consequences and to ensure that all may benefit. The support of this should be shared by government, citizens, and non-profit and for-profit organizations. This is not only equitable, but is the best means to balance the influence of any specific constituency and a practical necessity. Any profit from our activities is re-invested in our core programs for Canadians with arthritis.
To completely insulate the agenda, the activities and the judgments of our organization from those of organizations supporting our work, we put forth our abiding principles:
ACE only requests unrestricted grants from private and public organizations to support its core program.
ACE employees do not receive equity interest or personal "in-kind" support of any kind from any health-related organization.
ACE discloses all funding sources in all its activities.
ACE identifies the source of all materials or documents used.
ACE develops positions on health policy, products or services in collaboration with arthritis consumers, the academic community and health care providers and government free from concern or constraint of other organizations.
ACE employees do not engage in any personal social activities with supporters.
ACE does not promote any "brand", product or program on any of its materials or its web site, or during any of its educational programs or activities.
---
Acknowledgement
Over the past 12 months, ACE received unrestricted grants-in-aid from: Abbott Laboratories Ltd., Amgen Canada, Arthritis Foundation, Arthritis Research Centre of Canada, AstraZeneca Canada Inc., GlaxoSmithKline, Merck Frosst Canada, Northwest Rheumatism Society, Pfizer Canada, Sanofi-Aventis, Schering Canada, Sto:lo Nation Health Services and the University of Alberta.
ACE thanks these private and public organizations.