Links
---
The internet can be a powerful and empowering research and communication tool for the person with arthritis. Arthritis Consumer Experts provides links to websites that are useful in arthritis education, self-management and advocacy.
While the internet is a useful place to find research-based arthritis information, it is important to note that many sites on the World Wide Web have not been updated in months, or even years. Many contain information largely driven by product advertising and might be biased towards providing material to convince a web site visitor to buy products that have not been scientifically proven to be safe and effective.
Before browsing through a website, go to the "about us" section to learn who owns or operates the website, how it is funded, and whether it is governed by a set of "guiding principles".
Websites that carry the HONcode certification are considered to be the most useful and reliable online medical and health information sources available. The HONcode program is administrated by the Health On the Net Foundation (HON). The HON is a non-profit, non-governmental organization, accredited to the Economic and Social Council of the United Nations. JointHealth™ subscribes to the HONcode principles.
In accordance with our
Guiding Principles
, the links provided below are limited to sites which we have had the opportunity to review and consider. Links from ACE operated web sites to those not managed by ACE do not imply endorsement or credibility of the service, information or product offered through the linked sites.
If you would like us to consider adding your site to our list of links, please contact us -
feedback@jointhealth.org
Arthritis Organization Websites:
Canada
Arthritis Alliance of Canada
arthritisalliance.ca
The Arthritis Alliance of Canada, formerly the Alliance for the Canadian Arthritis Program (ACAP), was formed in 2002. Its goal is to improve the lives of Canadians with arthritis.
With more than 36 member organizations, the Alliance bring together arthritis health care professionals, researchers, funding agencies, governments, voluntary sector agencies, industry and, most importantly, representatives from arthritis consumer organizations from across Canada. While each member organization continues its own work, the Alliance provides a central focus for national arthritis-related initiatives.
Please note the Arthritis Alliance of Canada ceased its operations at the end of December 2019. Their website will be kept live as an archive of all AAC reports, publications and tools until end of February 2025; however, its content will not be updated.
Arthritis BC and Me
https://arthritisbcandme.info/
Powered by community partners, the ArthritisBC+Me portal is designed to help patients living in British Columbia learn about arthritis and all of the currently available arthritis programs and resources in the province. The website also includes an events calendar where patients can view education classes, webinars, fundraisers, support groups and other arthritis related events happening across British Columbia.
Arthritis Broadcast Network
arthritisbroadcastnetwork.org
Led by Arthritis Consumer Experts and the Arthritis Research Canada, the Arthritis Broadcast Network (ABN) is a multi-media platform for the arthritis community to share news, information and stories about living well with arthritis.
Arthritis Health Professions Association
ahpa.ca
The Arthritis Health Professions Association (AHPA) provides an excellent forum for health professionals working in the field of arthritis to learn, share knowledge, collaborate, and network. The AHPA offer webinars throughout the year; a very informative, current, and educational Newsbrief delivered directly to your inbox on a monthly basis; opportunities for research funding; recognition of AHPA members through various awards for exceptional and innovative work related to arthritis care; opportunities to attend the AHPA annual precourse; and much more.
Arthritis Research Canada
arthritisresearch.ca
Arthritis Research Canada (ARC) is the largest clinical arthritis research centre in North America, with centres in British Columbia, Alberta and Quebec. They are leading research aimed at arthritis prevention, early diagnosis, better treatment, and improved quality of life. It has a strong multi-disciplinary research team of outstanding medical doctors and research scientists that collaborate with medical professionals around the world. Arthritis Research Canada also has an Arthritis Patient Advisory Board comprised of volunteer advocates with arthritis who bring personal experience and arthritis knowledge to research decision making at Arthritis Research Canada.
Arthritis Society
arthritis.ca
The Arthritis Society is a national health charity, fuelled by donors and volunteers, with a vision to live in a world where people are free from the devastating effects that arthritis has on lives.
The BC Lupus Society
bclupus.org
The BC Lupus Society's mission is to provide education and support to people affected by lupus; to create public awareness of lupus; and to support advances in lupus treatments and research.
Best Medicines Coalition
bestmedicines.ca
The Best Medicines Coalition (BMC) is a national alliance of patient organizations with a shared goal of equitable and consistent access for all Canadians to safe and effective medicines that improve patient outcomes. The BMC's areas of interest include drug approval, assessment and reimbursement, as well as patient safety and supply issues.
Better Pharmacare Coalition
betterpharmacare.org
The Better PharmaCare Coalition represents health organizations, patient advocacy groups and consumers who believe patient access to medications deserves protection. Their goal is to advocate for access to medications as well as ensuring that health policy decisions focus on patient needs: the pursuit of cost-effectiveness should not cause harm to patients.
Canadian Arthritis Patient Alliance
arthritispatient.ca
The Canadian Arthritis Patient Alliance (CAPA) is a grass-root, patient-driven, independent, national advocacy organization with members across Canada and supporters both Canadian and International.
CATCH (Canadian Early Arthritis Cohort)
http://earlyarthritis.ca/
The Canadian Early Arthritis Cohort study (CATCH for short) is a Canadian multicentre research study that aims to improve the quality of care for people with early inflammatory arthritis. CATCH is the only Canadian-wide early arthritis cohort study that is following people with new onset inflammatory or rheumatoid arthritis over time to examine the course of their disease and the response to the treatments provided by their healthcare team.
Bone and Joint Canada
boneandjointcanada.com
Bone and Joint Canada is a knowledge translation network of people who have an interest in the management of conditions affecting bones and joints.
Canadian Institutes of Health Research (CIHR)
Institute of Musculoskeletal Health and Arthritis
cihr-irsc.gc.ca/e/13217.html
CIHR supports research to enhance active living, mobility and movement, and health, addressing causes, prevention, screening, diagnosis, treatment, support systems, and palliation for conditions related to bones, joints, muscles, connective tissue, skin and teeth.
Canadian Rheumatology Association (CRA)
rheum.ca
The Canadian Rheumatology Association represents Canadian rheumatologists and promotes their pursuit of excellence in arthritis care and research in Canada through leadership, education and communication.
Click here
to get a list of rheumatologists in your province or to find a particular individual. The rheumatologists in the CRA work together to develop a unified voice in the treatment of arthritis and access to care issues. The results of discussions and their recommendations are published in documents found on their website.
Canadian Spondylitis Association
spondylitis.ca
The Canadian Spondylitis Association is a national, non-profit, patient association formed in April 2006 to support and to advocate for those suffering from spondyloarthritis diseases, including ankylosing spondylitis, psoriatic arthritis, undifferentiated spondyloarthritis, enteropathic arthritis, reactive arthritis, and juvenile onset arthritis.
Cassie + Friends Society for Children with Juvenile Arthritis and Other Rheumatic Diseases
cassieandfriends.ca
Cassie + Friends is the only charity in Canada dedicated 100% to the pediatric rheumatic disease community. Since 2007, they have raised over $1.5 million dollars to transform the lives of kids and families affected by juvenile arthritis and other rheumatic diseases. Working with patients, caregivers, healthcare professionals, researchers, and other friends, they provide life-changing support, education, community and research to help kids and families face the ups and downs of life with a chronic condition.
Exercise is Medicine® Canada
exerciseismedicine.org/canada
Exercise is Medicine® Canada (EIMC) is a movement to encourage a healthy lifestyle among Canadians. EIMC programs are based on abundant evidence that physical activity and exercise reduce the risk of chronic disease. Exercise is Medicine® (EIM) is a global health initiative managed by the
American College of Sports Medicine (ACSM)
that is focused on encouraging primary care physicians and other health care providers to include physical activity when designing treatment plans for patients and referring their patients to EIM Credentialied Exercise and Health Fitness Professionals. EIM is committed to the belief that physical activity is integral in the prevention and treatments of diseases and should be regularly assessed and "treated" as part of all healthcare.
The Canadian Society for Exercise Physiology (CSEP)
is the proud host organization for EIM in Canada.
GLA:D® Canada
gladcanada.ca
GLA:D® is an education and exercise program developed by researchers in Denmark for individuals with hip or knee osteoarthritis symptoms. Research from the GLA:D® program in Denmark has shown a reduction in progression of symptoms by 32%. Other outcomes include a reduction in pain intensity, reduced use of joint related pain killers, and fewer individuals on sick leave. Program participants also reported high levels of satisfaction with the program and increased levels of physical activity 12 months after starting the program.
Lupus Canada
lupuscanada.org
Lupus Canada is a national voluntary organization dedicated to improving the lives of people living with lupus through advocacy, education, public awareness, support and research.
Lupus Society of Alberta
lupus.ab.ca
The Lupus Society of Alberta was incorporated as a non-profit society in August of 1972 to provide education and support on lupus and lupus related issues and enable research to improve quality of life for lupus patients, their families and friends. It has the distinction of being one of the first lupus organizations in the world. Since its establishment, the LSA has remained a grassroots, volunteer-driven organization.
Lupus Society of Manitoba
lupusmanitoba.com
Lupus Manitoba is an organization dedicated to helping those with lupus. Its website provides research information, symptoms, facts, and personal stories of lupus patients, as well as information about fundraising events.
Lupus SK Society
lupussk.com
The organization provides support for those affected by LUPUS through understanding, education, public awareness and research.
Mary Pack Arthritis Program
mpap.vch.ca
The Mary Pack Arthritis Program (MPAP) provides education and treatment to people living with arthritis in various parts of British Columbia. Clinics can be found in Vancouver, Victoria, Penticton and Cranbrook. Services at their clinics may include physical therapy, occupational therapy, nursing, social work, and vocational counseling.
OASIS Website (The OsteoArthritis Service Integration System)
http://oasis.vch.ca/
The OsteoArthritis Service Integration System is a program that helps people with osteoarthritis self-manage their condition. On their website, you will find information about OASIS, osteoarthritis, their clinics, classes, and how to live well at every stage of the disease.
Scleroderma Association of British Columbia
sclerodermabc.ca
The Scleroderma Association of B.C. (SABC) was founded in 1984 by five patients diagnosed with scleroderma in varied forms. Today they provide support to about 450 patients and their families throughout BC. SABC is an all-volunteer, registered charity created to support patients and their families by promoting patient outreach and education, raising public awareness and develop information tools, and encouraging and supporting research in British Columbia and Canada.
Scleroderma Canada
scleroderma.ca
Scleroderma Canada is a registered national charity serving the Canadian scleroderma community. They are the national advocate for those affected by this rare and difficult disease. Established in 1999, they work collaboratively with regional and international organizations to bring health care research, education and clinical care together to ensure those affected by scleroderma have access to the latest advances in care.
Sjögren's Society of Canada
sjogrenscanada.org
In 2006, Lee Durdon, a person living with Sjögren's, formed the Sjögren's Society of Canada. The organization's mission is to to provide support and encouragement to all who have Sjögren's Syndrome, and to provide information and education to patients, the public and the medical community as to the symptoms, condition and research findings.
The UBC Division of Rheumatology
ubcrheumatology.com
The UBC Division of Rheumatology currently consists of 26 active faculty members, as well as three associate members, two adjunct members, and four emeritus members. Rheumatology consultation services are offered at Vancouver Hospital & Health Sciences Centre, St. Paul's Hospital, and G.F. Strong Rehabilitation Centre.
United States
American College of Rheumatology (ACR)
rheumatology.org
The American College of Rheumatology (ACR)_is an ethically-driven, professional membership organization committed to improving the care of patients with rheumatic disease and advancing the rheumatology subspecialty. Founded in 1934, they are a not-for-profit, global medical society that serves over 8,500 physicians, health professionals, and scientists worldwide. This site offers a "patients and public" section that includes topics such as: education, research, advocacy, practice support, locating a rheumatologist and information on medications.
The Arthritis Foundation
arthritis.org
The Arthritis Foundation creates a powerful network of support through shared experiences, empowering information and meaningful connections. The website offers good information on most types of arthritis, as well as an excellent section on exercise and arthritis and a wide-ranging drug guide. The site also has a section where you can conect with other people living with arthritis.
Lupus Foundation of America
lupus.org
The Lupus Foundation of America's mission is to improve the quality of life for all people affected by lupus through programs of research, education, support and advocacy. They are focused on achieving the following disease-specific outcomes: reduce time to diagnosis, ensure people with lupus have an arsenal of safe and effective treatments, and expand direct services and increase access to treatment.
Lupus Research Alliance
lupusresearch.org
The Alliance for Lupus Research is the world's leading private funder of lupus research. Their mission is to improve and find treatments for the prevention and cure of lupus. Their effort includes raising funds and advocating on behalf of the lupus community in the public policy arena.
National Institute of Arthritis and Musculoskeletal and Skin Diseases National Institutes of Health (United States)
niams.nih.gov
This organization leads the U.S. effort on research into the causes, treatment, and prevention of arthritis and musculoskeletal and skin diseases, training of basic and clinical scientists to carry out this research and dissemination of information on research progress to improve public health.
Rheumatoid Arthritis Support Network (RASN)
rheumatoidarthritis.org
The Rheumatoid Arthritis Support Network (RASN) is dedicated to providing up-to-date information and resources for rheumatoid arthritis patients. Their goal is to help RA patients understand their options and diagnosis.
Australia
Arthritis Australia
Arthritisaustralia.com.au
Arthritis Australia is a charitable, not-for-profit organisation and the peak arthritis consumer body in Australia. They work in collaboration with arthritis organisations in ACT, New South Wales, Northern Territory, Queensland, South Australia, Tasmania and Western Australia. Their mission is to provide support, promote awareness, fund research, and keep healthcare professionals informed.
Musculoskeletal Australia
https://www.msk.org.au/
Musculoskeletal Australia has been supporting people with arthritis and musculoskeletal conditions for 50 years. They are the consumer organisation working with, and advocating on behalf of, people with arthritis, osteoporosis, back pain, gout and over 150 other musculoskeletal conditions.
Australian Rheumatology Association (ARA)
rheumatology.org.au
The ARA supports and educates members and other practitioner in the musculoskeletal field to enable provision of best possible management for patients. It fosters excellence in the diagnosis and management of musculoskeletal and inflammatory conditions through training, professional development, research and advocacy. It also has a "Patients" page that has patient specific information about managing arthritis such as how to find a rheumatologist in Australia and material on treatments.
New Zealand
Arthritis New Zealand
arthritis.org.nz
Arthritis New Zealand is a national charity that provides information, advice and support to people diagnosed with any of the more than 140 forms of arthritis. They aim to improve the life of every person affected by arthritis and advocate for people with arthritis by funding research, contributing to health policy, and collaborating with healthcare professionals. The site has information on the types of arthritis, treatments used to manage arthritis, resource listings, and relevant links, including those for national and international disease specific websites.
United Kingdom
Versus Arthritis
https://www.versusarthritis.org/
Versus Arthritis was formed in 2018 following a merger of Arthritis Care and Arthritis Research UK. Their website states: "We're 10 million people living with arthritis. We're fundraisers, supporters, bakers, health professionals, volunteers, campaigners and researchers. Together, we're demanding that the pain and isolation of arthritis is no longer tolerated. We're pushing the defy arthritis. We are Versus Arthritis."
Other Resources:
ASIF - Axial Spondyloarthitis International Federation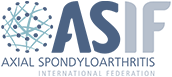 ASIF is an international membership organisation representing patient associations around the globe specialising in the support of patients with Axial Spondyloarthritis (axSpA). ASIF's mission is to increase awareness of axSpA and knowledge of the disease around the world to all key stakeholders be they people living with axSpA, health care professionals, researchers, pharmaceutical organisations, policy makers or the general public.
CADTH – The Canadian Agency for Drugs and Technologies in Health
cadth.ca
CADTH is an independent, not-for-profit organization responsible for providing health care decision-makers with objective evidence to help make informed decisions about the optimal use of health technologies, including: drugs, diagnostic tests, medical, dental, and surgical devices and procedures. In addition to evidence, we also provide advice, recommendations, and tools.
Centers for Disease Control and Prevention
cdc.gov
The Centers for Disease Control and Prevention (CDC) collaborates to create the expertise, information, and tools that people and communities need to protect their health through health promotion, prevention of disease, injury and disability, and preparedness for new health threats.
Centre for Health Evaluation & Outcome Sciences: CHEOS
cheos.ubc.ca
The Centre for Health Evaluation and Outcome Sciences (CHÉOS) is a group of experienced health outcomes researchers based at St. Paul's Hospital. Our investigators evaluate the effectiveness of health interventions in populations to understand how to improve health and transform health systems for the future.
Cochrane Musculoskeletal (CM)
cochranemsk.org
Cochrane Musculoskeletal is made up of health care professionals, researchers and consumer representatives that belong to Cochrane, an international, non-profit organization that aims to help people make well-informed decisions about health care by preparing, maintaining and promoting reviews on the effects of health care treatments.
The Institut national d'excellence en santé (INESSS)
https://www.inesss.qc.ca/en/home.html
The Institut national d'excellence en santé et en services sociaux (INESSS) was created on January 19, 2011, succeeding the Conseil du médicament and the Agence d'évaluation des technologies et des modes d'intervention en santé (AETMIS). INESSS's mission is to promote clinical excellence and the efficient use of resources in the health and social services sector.
Knowledge Translation Canada
ktcanada.org
Knowledge Translation Canada is a network of Canadian experts in knowledge translation joining forces to tackle the greatest challenge in health care today: the fact that although there is a great deal of health research being conducted, there is a gap in applying the results at the patient's bedside and in every day health decisions.
National Institutes of Health
nih.gov
A part of the U.S. Department of Health and Human Services, NIH is the largest biomedical research agency in the world.
National Library of Medicine (NLM)
nlm.nih.gov
The NLM is the world's largest medical library providing resources and research on biomedicine and healthcare. This site contains a section that is exclusively for the public that covers a wide range of health issues. The site is also accessible in Spanish.
Public Health Agency of Canada
phac-aspc.gc.ca
The Public Health Agency of Canada empowers Canadians to improve their health. In partnership with others, its activities focus on preventing disease and injuries, promoting good physical and mental health, and providing information to support informed decision making. It values scientific excellence and provides national leadership in response to public health threats.
Public Library of Science (PLOS)
plos.org
This non-profit organization provides free online access to scientific and medical research articles. The site is easy to use and covers a big range of work.
PubMed
ncbi.nlm.nih.gov/pubmed
PubMed is a service of the National Library of Science. On this site, there is free access to MEDLINE, which is a database of bibliographic information (not full articles) from health and science related journal. The site contains a series of tutorials for new users.
World Health Organization
who.int
The World Health Organization (WHO) is a specialized agency of the United Nations that is concerned with international public health. Working with 194 Member States, across six regions, and from more than 150 offices, WHO staff are united in a shared commitment to achieve better health for everyone, everywhere.
Coronavirus (COVID-19) Resources