JointHealth™ express
May 18, 2022
---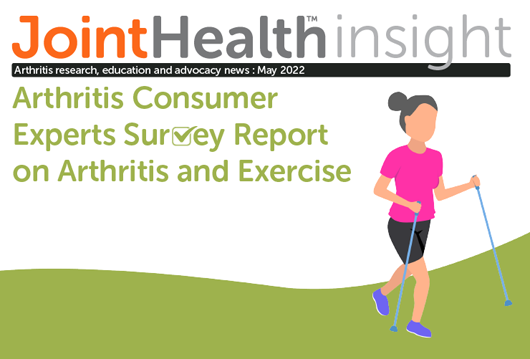 People living with arthritis are involved in various physical activities. The most recent physical activity recommendations for adults living with inflammatory arthritis and osteoarthritis include 30 minutes of moderate intensity aerobic physical activity, such as brisk walking, or 20 minutes of vigorous intensity aerobic activity, such as road cycling or basketball.
These guidelines are very similar to those for the general population, but should be adapted to meet the preferences, needs, and values of each individual. For health care providers, barriers to prescribing and monitoring exercises for people living with arthritis may include a lack of time and available resources. For people living with arthritis, it is a constant struggle to balance multiple self-care tasks in their daily life with exercise.
From March 16 to April 5, 2022, ACE conducted a Survey to ask members about their exercise journey and what health care providers and the healthcare system can do to support them to participate and maintain an exercise routine.
This issue of
JointHealth™ insight
summarize the Survey findings and includes:
Survey respondent characteristics
Peoples' exercise routine before an arthritis diagnosis
Peoples' exercise routine after an arthritis diagnosis
People's exercise preferences
What health care providers can do to support an exercise journey
Survey findings from diverse groups and geographic locations
Resources for your exercise journey
Read and share the
Survey findings
and
infographic
and learn more about respondents' experiences with exercise.