JointHealth™ express
April 6, 2023
---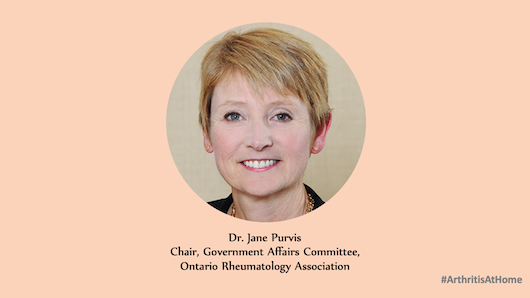 Biosimilar Transition Policy: What does it mean for inflammatory
arthritis patients?
Public and private drug plans expand use of biosimilars to help ensure sustainability and improve coverage for new treatments and patient access to medications.
Biosimilar biologics have been approved for use in Canada since 2009. Fifty-two biosimilars are currently approved by Health Canada. Biosimilars are as effective and safe as originator biologics but are available at a much lower cost. Since 2019, provincial and territorial drug plans in British Columbia, Ontario, Quebec, Alberta, Saskatchewan, New Brunswick, Nova Scotia, Northwest Territories, Newfoundland and Labrador, and the Yukon have implemented policies requiring inflammatory arthritis (IA) patients to transition from originator biologics to biosimilar versions.
Arthritis Consumer Experts spoke with Dr. Jane Purvis, one of Canada's leading rheumatologists about how biosimilars can help ensure continued reimbursement coverage for IA patients who transition to a biosimilar biologic. View the video to learn why patients and prescribers should feel confident about the transitioning and how their government will reinvest savings into their healthcare system, especially at this time when resources to maintain and improve patient care are urgently needed.
Additional learning resources