---
In this issue
Listening to you
Arthritis Consumer Experts (ACE)
JointHealth™ insight
Published November/December 2014
---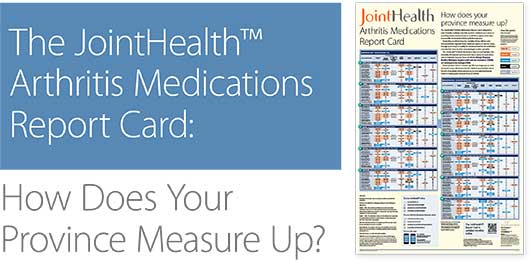 This month Arthritis Consumer Experts is pleased to share the eighth annual JointHealth™ Arthritis Medications Report Card. Since the publication of our first Report Card in 2007, our objective remains the same: to help Canadians evaluate how their province measures up in terms of providing reimbursement access to medications approved for autoimmune types of arthritis such as rheumatoid arthritis.
The information in the Report Card continues to effectively inform and empower consumers and their rheumatologists to discuss and decide together which Health Canada approved medication(s) might be best suited for their disease, health history, physical limitations, cultural beliefs and ability to administer or take the medication(s).
Thanks to the advocacy efforts of people living with arthritis and their rheumatologists, progress has been made in 2014 in many Canadian provinces. Yet, depending on where they live, Canadians living with an autoimmune arthritis still may have fewer treatment options or have to "jump through more hoops" to qualify for reimbursement for the medication prescribed for them by their rheumatologist.
The JointHealth™ Arthritis Medications Report Card highlights to government decision-makers this lack of equitable access and patient/physician choice in treating the different types of autoimmune arthritis: rheumatoid arthritis, axial spondyloarthritis, psoriatic arthritis and juvenile idiopathic arthritis. It also draws attention to the expansion in 2014 of two new classes of medications used to treat autoimmune forms of arthritis.
Copies of the JointHealth™ Arthritis Medications Report Card can be found in every rheumatologist's office in Canada. We encourage you to share the findings in the Report Card.
If your province doesn't measure up, write and speak to your elected provincial or federal representative about the lack of equitable reimbursement access and patient/physician choice in treating autoimmune forms of arthritis.
On a monthly basis, ACE will update its members, subscribers and stakeholders on changes as they occur in reimbursement access through our JointHealth™ website and JointHealth™ express. Together, we can work to ensure equal patient access to medications for autoimmune arthritis across Canada and unrestricted choice for patients and their physicians in treating the disease.

Arthritis Consumer Experts (ACE) ranks twelve publicly funded medication formularies based on the number of medically necessary arthritis medications they list out of a possible 13 medication treatments. The medications that ACE monitors fall into three categories: biologic response modifiers ("biologics"), subsequent entry biologics ("SEBs"), and targeted small molecule medications ("TSMMs").
The medications that ACE monitors represent the gold standard in the treatment of:
Rheumatoid arthritis
Axial spondyloarthritis (which includes ankylosing spondylitis and non-radiographic axial spondyloarthritis)
Juvenile idiopathic arthritis
Psoriatic arthritis
Osteoporosis
Systemic lupus erythematosus
Vasculitis (Wegener's Granulomatosis and Microscopic Polyangiitis)
Except for Nunavut and the Northwest Territories, which are covered by the Non-Insured Health Benefits (NIHB) formulary, all of the provinces are included in the Report Card, to a total of twelve.
Non-Insured Health Benefits Program
The Non-Insured Health Benefits (NIHB) Program provides benefits that are not covered by provincial and territorial medication formularies to First Nations people and Inuit, but that are required to support "reaching an overall health status that is comparable with other Canadians."

ACE has changed the name of our ranking report to the "JointHealth™ Arthritis Medications Report Card" to reflect that ACE is now monitoring, in addition to biologic response modifiers, two new medication categories: subsequent entry biologics and targeted small molecule medications.

Subsequent entry biologics
Subsequent entry biologics (SEBs) describe a group of medications that are administered by subcutaneous injection or intravenous infusion and work in a way that mimics originator biologics such as infliximab (Remicade®), adalimumab (Humira®), and etanercept (Enbrel®).
Remsima® and Inflectra® are the names of two SEBs that received Notices of Compliance (NOCs) on January 15, 2014. On October 21, 2014, Fresenius Kabi, the Canadian distributor of Remsima® voluntarily withdrew its submission to the Canadian Agency for Drugs and Technologies in Health ("CADTH"). That decision leaves Inflectra® as the current SEB available for the treatment of autoimmune forms of arthritis awaiting formulary listing recommendations from the Common Drug Review.
A cost-effectiveness recommendation by CADTH for Inflectra® is likely to be made early in 2015. Based on this recommendation, each of the provinces will consider whether to include it on their formularies, or not. Inflectra® is similar, but not identical, to infliximab and is used for the treatment of rheumatoid arthritis. There is no generic name for Inflectra®. Instead it is called "bioequivalent" to infliximab, and in this case infliximab is considered to be a reference or originator product.
SIMILAR BUT NOT THE SAME: Medications made with small, chemically manufactured molecules (e.g. acetylsalicylic acid, the active ingredient in aspirin) are made through a relatively simple process. After a manufacturer's patent for a particular medication, like aspirin, expires, other companies can easily make exact copies of the active ingredient of the brand name version. These are known as generics.
Biologics, however, are large and complex molecules made in a process that starts with living cells and manufacturing process can have a significant impact on the final drug product. It is impossible to make an exact copy of a biologic drug because the manufacturing process is proprietary to the original manufacturer. After the patent expires, different companies are only able to make "similar" versions of the original biologic. Even minor differences from the originator biologic may change the way a SEB acts in the body. The distinction is important to physicians and patients since there is no guarantee a SEB will be equally effective or be as safe as its innovator reference product. As a result, clinical trials will always be required for approval of SEBs.

Targeted small molecules medications
You are likely familiar with small molecule medications. The active ingredients are small molecules (have a low molecular weight), so they can be taken by mouth and easily absorbed into the bloodstream, like acetaminophen (e.g. Tylenol®). Biologics, on the other hand, are made up of protein molecules, which are large and complex and so have to be administered directly into the bloodstream by intravenous or under the skin by an injection.
Targeted small molecule medications work in a whole new way from biologics and SEBs; they come in pill form and are taken by mouth and attack the disease process from inside cells.
The first targeted small molecule medication to be approved in Canada to treat rheumatoid arthritis (RA) is tofacitinib citrate (Xeljanz®), a Janus kinase (JAK) inhibitor that specifically targets JAK1 and JAK3 of the Janus family of kinases (enzymes). Tofacitinib citrate is an important addition to the RA treatment options because like biologics, it can be used when a person does not respond well enough to standard DMARD therapy, usually methotrexate alone or in combination with other DMARDs. Tofacitinib citrate was approved by Health Canada and received a Notice of Compliance (NOC) on April 17, 2014.

Formularies are awarded one point for each case-by-case (CBC) listing, three-quarters of a point for a listing that has overly restrictive criteria (ORC), and no points for "Declined" listings or files remaining "Under Review". In some cases, information about a medication was unavailable. Where this lack of transparency occurred, ACE put "Unknown" and did not award any points.
The historical ranking of each province is also shown on the Report Card. In some cases, a province may be low one year and high the next or vice versa. This occurs because as each province decides to provide reimbursement access to a medication, slowly the other provinces start to understand the benefit of covering the medication. Eventually, some of the provinces catch up to one another, until a new medication receives Health Canada approval.
Commenting on the changes in provincial rankings from year to year, ACE Founder and President, Cheryl Koehn said:
"Unfortunately, as the provinces go through ups and downs in Report Card rankings so, too, do people living with arthritis. It is unacceptable there are Canadians living with autoimmune arthritis unable to access all potential medication options. Standardized reimbursement criteria across Canada, developed with rheumatologist experts, would permanently fix this issue."
How does your province measure up?
People with arthritis, with the help of the doctors who treat them, should be able to choose the medication most appropriate for their disease and lifestyle. After reading the JointHealth™ Arthritis Medications Report Card, if you have concerns about your province's performance, share them with your provincial government. For tips on how to communicate with elected officials or key decision-makers, please visit our "What You Can Do" page within the "Taking Action" section of the JointHealth™ website.

| | |
| --- | --- |
| 1 | The Common Drug Review (CDR) is a pan-Canadian process for conducting objective, rigorous reviews of the clinical effectiveness and cost-effectiveness of new medications coming to the market, and includes patient organization input on the potential benefit or harm the medication may have for patients it is intended to treat. The reason for conducting the reviews is to provide formulary listing recommendations on the medication's affordability for Canada's publicly funded drug plans, excluding that of Quebec. |
| 2 | The organizational body as part of the Common Drug Review that conducts the cost effectiveness reviews is the Canadian Agency for Drugs and Technologies in Health (CADTH). They are charged with providing decision-makers with the evidence, analysis, advice, and recommendations they require to make informed decisions in healthcare. Funded by Canada's federal, provincial, and territorial governments, CADTH is an independent, not-for-profit agency that delivers evidence-based information to healthcare leaders about the effectiveness and efficiency of health technologies. As part of its review process, it considers patient organization input in making listing recommendations. |
| 3 | Operating as part of CADTH is the Canadian Drug Expert Committee (CDEC). CDEC is an appointed, national, independent body composed of physicians, pharmacists and other healthcare professionals and public members bringing a lay perspective to the cost effectiveness deliberations. The CDEC reads evidence-based Clinical and Pharmacoeconomic Drug Reviews compiled by a Review Team (members names are not disclosed) and does a cost-benefit analysis of the medications. |
| 4 | Once the CDEC's review is complete, the CADTH makes a listing recommendation for the medication under review to participating federal, provincial, and territorial publicly funded drug plans. It also makes recommendations related to the identification, evaluation, and promotion of optimal drug prescribing and use in Canada. |
| Q | In Quebec, the body that makes listing recommendations is called INESSS (Institut national d'excellence en santé et en services sociaux). A standing committee composed of scientists, clinicians, ethicists, managers and members of the general public evaluates medications and submits its recommendations to the INESSS board of directors, which in turn makes recommendations to the Minister of Health and Social Services. Before being evaluated by INESSS, medications must first be approved for commercial release by Health Canada. |
Patient input: Arthritis Consumers Experts providing perspective
As a patient advocacy organization, ACE represents people living with autoimmune arthritis, osteoarthritis, and osteoporosis. Part of our mission is to provide input to CADTH on behalf of people living with arthritis. Whenever a medication is ready for input from the public, ACE announces the call. When you get in touch with us, we ask you the questions that CADTH poses and then we compile all of the interviews into one submission that we send to CADTH. If you would like to be made aware of these opportunities as they arise, please email us at info@jointhealth.org or subscribe to receive our JointHealth™ expresses (our signature email newsletter) at jointhealth.org/subscribe and/or follow ArthritisBroadcastNetwork.org.

Arthritis Consumer Experts also provides input to British Columbia, through the BC PharmaCare's "Your Voice" program, as well as to Alberta, Saskatchewan, Manitoba, and Ontario. Please watch for our announcements calling for your input, as they come up.


Discover ACE online:

Arthritis Consumer Experts is a national organization that provides science-based information and education programs in both official languages to people with arthritis. ACE serves consumers living with all forms of arthritis by helping them take control of their disease and improve their quality of life. Founded and led by people with arthritis, ACE also actively advocates on arthritis health and policy issues directly to consumers/patients, healthcare professionals, media and government through ACE's JointHealth™ family of programs:
www.jointhealth.org
http://bit.ly/YouTubeJointHealth
www.facebook.com/ACEJointHealth
www.twitter.com/ACEJointHealth

Discover Arthritis Broadcast Network online:

Led by Arthritis Consumer Experts and the Arthritis Research Centre of Canada (ARC), the Arthritis Broadcast Network (ABN) is a multi-media platform for the arthritis community to share news, information, and stories about living well with arthritis.
www.ArthritisBroadcastNetwork.org
http://bit.ly/YouTubeABN
www.facebook.com/ArthritisBroadcastNetwork
www.twitter.com/ArthritisNetwrk

Discover our free apps

ArthritisID (consumer version) and ArthritisID PRO (healthcare professional version) are the most comprehensive free arthritis apps, featuring the most current, evidence-based arthritis information to help detect, treat, and manage arthritis.
Got arthritis?
We have a free app to help you!
http://bit.ly/GetArthritisID
Treat arthritis?
We have a free app to help you!
http://bit.ly/GetArthritisIDPRO
---
Listening to you
We hope you find this information of use. Please tell us what you think by writing to us or emailing us at
info@jointhealth.org
. Through your ongoing and active participation, ACE can make its work more relevant to all Canadians living with arthritis.
---
Update your email or postal address
Please let us know of any changes by contacting ACE at
info@jointhealth.org
. This will ensure that you continue to receive your free email or print copy of JointHealth™ monthly.
---
Arthritis Consumer Experts (ACE)
Who We Are
Arthritis Consumer Experts (ACE) provides research-based education, advocacy training, advocacy leadership and information to Canadians with arthritis. We help empower people living with all forms of arthritis to take control of their disease and to take action in healthcare and research decision making. ACE activities are guided by its members and led by people with arthritis, leading medical professionals and the ACE Advisory Board. To learn more about ACE, visit:
www.jointhealth.org
---
Acknowledgements
Over the past 12 months, ACE received unrestricted grants-in-aid from: AbbVie Corporation, Amgen Canada, Arthritis Research Centre of Canada, BIOTECanada, Bristol-Myers Squibb Canada, Canadian Institutes of Health Research, the Canadian Rheumatology Research Consortium, Celgene Inc., GlaxoSmithKline, Hoffman-La Roche Canada Ltd., Janssen Inc., Pfizer Canada, Purdue Pharma L.P., Sanofi Canada, St. Paul's Hospital (Vancouver) and the University of British Columbia. ACE also receives unsolicited donations from its community members (people with arthritis) across Canada.
ACE thanks these private and public organizations and individuals.
---
Disclaimer
The material contained on this website is provided for general information only. This website should not be relied on to suggest a course of treatment for a particular individual or as a substitute for consultation with qualified health professionals who are familiar with your individual medical needs. Should you have any healthcare related questions, you should contact your physician. You should never disregard medical advice or delay in seeking it because of something you have read on this or any website.
This site may provide links to other Internet sites only for the convenience of World Wide Web users. ACE is not responsible for the availability or content of these external sites, nor does ACE endorse, warrant or guarantee the products, services or information described or offered at these other Internet sites.
Although the information presented on this website is believed to be accurate at the time it is posted, this website could include inaccuracies, typographical errors or out-of-date information. This website may be changed at any time without prior notice.